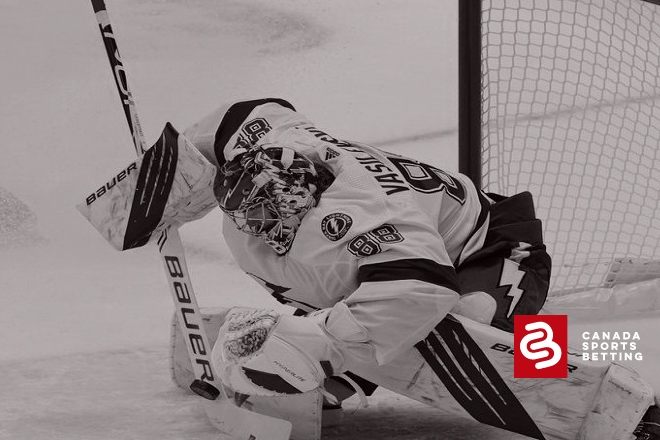 The 2021-22 NHL Props takes on the Vezina Award race for best goaltender. With about a third of the season in the books, we take a look at the numbers.
With "Christmas Week" now upon us, the race for the Vezina Award was sorely in need of an update. Here at Canada Sports Betting, we take a look at these NHL Props. In the coming weeks and months, there will be articles on some props that most people did not even think about. Some believe that this year's race may be a referendum on how Andrei Vasilevskiy should won the award again last season.
Either way, there has been more movement away from the top candidates. Some have vaulted to near the top and there is something we introduce — the field. So any player not listed among the top 20 or so candidates gets lumped into "the field".
Andrei Vasilevskiy is the one constant in the running with faces new and old flanking him. Last year's winner, Marc-Andre Fleury is way down the list and will not factor into this year's award. Now, that was a shock.
Let's take a look at some of the numbers on this Vezina Award prop.
2021-22 NHL Props: Vezina Trophy Odds
Researching these NHL props, the Vezina Trophy features had a few shares for Marc-Andre Fleury and Andrei Vasilevskiy among others. With about a third of the season in the books, Vasilevskiy has again stood tall but has a new crop of players looking to win the Vezina. The spotlight is on the Russian goaltender in Tampa Bay and rightfully so.
The numbers on the Vezina Trophy odds illustrate this as follows:
When one looks to 2022 NHL Awards betting, most understand why Andrei Vasilevskiy is the favourite once again. The 2019 winner is poised to add to his trophy case. Can anyone else challenge the goaltender for the award?
Andrei Vasilevskiy A Bigger Favourite For Vezina
There will be many that forever believe that Andrei Vasilevskiy should have won the Vezina Trophy winner last year. If one looked at the odds last year, Vasilevskiy led that list from beginning to end. This year, the goaltender is without Nikita Kucherov and now Brayden Point. That apparently matters little as the goalie has 16 wins in 23 games played.
If that was not enough, the netminder leads the league in wins and is among the league leaders in goals-against average (2.10) and save percentage (.928). He has a couple of shutouts and 17 quality starts (74%). Those are a lot of numbers to digest. They all translate into the fact that Vasilevskiy makes the Tampa Bay Lightning what they are.
His numbers illustrate just how much of a favourite he is at this juncture. Vasilevskiy's odds have stayed right around 5.50 to 6.00 since the very beginning of training camp. This is the fifth year in a row that Vasilevskiy is leading the league in wins. That speaks to his durability and talent. The goaltender is 27-years old and just entering his prime. This could be a sobering thought to any that are thinking of challenging what he feels is his crown this year.
Though his GPS (5.0 goalie point share) is a little lower than some other candidates, Vasilevskiy has kept an injured team afloat yet again in 2021-22. Tampa Bay is on another surge, winning seven of their last nine games to be near the top of the NHL in the standings. Vasilevskiy remains the biggest reasons for that and our favourite to take home his second Vezina Trophy.
Who Might Be This Year's Marc-Andre Fleury?
This is the biggest question. Is there that Marc-Andre Fleury who surprises the hockey world again? There may not be given the fallout from last season. Also, Andrei Vasilevskiy winning a second straight Stanley Cup could have tilted this award in 2021-22. Anyway, there are a few candidates in mind.
One has to be Jacob Markstrom of the Calgary Flames. Markstrom has enjoyed a remarkable early season run that has Calgary among the league leaders. The goalie leads the league in shutouts with five in just 21 starts. He also enjoys a goals-against average under 2.00 and a save percentage of .933. Now, Calgary is just 4-3-4 at home which is a bit troubling but those 11 road wins is second to Carolina's 12. His goalie point share is 4.7.
Then, there is Jack Campbell of the Toronto Maple Leafs. Campbell is a feel good story given he was almost out of the NHL a few seasons ago. He may be one to watch here. The goalie has 15 wins in 23 games and three shutouts. That goes along with playing in Toronto, and having a .937 save percentage with a league leading 5.6 goalie point share. Campbell is as high as second in some books because of his start. Now, can he finish?
Finally, there are two Russian goalies in Igor Shesterkin and Sergei Bobrovsky. Bobrovsky has the pedigree from the Florida Panthers. He has won the award twice. The goaltender has slipped a bit in his last five starts but again is on one of the best teams in the NHL. As for Shesterkin, his case is interesting. He may be a year or two away but the goalie has the Rangers fighting for the league's best record. His quality start percentage is near 77. That's absurd!
Do not forget about this week's many free sports picks as Christmas nears.
Our Canada Sports Betting Vezina Trophy Pick
Andrei Vasilevskiy leads the 2021-22 NHL Props and is our Canada Sports Betting Vezina Trophy Pick.
Before betting odds shorten for Vasilevskiy, take advantage of the best online betting bonus offers out there.