Welcome to Canada Sports Betting's NHL Strength of Schedule page, powered by NorthStar Bets.
Starting in October and finishing up in April, the NHL regular season is a grind for hockey bettors. Teams play a total of 1,312 games, and if a bettor is going to have success and ultimately win some money, they must stay on top of the schedule. That's where Strength of Schedule (SOS) comes in.
Our SOS metric is calculated by averaging the projected points of each team's remaining opponents. Use this page hand in hand with our 2023-24 NHL Projections and Stanley Cup Playoff Chances page to inform your futures betting and much more. This page is updated weekly.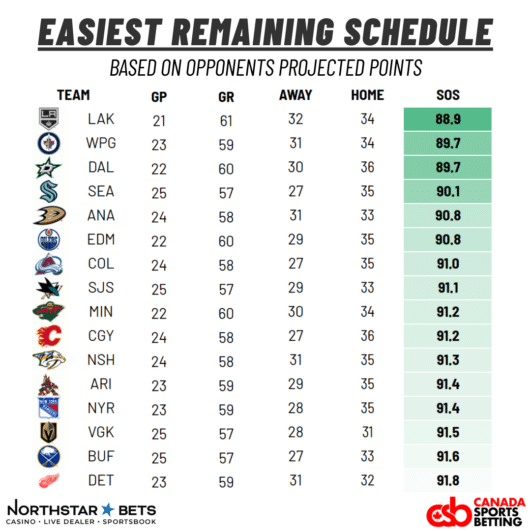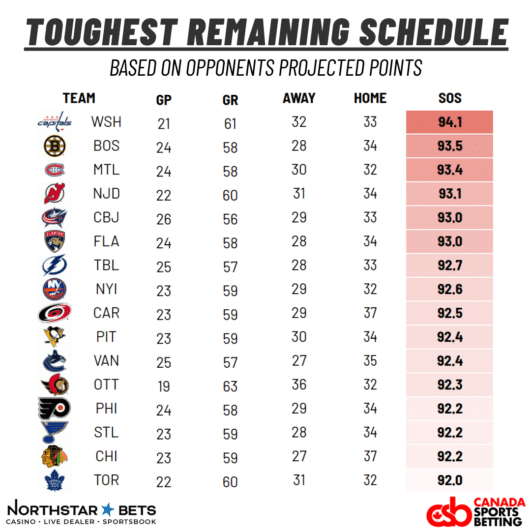 How To Use Strength of Schedule
Have you heard a sports bettor toss around the phrase "buy low, sell high"? Well, knowing each team's strength of schedule will inform you of when it's time to do just that, but it can also tell you when to dig in. This can be especially helpful in futures betting and bettors can use SOS to pick out the risers and fallers ahead of time.
Take the Los Angeles Kings, for example. The Kings are now the favorite to win the Pacific Division, and bettors would've seen it coming had they been following our SOS metric. CSB's NHL Projection Model has been predicting the Kings would win the Pacific Division for a while now, and the fact that they had the easiest remaining schedule meant it was time to buy in. Los Angeles is now +150.
As far as their playoff chances go, the Kings are a virtual lock to make it, and the model sees them winning the Stanley Cup approximately 10% of the time. That means there's still value in betting Los Angeles to win it all at 14/1. I do worry that goaltender Cam Talbot will come back down to earth, but the Kings are great defensively and will remain a threat.
For more betting NHL insights, strategies, picks, and projections, check out the links below. And, if you would like to get an even closer look at the NHL schedule, check out this weekly article.
Follow Andy on Twitter for daily updates and NHL betting insights.