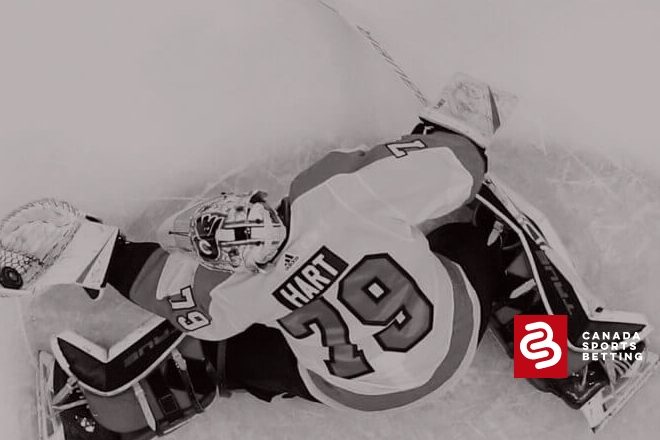 There are 13 NHL games in all on Tuesday night and at Canada Sports Betting, we take a look at some more picks for December 14th, 2021. Let's get rolling!
NHL December 14th, 2021 Slate By The Numbers
The holiday season is when things get strange with sports and scheduling. Now, Tuesday night's NHL slate was 14 games originally until the Calgary Flames game was postponed due to COVID. So, there are still 13 games. With the Monday game geting canceled, odds and numbers were able to be posted unusually early.
NHL betting sites have odds running hot for this large slate. Our focus will be on four games and always favours the moneyline slant. We joked the other day about busy slates and this more than qualifies.
Our goal is to look at two earlier games and two later games on Tuesday night. Let's see what these early numbers look like.
Moneyline: New Jersey Devils at Philadelphia Flyers
With this large of an NHL schedule, there are several intriguing but risky NHL picks for Tuesday night.The New Jersey Devils travel down the turnpike to face the Philadelphia Flyers. Now, the Flyers are not world-beaters by any means but they are at home after a road trip that saw them win games in Vegas and Arizona. Philadelphia comes in with those consecutive wins while New Jersey has lost eight of ten games (2-6-2).
The Devils are a mere 3-6-2 on the road and have the worst power play in the league away from home (7%). They are also allowing 3.36 goals per game and feature a penalty kill that is 21st in the league on the road. While Philadelphia is just 4-6-2 at home, they are facing a New Jersey team without Nico Hischier and several other players (COVID protocol).
Mackenzie Blackwood and Carter Hart are the expected goalies to match up on Tuesday. Hart will be motivated to get revenge on New Jersey who beat him 3-0 in their last meeting. Also, Philadelphia has been clicking on their man advantage of late.
The nunber is pretty close to even here. Our pick is the Philadelphia Flyers to win at home over the New Jersey Devils Tuesday night.
Moneyline: Vegas Golden Knights at Boston Bruins
An interesting study in contrasts greets us in Boston on Tuesday night as the Boston Bruins enertain the Vegas Golden Knights. The only bad thing about this time of year, with the pandemic, is one has to check for players in COVID protocol. Tentatively, it looks like all the major players in question are good to go. Vegas is 6-4 in their last ten games while Boston is 5-3-2.
It appears Robin Lehner will get the start for Vegas. He has won the last two starts he finished (was pulled against Dallas). His numbers are far from good but the Golden Knights can score goals with anyone. They average 3.53 goals per game while allowing just over three per contest. Boston plays things a little slower as they average just 2.88 goals a night and yield 2.53 goals per game.
The game boils down to the top lines. Can anyone stop the top line of the Vegas Golden Knights? Max Pacioretty and Mark Stone can score almost any time and from any place — particularly Pacioretty. Both are also quite familiar with playing the Boston Bruins. Can Boston, even with their "Perfection Line" keep up offensively. That will be a fun matchup. Vegas has a bit more offensive depth but Boston has the defensive side locked up.
It is a plus-money shot but take the Vegas Golden Knights at 2.10 odds to defeat the Boston Bruins.
Moneyline: New York Rangers at Colorado Avalanche
The New York Rangers arguably see one of their bigger tests of the season as they face the Colorado Avalanche in Denver on Tuesday night. Now, both teams have signifiicant injuries to deal with right away. New York does not have Igor Shesterkin and Colorado does not have captain Gabriel Landeskog in their respective lineups.
Darcy Kuemper returned from injury and has won three straight games for Colorado allowing eight goals on 100 shots faced (.920 save percentage). The wrinkle is that Alexandar Georgiev has a .951 save percentage in the 4+ games that the Rangers have been without Shesterkin.
Colorado's defense is expected to make a difference here. They have one of the most mobile units in the NHL. Devon Toews and Cale Makar alone can wreak havoc against any lineup. New York does have Adam Fox which makes this quite a duel. The Avalanche are rolling along winners of four straight and seven of ten games. That includes a 9-2-1 mark at home.
This expects to be close but take the Colorado Avalanche on the moneyline over the New York Rangers.
Moneyline: Seattle Kraken at San Jose Sharks
Our out the door pick features the San Jose Sharks at home against the Seattle Kraken. With a few Seattle players still in COVID protocol, San Jose has an added advantage going into Tuesday night's tilt. Once again SportsInteraction (SIA) comes through in the clutch as one of the highest-rated hockey sportsbooks
San Jose is 7-5-1 at home and winners of six of their last nine games. Seattle has lost three straight and is a mere 3-7-2 on the road.
Our CSB pick here is the San Jose Sharks at 1.68 odds on the moneyline over the Seattle Kraken.
Do not forget to check out more of our other free picks.