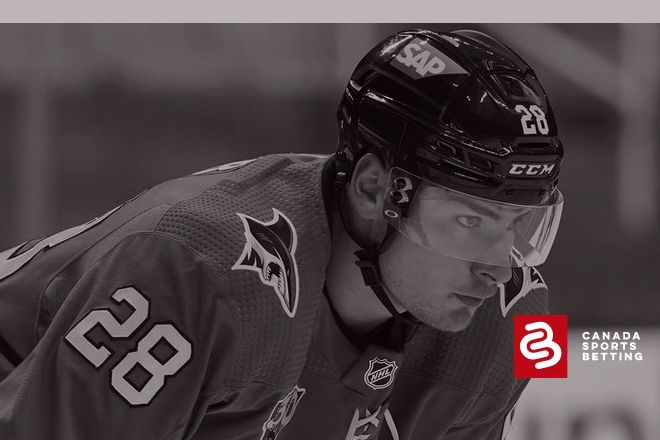 The Thursday Night NHL schedule features more than enough good matchups but a few feel-good stories have compelled us to go differently in the NHL Picks.
This 2021-22 NHL season has truly gotten off to a crazy, chaotic start. Some teams have surprised us greatly and have changed our minds when it comes to the NHL picks. Thursday night ups the ante with nine games on the schedule. These include some late games which often do not get the tender attention they deserve.
The San Jose Sharks and Buffalo Sabres are squarely on our list for this night. This will not be an easy slate but why run from adversity. Let's run straight into it. We have three of our best picks for Canada Sports Betting.
With so many offerings, things got interesting quickly. Let's dive into the Thursday night picks and see what winners we may find.
Thursday Night Picks: Into the Sharks Tank
Some do not believe some of these feel-good stories can continue weaving their tales. For at least one more night, we believe the Sharks and even the Sabres can stand and deliver. Our picks even examine the prospects of the Seattle Kraken. After all, they did win their first home game over the Montreal Canadiens on Tuesday night.
Thursday night could just prove to be a different night. Let's get wild, stay up all night, and close the week with at least a couple more winners.
Let's shell out some numbers. 
Even these late-night NHL odds seem a little off. It is time to take advantage of those for NHL Picks.
Thursday Night Sharks Bite — San Jose Chomps Over Montreal
The San Jose Sharks host the Montreal Canadiens on Thursday night just after 10:30 pm ET. There are five games from the Pacific time zone on Thursday night. It is expected that Jake Allen will start for Montreal while the Sharks should counter with Adin Hill.
For both goalies, it has been a bit of a struggle as far as their overall numbers. The Sharks have some bite defensively this year. Hill is only facing 27 shots per 60 minutes. Allen has faced nearly 28 shots per 60. Now both have a .890 save percentage. Allen is 1-5 but Hill is 3-1 with a shutout. That is pretty crazy when one thinks about it.
This is because the Sharks' offence has a bite to it. They are averaging 3.33 goals per game and that even included their clunker early in the week against Nashville where they only scored once. Timo Meier and Logan Couture lead the way with nine points. Erik Karlsson leads the San Jose defensemen with six points while enjoying a renaissance season.
Can San Jose Keep Montreal's Offense "At Bay"?
That is the big question on Thursday night. San Jose has allowed an average of just 2.33 goals per game. The Sharks have thrived with James Reimer playing some valuable backup minutes in the net. Even Brent Burns has turned the clock back a little with three assists and is playing improved defensively. It just seems that San Jose is getting contributions from everywhere.
The contrast is Montreal. This is a Canadiens team struggling to put pucks in the net. Even the return of Mike Hoffman has not sparked the Habs the way most thought. How bad is it for Montreal? They are just 1-6 after advancing to the Stanley Cup Final in the summer.
They have scored just 11 goals (31st in the NHL) but worse have yielded 25 (29th in the NHL). Even the penalty kill is back in the bottom third. Without Carey Price and Shea Weber, a bad team has become worse.
San Jose is playing with confidence, speed, and all at a solid pace. Their bite may just be enough to chomp Montreal while keeping them at bay on Thursday night. Take the San Jose Sharks as our moneyline pick.
Buffalo Sabres over the Anaheim Ducks
Don Granato has the Buffalo Sabres playing over their heads once again. What may have been lost at the tail end of last season was that Buffalo had improved under Granato. They were about a .500 team with him as a coach which was a drastic improvement. Without Jack Eichel, no one could have expected this start. The Sabres' defence, a normal liability, has been a strength. They have yielded the second-fewest goals in the league with 11.
They have scored just 19 times on the season but even at 3.17 goals per contest, that is a dramatic rise. Buffalo is usually fighting to score more than 2.5 goals a night. The difference is this is a team with balanced scoring and a defensive that is cohesive. They have five players with four or more points including Kyle Okposo, who has sprung back to life after seasons of being dormant. Finally, Craig Anderson, at 40 years young, is playing like a goaltender closer to 30.
Buffalo is playing a very young team in the Anaheim Ducks who do have some well-known veterans. Anaheim has trouble scoring and is sixth-worse in the league with 24 goals yielded. Buffalo's speed and balance expect to be too much for the Ducks. Take the Buffalo Sabres over the Anaheim Ducks. 
Enter the Seattle Kraken over the Minnesota Wild
The Seattle Kraken broke through on Tuesday night with a big 5-1 win at home versus Montreal. They should be able to keep the momentum going against a good Minnesota Wild team that could be caught looking ahead to a weekend battle with Colorado.
Pick the Seattle Kraken to win a close one over the Minnesota Wild on Thursday night.
Even the late games are covered well by the best sportsbooks such as Betway.
The No. 8 team in the Eastern Conference plays host to the No. 3 team in the Western Conference on Sunday when the Minnesota Wild travel to face the Washington Capitals. As of this writing, the Wild are the hottest team in the NHL with seven straight wins and an 8-1-1 record over their past 10 games. The Capitals are 6-3-1 in their 10 most recent outings.
As good as the Wild have been playing, it needs to be noted that they are not a particularly strong road team. While Minnesota is 24-7-1 at home, they are 17-13-3 on the road. All the team's seven straight wins have come at home. The club's most recent road game was a 3-2 shootout loss to the Columbus Blue Jackets on March 11. Washington has been a better road team than the home team this season. The Capitals are 16-14-5 at home as opposed to 21-7-5 on the road.
Minnesota has the momentum in this matchup.
Pick: Minnesota to beat Washington.