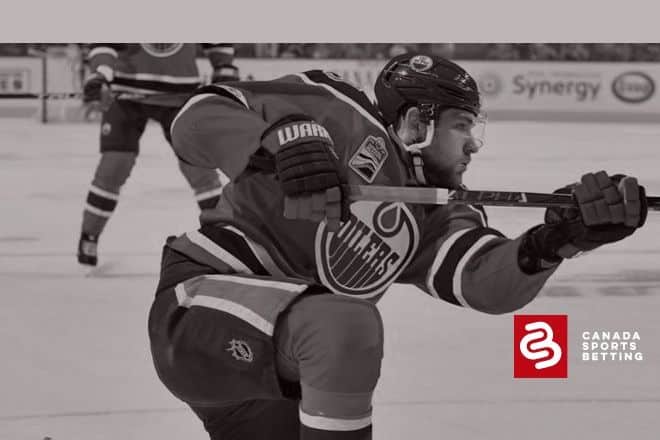 Every year, the battle for the Rocket Richard Trophy never disappoints. We take a look at some of the early NHL Props for this very prestigious award.
Scoring a goal in the NHL is one of the most electifying moments in sports. Imagine doing it so many times that an award is named after you. That is the living honour bestowed upon Maurice "Rocket" Richard. His name is on the trophy that awards the leading goal scorer of each NHL season.
This season's Rocket Richard Award reads like a who's who of goal scorers and some snipers of the past, present, and future. That is what makes these NHL Props so much fun. While most think this is an automatic battle between Auston Matthews and Leon Draisaitl, could someone else enter the fray and crash the party?
It did not look like there was too much movement with the award but one of the best things to see so far in 2021-22 may just be simply Alex Ovechkin. The fact that he is among the league leaders in goals still at his age is just amazing. There are pleasures in life never to take for granted. That is why we look at NHL Props and props in general the way we do.
2021-22 NHL Props: The Rocket Richard Odds
This is one of the few NHL Props that required some playing of NHL 22 and other simulations. Why? It provides a perspective along with just watching film, footage, etc. The Rocket Richard Award odds are different in some ways. A goal is dependent on quite a few things and health obviously plays a big role in an award that has a final number attached to it.
When Auston Matthews was averaging nearly a goal a game through 20 games last year, it got our attention. This season has seen some unbelievable starts as well. Which player wil ride that wave the best? Let's look at the current odds as they stand.
These are taken as of December 18th, 2021. 
Even the NHL Betting Odds are more of a race than this. However, in a numbers game, anything can change. Let's take a closer look. 
2021-22 NHL Props: Leon Draisaitl Leads The Rocket Richard
The two-time 40-goal scorer leads the NHL Props here with an early blistering pace. Leon Draisaitl, at press time, has 23 goals in 28 games for the Edmonton Oilers. That is a rate of 0.82 goals per game. There are some interesting trends for this current Rocket Richard leader. Some have asked again, much like with Matthews last year, if these numbers are sustainable.
The answer is yes but to a point. Inevitably the averages will come down. They always do. However, Draisaitl did shoot at a 21.7% rate over a full season (50 goals in 2018-19). There is that 32% Edmonton power play to consider as well and yes, Connor McDavid. There are quite a few factors that make the German sniper a favourite but that may be the biggest one.
Even Matthews' rate last year dropped to 0.79 goals per game and that was over a 56-game campaign. Both players are buoyed by incredible top-six units but the difference is again McDavid for Draisaitl. Having a generational talent like that feeding pucks makes Draisaitl, barring injury, a near lock for 50 goals.
The next question may become how does one handicap the rest of the field.
Auston Matthews The Defending Winner
It is hard to count out Auston Matthews as he won the award last season. Matthews has 20 goals in 27 games this season at press time. He is second on the board in the NHL props for good reason. Matthews is one of those few players that can come close to maintaining a torrid goal-scoring pace. His goals per game trajectory and shooting percentages dictate those very facts.
That is why the defending winner has odds in the range of 3.00 to 4.00. He is one of those type of playes that could have scored 60 last year if the season had been a full 82 games. The Toronto Maple Leafs' forward is still on pace for 61 this season. It seems a heavy load of power-play goals are needed and both Matthews and Draisaitl are on pace for 20+. After all, both teams have excellent units.
Bookies seem to think this is almost a coin flip here. They may not be wrong but…
Who Let Alex Ovechkin Back In These NHL Props?
That's right! Alex Ovechkin is 36-years young. He is on a quest to break Wayne Gretzky's goal record. One may want to consult many of the best Canadian online betting apps available to drop some money on him. Ovechkin has 22 goals in 30 games which puts him on exactly a 60-goal pace. He is averaging just under 0.74 goals a game. The winger leads the league in points currently and has scored 50 or more goals eight times in his career.
He is also one of the few goal scorers that can sustain his pace. That is why he has scored 50 or more goals so many times. It is why him, Matthews, and Draisaitl lead the odds currently. The Russian cannot be overlooked in these NHL Props at all. When one has won the award so many times, nine in all, that is a fact which cannot be disputed.
Our Pick For The Rocket Richard Award
The Edmonton Oilers' Leon Draisaitl is our pick to win his first Rocket Richard trophy. It will take over 50 goals for him to accomplish the feat.
Again, with the winter season upon us, there are some fine free picks from other sports to consider.