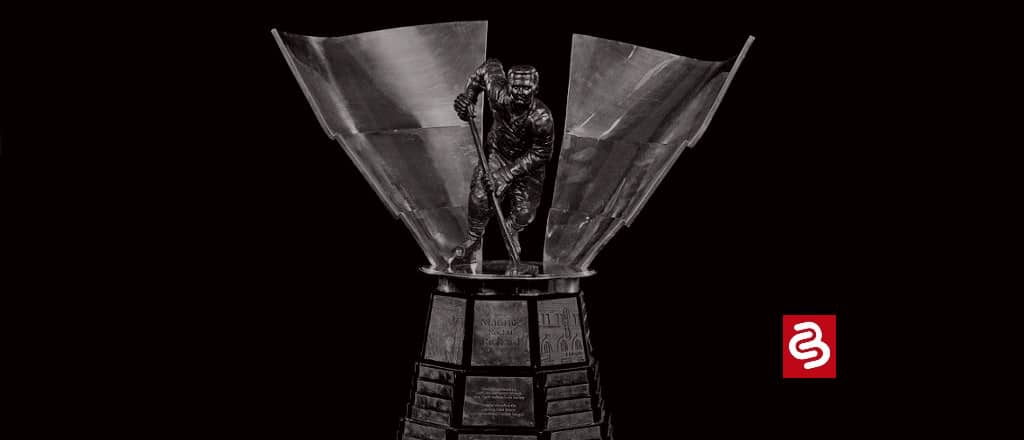 If the current NHL campaign plays out as planned, the 2021-22 NHL season will comprise 82 games. If that occurs, it will be the first time since the 2018-19 NHL season that the winner of the Maurice "Rocket" Richard Trophy will be determined by a full season's worth of goal scoring.
The Rocket Richard Trophy, which is named for the first NHL player to score 50 goals in 50 games, Maurice "Rocket" Richard of the Montreal Canadiens, has been awarded every year since the 1998-99 NHL season. The award goes to the league's leading goal scorer. Richard, besides being the first NHL player to score 50 goals in 50 games, was the first NHL player to accumulate 500 career NHL goals.
Auston Matthews of the Toronto Maple Leafs won the Rocket Richard Trophy last season with 41 goals during a season where 56 games were played. Matthews is once again in the running for the NHL lead in goal scoring as is a nine-time winner of the Rocket Richard Trophy, Alexander Ovechkin of the Washington Capitals, who last won the award in 2020 with 48 goals during Washington's 69-game season. Other players in the mix for the 2022 Richard Trophy are Leon Draisaitl of the Edmonton Oilers and Chris Kreider of the New York Rangers.
Before we look at the goal-scoring race for the 2022 NHL season, check out the odds for the NHL MVP and the latest odds for the 2022 Stanley Cup.
2022 NHL Rocket Richard Trophy odds
Auston Matthews in a position to repeat
Barring a total collapse, Auston Matthews will hit the 50-goal mark for the first time in his career during the 2022 NHL season. The 24-year-old hit a career-high of 47 goals in 70 games played in 2019-20. Matthews, who claimed the first Rocket Richard Trophy of his career last season, is on pace to score more goals in a season than any previous Maple Leafs player.
Currently, the best season for a Toronto player was 1982. Rick Vaive potted 54 goals that year. Other Maple Leafs players to score 50 or more in a season are Dave Andreychuk, Vaive on two other occasions and Gary Leeman. Andreychuk has the most recent 50 goal season. He scored 53 in '1994.
Matthews has been very consistent this season, scoring nine goals in November, 10 in December and eight in January. With two games left in February, Matthews has nine goals this month and 37 overall.
Leon Draisaitl is in search of his first Rocket Richard Trophy
Leon Draisaitl hit a career-high in goals in 2019. Draisaitl, who was the third pick of the 2014 NHL entry draft, played in 82 games that season and scored 50 goals. His only other season of over 40 goals came the following year when the Edmonton Oilers forward put the puck in the net 43 times in 71 games.
Draisaitl is second in goals scored this season. The 26-year-old, who is also in the hunt to win the 2022 Hart Trophy, has 36 goals, which puts him one behind Auston Matthews. Draisaitl has played three more goals than Matthews.
Draisaitl has been streaky this season with his goal-scoring. He had 15 goals in November, four in December and seven in January. With one game left to play in February, he has five goals.
Alex Ovechkin tries for the tenth Rocket Richard Trophy
The early season talks about Alex Ovechkin was if he would break Wayne Gretzky's all-time NHL goal record of 894. Ovechkin is currently sitting at No. 4 all-time with 762 goals. He has to pass Jaromir Jagr (766) and Gordie Howe (801) before he will move to the No. 2 spot. Barring injury, Ovechkin should pass Jagr soon.
That talk died down as the 2022 NHL season progressed and other storylines began to present themselves. After all, how long can one discuss something that might be a few years away?
One topic that shouldn't be overlooked is that 36-year-old Ovechkin is in the hunt to win his tenth Rocket Richard Trophy. Ovechkin has 32 goals this season. He is on pace to score over 50 goals for the first time since he had 51 in 2018-19.
Ovechkin's goal-scoring pace has fallen off as the season has gone on. Of his 32 goals, Ovechkin scored 19 in October and November. He has 13 goals in December through February with one game left to play in February.
Chris Kreider arrives
Chris Kreider has played 51 games this season for the New York Rangers. He has already scored a career-high in goals. The 30-year-old had two previous seasons where he put up 28 goals. He hit that total in 2016-17 in 75 games played and again in 2018-19 in 79 games. This year, Kreider has scored 34 goals.
Kreider had a great January. He netted 12 goals last month, including a hat trick against Arizona on January 22.
Kreider came down to earth in February, scoring just three goals, but as he showed in January, he can get hot. Kreider had 15 goals in October and November.
Our pick for the 2022 Rocket Richard Trophy
Auston Matthews has the best goals per game percentage during the 2022 NHL season. Matthews is scoring at a 0.75 per game rate. Leon Draisaitl is at .69 and Chris Kreider is connecting at 0.67, while Alex Ovechkin is at 0.63. With that, Auston Matthews is the pick to win the Rocket Richard Trophy in 2022.
Be sure to take advantage of the best online betting bonus offers available.