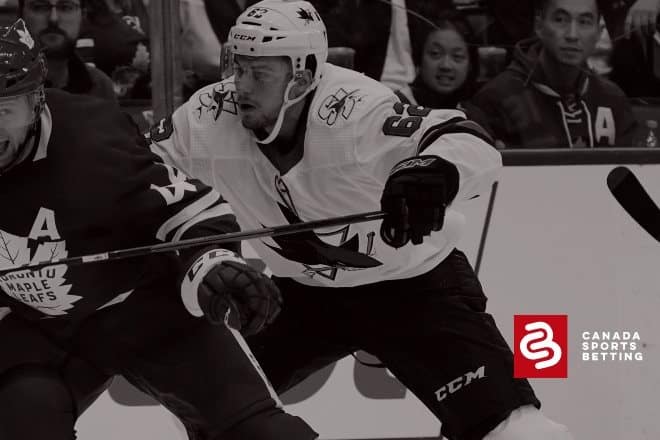 Begin the weekend with a bang by betting on the 10 NHL games happening on Friday night. To help you do just that, here are free NHL bets for November 26, 2021 with research and reasoning!
Moneyline: St. Louis Blues at Chicago Blackhawks
The top NHL betting sites have set the moneyline between Blues-Blackhawks at nearly pick 'em. Here's where the betting lines stand in this game featuring bitter rivals:
A team like St. Louis is incredibly frustrating to bet with. Some days, they look like legit Stanley Cup contenders (two years removed from its title season). Other days, they resemble a fringe playoff team. That's reflected in its win-loss of 10-7-2 that includes a long pattern of win-loss-win-loss. In other words, you just never know what Blues team you're getting when you have money on them.
Chicago, though, is finally turning the corner. A scandal rocked the team earlier in the season as they won just one of its first 12 games, but things are different now. The Blackhawks have won five of the last seven and look like an uber-confident team heading into this rivalry game. The offseason acquisition of goaltender Marc-Andre Fleury is finally paying off as he looks like the Vezina Trophy winner of old again.
We're taking the home team Blackhawks to prevail. While they lost 1-0 to the Blues earlier this season, this team is much better than back then. On its home ice, they'll edge their rivals in a low-scoring affair.
Over/Under 6.5 Goals: Florida Panthers at Washington Capitals
Talk about a game of the night front-runner, this Florida at Washington matchup has all the makings of an absolute barn-burner. Both are among the best teams in the entire league, which creates a tantalizing over/under goals scored bet.
Each team ranks top-5 in scoring. The Panthers are second-best in the NHL with a 3.84 average per game, while the Capitals sit in fourth with a 3.50 average. But at the same time, the two teams are also top-5 in goals against. Washington's goals-against average is 2.35, fourth-best league-wide, and Florida is right behind in fifth with 2.42. Something's got to give, right?
Our money is on the under. Both teams are championship contenders and they know it, which should result in an intense game. Usually in those situations, defenses shine more than offenses, hence the under pick.
Moneyline: Toronto Maple Leafs at San Jose Sharks
If we chose Chicago because they're red-hot, then we have to pick Toronto moneyline over San Jose. Have to because there's not a team across the league playing better than the Leafs. None and it's not even close.
Toronto are winners of 12 of its last 14. Its goal differential is +20 in that stretch, along with an expected goals rating of 57.02 percent — best in the NHL during that timespan. Up and down this roster, the Maple Leafs are playing top-notch.
These two teams played early in the season during October. In that matchup, the Sharks went on the road and beat the Leafs 4-2. This was before the aforementioned hot steak Toronto is on though and we don't see San Jose duplicating those results. For the foreseeable future, give us the Leafs moneyline — no matter what the current NHL betting odds are — since they look absolutely unbeatable right now.
Moneyline: Colorado Avalanche at Dallas Stars
We've spent this whole article telling you to "ride the hot hand" per se and wager with teams that are streaking and we're not about to stop now — Colorado moneyline is the obvious choice over Dallas. The Avalanche have won six in a row and are right up there with the Leafs in terms of "hotness." This is a winnable matchup against a Stars squad that's been hot-and-cold most the year. 
How To Bet On NHL Online?
Given how many NHL games there is every night, the number of betting opportunities in this sport is almost never-ending from now until June. If you want in on the fun and games, then consider joining one of the Canadian bookmakers listed below. These sites are your best bet for getting action on NHL online thanks to large betting menus and friendly prices.
The table below has updated sportsbook reviews and details on what sign-up bonuses are currently available to first-time players of the sites. If you take advantage of these welcome bonuses, your first NHL bets could effectively be "on the house." Given the ongoing holiday season, who couldn't use some extra free money? See below to get started before Friday's NHL action ensues!