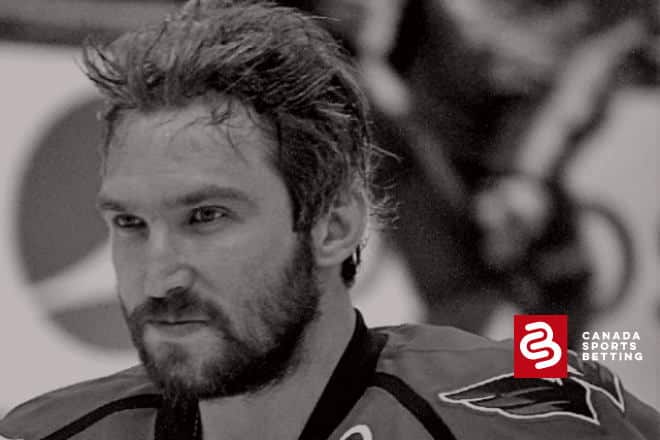 If everything works out as planned, the 2021-22 NHL season will consist of 82 games. If that happens, it will be the first time since the 2018-19 NHL campaign that the winner of the Maurice "Rocket" Richard Trophy will be determined by a full season's worth of goal scoring.
The Rocket Richard Trophy, which is named for the first NHL player to score 50 goals in 50 games, Maurice "Rocket" Richard of the Montreal Canadiens, has been awarded every year since the 1998-99 NHL season. The award goes to the league's leading goal scorer. Richard, besides being the first NHL player to score 50 in 50, was the first player to 500 career NHL goals.
Last season, Auston Matthews of the Toronto Maple Leafs won the Rocket Richard Trophy with 41 goals during a season where 56 games were played. Matthews is once again in the running for the NHL lead in goal scoring as is a nine-time winner of the Rocket Richard Trophy, Alexander Ovechkin of the Washington Capitals, who last won the award in 2020 with 48 goals during Washington's 69-game season. Other players in the mix for the 2022 Richard Trophy are Leon Draisaitl of the Edmonton Oilers and Chris Kreider of the New York Rangers.
2021-22 NHL Props: Rocket Richard Trophy Odds 
Leon Draisaitl looks for his first Rocket Trophy
Leon Draisaitl set a career-high in goals scored during the 2018-19 NHL season. The third pick of the 2014 NHL entry draft played in 82 games that season and scored 50 goals. His only other season of more than 40 goals came the following year when the Edmonton Oilers forward put the puck in the net 43 times in 71 games.
Draisaitl is tied for second on goals scored this season with Alex Ovechkin. Both players are at 29. Draisaitl has played fewer games than Ovechkin at 38 to the Capitals' stars 44 games.
Draisaitl might not lead the NHL in total goals, but his .76 goals per game average is the best in the league. He is projected to score 63 goals this season at his current pace.
Draisaitl is also in the running to win the 2022 MVP award – the Hart Trophy. 
Alex Ovechkin is in the hunt for No. 10
When Alex Ovechkin's name comes up in conversation this season, the topic is usually if/when he will break Wayne Gretzky's all-time NHL goal record of 894. Ovechkin is currently sitting at No. 4 all-time with 759 goals. He has to pass Jaromir Jagr (766) and Gordie Howe (801) before he will move to the No. 2 spot. Barring injury, Ovechkin should pass Jagr soon.
Ovechkin has 29 goals this season. He is on pace to score over 50 goals for the first time since he had 51 in 2018-19. Ovechkin is scoring at .66 goals per game pace during the 2021-22 season.
He might be the sentimental favourite to win the Richard Trophy this season, but his goals per game pace make him a longshot since the Capitals have played 44 games, which is more than the Oilers (38), Maple Leafs (39) and Rangers (43), the teams the players he is competing against play for. 
Auston Matthews looks to repeat
It looks like 2021-22 will be the first time Auston Matthews of the Toronto Maple Leafs will hit the 50 goal plateau. The 24-year-old hit a career-high of 47 goals in 70 games played in 2019-20. With 25 goals in 36 games played for Toronto this season, Matthews is on pace to hit 53 goals on the season. Matthews is scoring at .69 goals per game pace.
If Matthews, who was the winner of the 2017 Calder Trophy,  can go back-to-back as the NHL's goal-scoring leader, he will join Ovechkin and Pavel Bure as one of three players to win the Rocket Richard in consecutive years. Bure went back-to-back in 2000 and 2001. Ovechkin won in 2008 and 2009 and then won four years in a row in 2013-2016 before going back-to-back again in 2018-19. 
Chris Kreider comes out of nowhere
Chris Kreider has played 43 games this season and has already scored a career-high in goals. The 30-year-old had two previous seasons where he put up 28 goals. He hit that total in 2016-17 in 75 games played and again in 2018-19 in 79 games. This year, Kreider has 30 goals in 43 games. He is scoring at .70 goals per game clip.
Kreider has nine goals in his past six games, including a hat trick against Arizona on January 22.
The thing to look at with Kreider is he is streaky. He had seven goals in October, eight in November, four in December. He has 11 in January and the Rangers have three more games this month.
Our pick for the Rocket Richard Trophy
Leon Draisaitl has been the most consistent goal scorer this season and it looks as if 2021-22 will be his year to win the Rocket Richard Award.
Be sure to take advantage of the best online betting bonus offers available.