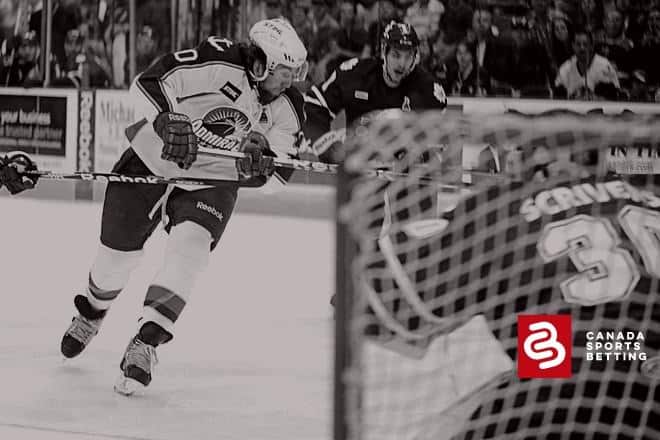 We have a packed weekend for the AHL coming up. While giving an update on where the 2021-22 season is, we put together a three-leg parlay broken down from some of the best games this Friday and Sunday. Be sure to keep checking the top online sportsbooks like Sports Interaction (SIA) to find more AHL betting odds. We provide you in this article with great free AHL betting picks.
With most teams having played 30 games, we are just about halfway to the 2021-22 AHL season. In what has been a turbulent season, some things have stayed consistent. The Providence Bruins still being a division giant while several Canadian teams like the Toronto Marlies and Manitoba Moose are in the playoff picture.
Here is a quick look at what's going on in the AHL with a focus on the great and not-so-great teams. Regardless of their status, you can find all AHL teams and their games from the best NHL betting sites focused on Canadians.
AHL 2021-22 Season Update
Who's Hot?
The Chicago Wolves are dominating the season and lead the league in goal differential and point percentage. And as mentioned, the Providence Bruins remain the cream of the Atlantic Division's crop. They have won three straight and are 7-3-0-0 in their last ten games. They have allowed the fewest goals in the league.
Others on the rise are the Bakersfield Condors and the Syracuse Crunch. The Condors sit just three points back of Henderson for the third spot in the Pacific Division. They have won seven of their last ten games (7-0-2-1) while the Crunch have gone 7-2-1-0 in their last ten and are making a run for a playoff spot up in the North Division.
Who's Cold?
The Wilkes-Barre/Scranton Penguins continue to struggle and have now dropped seven of their last ten games (2-7-0-1). They are a good seven points back of the second-last placed team in the division in Bridgeport. Similarly, the Texas Stars are sitting in last with the lowest point percentage (.411) in the league.
Who Are The League Leaders? The Wolves are tearing up the league thanks to their top line featuring Andrew Potularski, Stefan Noesen, and CJ Smith. The trio lead the league in scoring, respectively, with Potularski and Noesen tied for the league-lead in goals with 18 apiece.
Another Wolf, Dustin Wolf of the Stockton Heat, has been the AHL's best goaltender.  He leads everyone in wins (16) and save percentage (.931) and is second, behind Chicago's Eetu Makiniemi in goals-against average at 2.07 (Makiniemi is at 2.06). 
AHL Weekend Betting Picks: Friday, January 21
We have seven games lined up for Friday. A good chunk of these features Canadian teams and/or contenders in action. But here are three notable games that are not only worth paying attention to, but could cash an 8-1 parlay that should more than cover your AHL betting needs.
Additionally, you can take some of these picks and parlay it with some of our NHL free picks.
Utica Comets at Syracuse Crunch
Time: 7:00 PM ET
Moneyline: Syracuse Crunch 2.43, Draw 4.00, Utica Comets 2.38
Over/Under: Over 6.0 (1.92), Under 6.0 (1.78)
The Utica Comets (20-5-4-0) have been a steady team thanks to solid defence and sharp goaltending. But they're facing an upstart Syracuse Crunch (14-11-3-1) team that has won three of their last four games. We give the Crunch the edge as they have more firepower but this one should be a low-scoring affair so bet the under and put it as the parlay anchor. 
Toronto Marlies at Wilkes-Barre/Scranton Penguins
Time: 7:05 PM ET
Moneyline: Wilkes-Barre/Scranton Penguins 2.23, Draw 4.00, Toronto Marlies 2.60
Over/Under: Over 6.0 (1.94), Under 6.0 (1.77)
The Toronto Marlies (17-11-1-1), unlike their NHL counterparts, have some goal-scoring issues. Brett Seney leads the team with 25 points in 25 games. The defence and goaltending have been what has saved this team. But against the hapless Wilkes-Barre/Scranton Penguins (11-16-1-3), the Marlies should look like rockstars. They should light up their poor goalies and win this one in regulation.
Henderson Silver Knights at Stockton Heat
Time: 10:00 PM ET
Moneyline: Stockton Heat 2.55, Draw 4.00, Henderson Silver Knights 2.30
Over/Under: Over 5.5 (1.79), Under 5.5 (1.92)
The Stockton Heat (22-7-2-1) take on the Henderson Silver Knights (16-10-2-1) in a battle of attrition. The Heat have Wolf and one of the best defences in the AHL while the Silver Knights are not far behind. The Heat should be able to edge Henderson as they have a bit more scoring support, but the under 5.5 goals is a gimme here. Throw it on the parlay.
Parlay: You can parlay the Utica-Syracuse under, Toronto Marlies moneyline, and Henderson-Stockton under for a payout of 8.89 from Sports Interaction (SIA). Read our Sports Interaction review to learn more about the bonuses and promotions you can use for AHL, NHL, and more hockey betting.