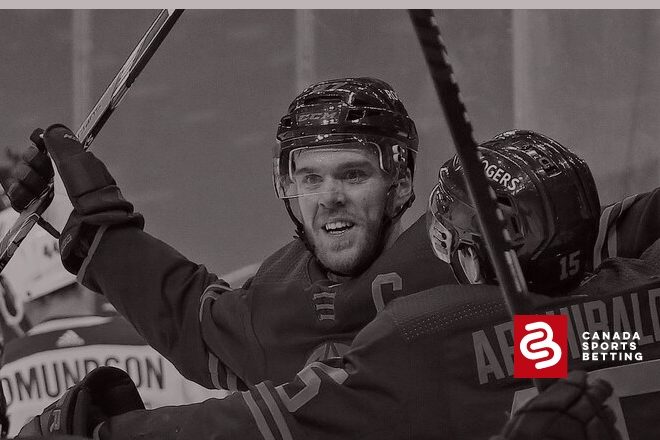 It appears the Edmonton Oilers may have the MVP Award cornered on the market. The Hart Trophy could be another Leon Draisiatl-Connor McDavid battle.
So, NHL Props are never too early. This week, we took an early look at the NHL MVP, better known as the Hart Trophy race. There are a few easy trends to follow. This does seem a bit like an open and door shut case between Connor McDavid and Leon Draisaitl. However, is it really? Is there a magic scenario where the unexpected could occur?
There has been some movement with the award but not with the top two candidates so far. There has been some shuffling with the rest of names. For example, Nikita Kucherov (2019 winner) will be out until around the Olympic Break or so. That will likely keep him out of the running.
In the meantime, let's examine why some players just will not cut the mustard here and why this shapes up more and more as a two-player race again.
2021-22 NHL Props: The Hart Trophy Odds
Following these NHL Props for the last couple of months, the Hart Trophy had some shares for Nikita Kucherov and Nathan MacKinnon initially. Like we mentioned above, those quickly shifted again to Connor McDavid and Leon Draisaitl of the Edmonton Oilers.
When one player averages a goal a game and the other is around two points a contest with ease, that kind of clears out the field. Even though there were some impressive performances, the focus just intensified on what was going on in Edmonton. That is understandably so.
The numbers for the MVP reflect this as follows:
Again those Canadian NHL Betting Sites are often tilted toward Edmonton lately. Even with that brief losing streak, that has not tilted the award odds here at all. Injury may be the only way this race gets dramatically altered. Maybe.
Connor McDavid Has Hart Trophy Inside Track
The question is why? The answer is simple. Connor McDavid leads the Hart Trophy race because, at their core, he is really what makes Edmonton go. He is the engine. This is the player that can score multiple points in no time at all or accelerate over 26 mph without breaking a sweat. McDavid has 43 points in 24 games this season and does not turn 25 until January 13th. Also, he has won the award twice already.
Basically his numbers since the summer have had him on the inside track. They have ranged from about 1.75 to 2.50. There has not been all that much in the way of variation either. McDavid is still on a pace to eclipse 150 points this season. Considering he surpassed the 100-point mark last year in 2/3 of the time, this is a reasonable feat for the center.
Now, some have asked why McDavid's "Point Share" is a little lower than some other Hart Trophy winners. For those wondering, goalie point share is a bit different so throw the goaltenders out the window. The last two seasons have seen the Hart won by McDavid (13.0) and Draisaitl (12.8). In a sense, their point share kind of splits the vote a bit.
At press time, this season has been a bit different. McDavid is at a 5.3 through 24 games. His offensive pace could easily push his PS over 15 for the season. Between his offense and how he moves in all phases — including that 32% top power play, there is no surprise why McDavid is the current favourite to win his third Hart Trophy at the tender age of 25.
2021-22 NHL Props: Could Leon Draisaitl Be Even Better?
Now, Leon Draisaitl could be even better this season. When it comes to the NHL props, he is around a 5.00 as opposed to McDavid's 2.00 to 2.25. His number has also stayed mostly around the same. When one examines his stats, they are staggering. Draisaitl has 21 goals (NHL Leader) and the same 43 points as McDavid with a 6.1 point share. There are some other interesting tidbits too.
Draisaitl is a +15 on the season. Now, the forward has less shots than McDavid (83 compared to 91) at press time. The German sniper has six game-winning goals compared to McDavid's one. Draisaitl also leads the league in power play goals (11). Drasaitl even takes more faceoffs and wins nearly 56% of them. McDavid does not.
It is why we rarely say this but it is true. Leon Drasaitl is having an even better year than his Hart Trophy year. With the two so far above anyone else, is this really just a coin flip as opposed to what the early NHL props tell us?
NHL Awards Betting can be tricky and reputation based sometimes.
Could Any Player Crash The Hart Trophy Coronation?
Some argue that several could but one sentimental Hart Trophy choice could be Alex Ovechkin. Ovechkin has 20 goals and 41 points in 26 games at 36 years old! The "Russian Machine" never breaks down. His point share is a robust 6.0 and even though he is deployed nearly 70% of the time in the offensive zone, the Great 8's numbers still dazzle NHL bettors and fans alike. Ovechkin last won the award in 2013 and the question boils down to can he keep this pace up?
The answer is probably not but would it be some fun. His numbers range from 9.6 to 10 for a longer shot.
Our Canada Sports Betting Hart Trophy Pick
Connor McDavid is our Canada Sports Betting Hart Trophy Pick.
Also, do not forget one can bet on the IIHF 2022 World Junior ice Hockey Championships soon.