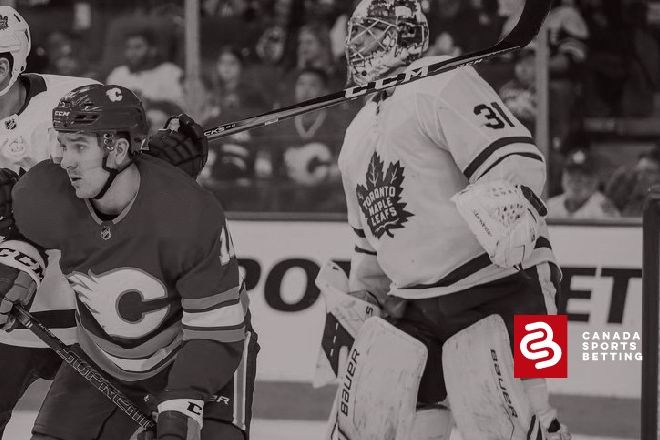 How does starting off your weekend by making money betting NHL sound? Good, right? Welp, we're giving you free NHL bets for November 12, 2021 to do just that! Read this for free betting advice from the experts!
The top NHL betting sites in Canada haven't released odds for Friday's games as of this publish date, but we can still "guestimate" how to best bet the upcoming matchups. The games being played are listed underneath:
Moneyline: Washington Capitals at Columbus Blue Jackets
We believe oddsmakers will peg the moneyline between Capitals-Blue Jackets very close. That's because both teams are off to a flying start. Washington is 6-2-4, while Columbus is 7-3.
But here's the big-difference maker come Friday: fatigue. On one hand, you have a Blue Jackets team that will be incredibly fresh, playing on their home ice. They last played on Saturday, topping Colorado — one of the teams with the best Stanley Cup 2022 odds to win — by the score of 4-2. Therefore, the hosts will be on six days' rest before hosting the Caps.
Washington won't be anywhere near as well-rested. Unlike their opponents, they'll play two extra games since Saturday. One of those will be the night before as they face the Red Wings on the road on Thursday. Going back-to-back is never easy, especially when it's on the road. With the Caps likely to be worn down, we fully back a moneyline bet on the Blue Jackets.
Against The Spread: Edmonton Oilers at Buffalo Sabres
At last, Edmonton lost a game. After a four-game win streak, they were topped by Detroit 4-2 on Tuesday. That result sets up an intriguing against-the-spread wager between the Oilers and Sabres.
It's interesting because the Edmonton loss was the first leg of a stateside road trip. The second leg is at Boston on Sabres, before they come right back the next night versus Buffalo. We've talked about fatigue already in this article and we're going to mention it once more because it has a huge influence on outcomes.
Many bettors make their decisions based on talent. And believe us, the Oilers are the more talented team of the two. They rank number-one league-wide in goals scored and a respectable ninth in goals allowed. They can flat-out play, however, by the end of this road trip, they won't be anywhere near 100 percent.
With that said, we think an Edmonton team at 75 percent is good enough to squeak out a victory versus a so-so Buffalo side. But it'll be close, which warrants a spread wager on the Sabres, which should be +1.5.
Moneyline: Calgary Flames at Toronto Maple Leafs
It won't surprise us if the Calgary at Toronto moneyline bet is a toss-up. Each Canadian side is off to a roaring start. The Leafs are third in their division with a 7-5-1 mark, while the Flames are even better. They're second in the Pacific with a 7-2-3 mark. Our gut feeling is Calgary enter as slight betting favourites — in spite of playing on the road.
Naturally, people are skeptical about the Flames' success. After all, this franchise has been mediocre as can be for over a decade now. But we sense the tide is turning, evident by Calgary's +15 goal difference (tied for third-best in the league).
It feels like a prove-it game for the Flames and we do believe they'll "prove" it against the title-contending Maple Leafs. Take the risk and back Calgary to win here!
Over/Under Goals: Arizona Coyotes at Chicago Blackhawks
We might as well call this the "toilet bowl" given how bad both teams are currently. However, sloppy play usually means goals scored, hence why we advise betting the over/under goals scored in the Coyotes-Blackhawks matchup.
As of this writing, the two teams ranked bottom-two in goals allowed. Chicago has given up a league-high 50 scores despite the splashy addition of goaltender Marc Andre-Fleury over the offseason. Arizona is right behind them with 49 allowed — and we should mention, the Coyotes have played two fewer games.
We expect a complete slop fest on Friday when these two treacherous teams hit the ice. No matter what the bookies set the goal total as we're hammering the over, no questions asked!
How To Bet NHL Online In 2021?
If you want a one-stop-shop for NHL betting odds for the 2021-22 season, then you'll get it at one of the bookies listed underneath. You name the bet — spreads, moneylines, props, futures — and you're likely to find a wager for it at these bookmakers. Not only that, but you'll get the wager at industry-leading prices too.
First-time bettors could also score a sign-up bonus from the sites. These bonuses could net you hundreds of dollars in free play before you even place an NHL bet. If that sounds good to you, click one of the links below to get started!