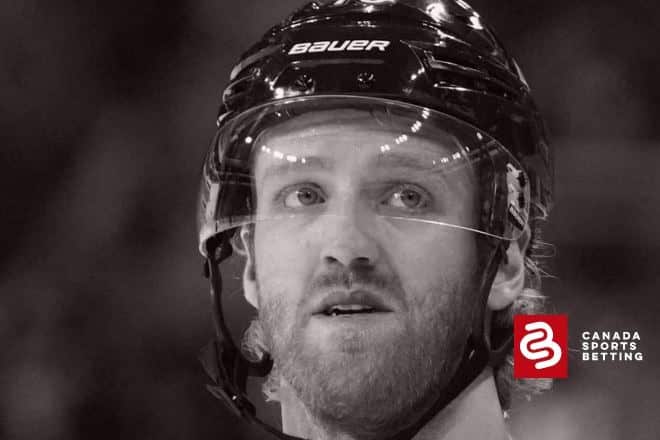 Friday night's NHL Picks features Dougie Hamilton and New Jersey's debut among other possible games to pick. That includes the Philadelphia Flyers home opener.
Three more teams start their NHL season on Friday Night. NHL Picks normally might consider taking the night off but not when the top free agent is playing. That's right. Dougie Hamilton and the New Jersey Devils are home to the Chicago Blackhawks.
That game from the Prudential Center is not the only contest on Friday night. Also, on this slate, there is the Philadelphia Flyers home opener against the Vancouver Canucks. Finally, out west. the Minnesota Wild opens up with a "California trip" against the Anaheim Ducks.
The Friday Night Picks begin with of course some numbers from the moneyline and a few stats err tips.
Friday Night NHL Picks: Some Tabled Numerology
Numerology plays a heavy role, especially with the moneyline. This is true even in the early stages of the NHL season. Some numbers will be a little off-kilter at first. For example, few pundits expected the Winnipeg Jets to be thwarted by John Gibson on Wednesday night. Even the Edmonton Oilers had a very tough time with the Vancouver Canucks.
Again, nothing is guaranteed even with heavy favourites. NHL Picks will examine all three games on Friday night. Some line movement is possible but with none of these teams on a back-to-back scenario, any nudge should be minimal. Let's dive into those betting numbers.
There are more NHL odds here including some props and much more. Below are our picks on this NHL Friday night.
Friday Night Featured Pick – New Jersey Devils over Chicago Blackhawks
Again, historically these two have played some wild games in recent years. That is partly why the New Jersey Devils and Chicago Blackhawks are our featured pick. Martin Brodeur broke a record facing this team. There was an 8-5 game, a crazy 7-6 game, and just so many odd results. Now, the teams did not play each other last year.
A lot has changed. For the Chicago Blackhawks, Jonathan Toews is back after missing an entire season with a mystery internal ailment. No one is still quite sure what it was but Toews had looked great in camp. This makes Chicago that much more dangerous on offence.
Chicago traded for Seth Jones and then signed him to an eight-year extension, worth $76 million. Now, the Blackhawks did play on Wednesday night and lost 4-2 to the Colorado Avalanche. One of the glaring takeaways from that game was how many high-danger chances they yielded. Chicago certainly plays an entertaining brand of hockey. Fans in Newark will get their money's worth on Friday night and bettors will too.
Many picks will be for the over in this contest. However, we are more focused on what will happen with the moneyline.
Dougie Hamilton in the Fold
Now, there are worries with the New Jersey Devils as well. New Jersey's penalty kill was around 70% for most of last season and ranked 31st in the NHL. They were historically bad and some of that was from COVID but arguably most of that was personnel. With Dougie Hamilton in the fold, things expect to improve as players will be allowed to slip into lesser roles.
New Jersey does have a slight injury issue with Damon Severson and Ty Smith both out. However, this is a team that carries a little more depth than last year. The two younger defensemen not playing does not help but their injuries are not serious. They could return next week.
In the meantime, New Jersey's top-six forwards were upgraded with the signing of Tomas Tatar as well. With another year under Jack Hughes' belt, New Jersey is quite a bit more formidable. Chicago will have a tough time keeping up with these forward units. Do not forget Dawson Mercer who will shadow the Patrick Kane line.
With all that said, let's keep this simple. Our pick on Friday night is the New Jersey Devils defeating the Chicago Blackhawks.
Philadelphia Flyers over Vancouver Canucks
The Philadelphia Flyers open their 2021-22 NHL season on Friday night against the Vancouver Canucks. Again, last year was a lost cause for Philadelphia as COVID and the mental toll it could cause Philadelphia to fall far short of expectations.
General Manager Chuck Fletcher made several moves to improve the team. Ryan Ellis was brought in as a Matt Niskanen-like replacement. Jakub Voracek was shipped out and Cam Atkinson was brought in. There were several other moves as well but the most important thing will be the confidence of Carter Hart.
If Carter Hart is feeling more like himself, the Philadelphia Flyers could be even better than they were two years ago. During the preseason, Philadelphia looked more balanced offensively and the power play had life. It is partly why our pick here is the Philadelphia Flyers over the Vancouver Canucks.
One Final Pick For October 15th
The Anaheim Ducks surprised many on Wednesday night as John Gibson turned away all but one shot in their win over the Winnipeg Jets. That 4-1 win was unexpected on so many levels. Winnipeg did generate quite a few chances but Gibson was stupendous.
Can he have the same good fortune Friday night against the Minnesota Wild? This final pick is a tough one. Minnesota was one of the better teams last year and gave Colorado all they could handle in the playoffs. Their offence and Cam Talbot may be too much here. Minnesota's special teams were among the best in the league over the second half last season.
Take the Minnesota Wild on the road on the moneyline.
Thanks to sportsbooks like Spin Palace Sports for their continued, excellent hockey odds, props, and more.