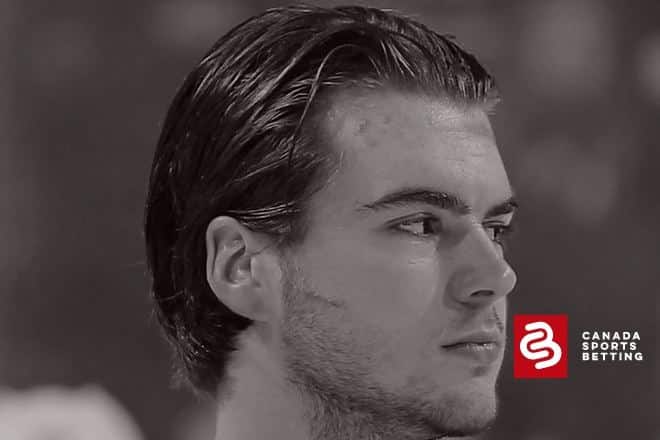 The New Jersey Devils host the Calgary Flames on a busy Tuesday night slate that features seven games. We feature Vegas and Colorado plus one more pick at CSB.
Tuesday night, like Monday night, features seven more games to examine. Here, at Canada Sports Betting, we give you our three best picks of the night for October 26th.
This is a little light for the typical Tuesday night schedule but that is not always a bad thing. The fun part is that it allows a bettor to take some different approaches to what would normally be a far more chaotic night. Sometimes, less is more.
Admittedly, some of these games are better with a second or third run past them. This could mean even more fun for the Tuesday night picks that made the cut. Let's get to work.
Tuesday Night Picks: Devils in the Details
It is going to heat up on Tuesday night as the New Jersey Devils entertain the Calgary Flames. One of the more intriguing games of the night is this one more because New Jersey has such a tough time against them normally.
After that, there are echoes getting stirred in Colorado as the Avalanche host the struggling Vegas Golden Knights. It is one of those primetime matchups that is missing something. Yet, it is hard to look the other way. Finally, we release the Kraken versus the Canadiens as Montreal goes into the Pacific Northwest. 
These NHL Odds are once again quite even as we delve into these NHL Picks.
Tuesday Night Picks: New Jersey Devils Put Out Calgary Flames
The New Jersey Devils are home to the Calgary Flames on Tuesday night. New Jersey got a few days to rest while Calgary is on the back end of a back-to-back. This is after playing the New York Rangers on Monday night.
Now, Calgary has been quite the adventure this season. There was the demotion of Sean Monahan and now there are unexpected wins and a potential Vezina Trophy candidate in Jakob Markstrom. A 3-1-1 Calgary team was not what most expected but then again, most did not figure the Devils to be 3-1. Add in the fact that New Jersey is without several regulars and it becomes more impressive.
New Jersey is missing Mackenzie Blackwood, Miles Wood, and even were without Ty Smith and Damon Severson for the first 3-4 games. Now, with Jonathan Bernier still out, New Jersey has turned to Nico Daws. Daws played well in New Jersey's overtime win over Buffalo. Calgary offers a sterner test with a top-six that can attack New Jersey's defence early and often.
This means New Jersey may have to score a few goals on Tuesday night. Can they do it? That is a great question and the answer so far is yes. Also, Ty Smith and Damon Severson can help Ryan Graves and Dougie Hamilton at least slow down the Johnny Gaudreau line. That has been a line that has hurt New Jersey in previous matchups. With Dougie Hamilton and Captain Nico Hischier (pictured above) on the roster, that could flip things a little.
Can New Jersey Finally Beat Calgary?
What do most people may not know? The Calgary Flames have defeated the New Jersey Devils six straight times. New Jersey's last win was in January of 2017. Since 2012, Calgary has defeated the Devils in 12 of their previous 14 meetings.
If there is a night for New Jersey to defeat the Flames, then this would be it. Calgary again has played a lot and is in the middle of a four-game in a six-night stretch.
It is why our NHL Picks feature New Jersey. This is because those even odds are just way too enticing. How can one pass up numbers in the 1.85 to 1.85 range for a home team? Exactly. Calgary and Darryl Sutter will play their style. New Jersey has the players to be able to keep up with Calgary even with the injuries.
New Jersey is our top pick to end the streak and finally defeat the Flames at home on Tuesday night.
Colorado Avalanche over Vegas Golden Knights
This is where NHL Picks goes a bit sideways. Or does it? The Colorado Avalanche are relatively healthy when compared to the Vegas Golden Knights. Vegas also cannot seem to get out of its own way and are allowing goals at an alarming rate. For Colorado, they still have the offence to outscore their problems. For Vegas, right now, they are just offensive.
The goaltenders do not even matter much in this one. They are just passengers to the offences. Right now, Colorado has the better team while Vegas has little or no depth. Without Max Pacioretty and Mark Stone, it is like watching a rudderless ship out there.
Our pick is to take the Colorado Avalanche over the Vegas Golden Knights on Tuesday night at 1.57.
Seattle Kraken over Montreal Canadiens
It is time to take that jaunt over to the Pacific Northwest to see if the Montreal Canadiens can build off their big home victory on Saturday night. They play the Seattle Kraken, a team that has shown some flashes but mostly have struggled like an actual expansion team.
Pouring over the numbers, there is an even feeling that this should not be even. Seattle is either going to lose easily or defeat Montreal in a close battle. The lean here is to look at the latter. The Kraken are the type of team to frustrate Montreal.
Take the Seattle Kraken over the Montreal Canadiens in the nightcap. 
These sportsbooks, like Spin Palace Sports, strike with some very good numbers on Tuesday night.