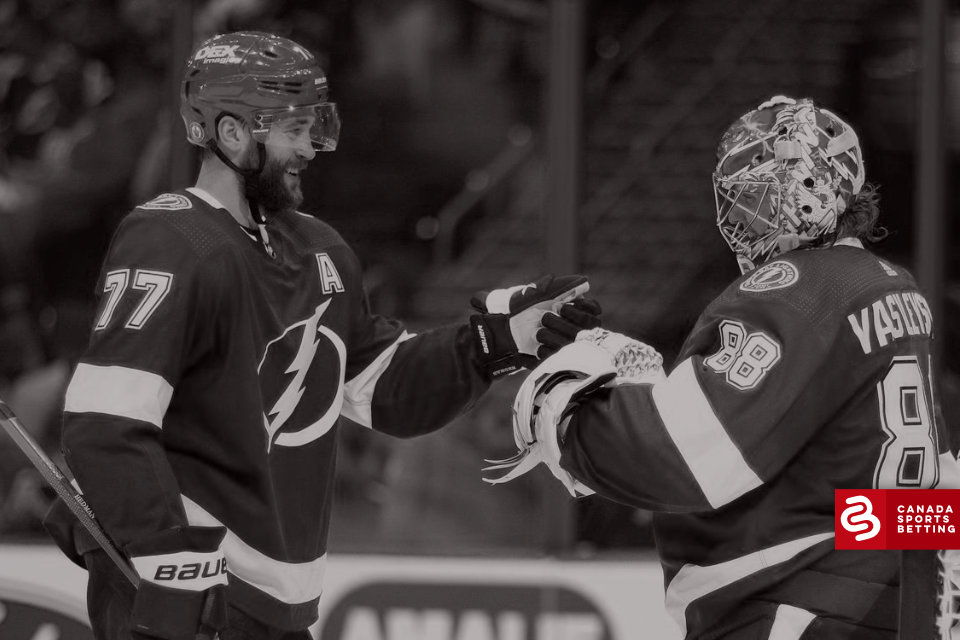 Let's have a look at the 2021 NHL Playoffs picks for June 15 and 16.
NHL Predictions: June 15-16. 2021
The 2021 NHL Stanley Cup Playoffs Odds are closer than ever. Only four teams remain as the third round is officially underway. Today, we'll be making picks and predictions for two games—one from each series.
The New York Islanders continue to prove people wrong following their game one victory against the Tampa Bay Lightning.
The Bolts made things interesting late in the game as Brayden Point scored a power-play goal with less than a minute remaining, but it wasn't enough. The Isles won 2-1 and took an important game on the road.
Was this a lucky win? Some think so; however, shots were dead even at 31 and New York dominated in the faceoff circle at an impressive 61% clip. Perhaps something has changed on the Isles' bench following their game five victory in Boston, as they've seemed unstoppable ever since. Will they be able to maintain this spark?
On the other side of the playoff tree, the Montreal Canadiens looked overwhelmed at times during their game one loss to the Vegas Golden Knights.
The Habs were hot out of the gate, peppering the Golden Knights with a flurry of shots. Unfortunately, Marc-Andre Fleury made a couple of clutch saves to keep things scoreless.
During the second half of the game, Montreal seemed a tad worn out and struggled to match Vegas' pace of play. Will the Canadiens be more prepared for game two?
If you're new to betting, be sure to check out our various sports betting guides before making any wagers. Now, let's take a closer look at the aforementioned games.
These odds were last updated on Tuesday, June 15th, 2021:
Tampa Bay Lightning (1.49) vs. New York Islanders (2.68)
Game one was a fierce battle with very little margin for error. Both teams racked up roughly 40 hits apiece, and both goaltenders were as excellent as expected.
The main statistical difference between the two squads was giveaways. The Bolts turned the puck over seven times whereas the Isles only did so once.
Ryan Pulock scored the game-winning goal early in the third period and had a relatively good night in general. The former first-round pick also registered three shots and three hits over 21 minutes of ice time.
Although they're usually dominant, Tampa Bay's top line was on for both goals against. Nikita Kucherov had an assist on Point's late tally, but only recorded one shot on goal in the 18 minutes he played. The Lightning are a lot worse when he's not getting consistent scoring chances, but you can expect a better effort in game two.
Jan Rutta was also disappointing in this one. He's been on the Bolts' top pairing with Victor Hedman for most of the playoffs but was on for both goals against despite playing less than 14 minutes. Hedman was also on for both, although he did play a lot more than Rutta (just shy of 25 minutes)—including over three shorthanded minutes.
New York stuck to their game plan, and they were rewarded. They may have only won by a single goal, but a lot of that can be tied to the multiple highlight-reel saves made by Andrei Vasilevskiy.
The Isles could actually take the series, but winning two straight games against the Lightning at Amalie Arena doesn't seem likely. Take the Bolts to win game two.
Vegas Golden Knights (1.38) vs. Montreal Canadiens (3.16)
It was a tale of two halves between Vegas and Montreal in game one. As previously mentioned, the Habs had some great chances to score in the early going but failed to capitalize.
Alec Martinez extended the Golden Knights' lead just over two minutes into the second frame, but the Canadiens managed to respond on the power play thanks to super-rookie Cole Caufield.
Unfortunately, Caufield's goal was matched less than a minute later by Mattias Janmark, giving Vegas a 3-1 lead with seven minutes left in the second. That third goal seemingly took the wind out of Montreal's sails, as Vegas added an insurance tally in the final period en route to a 4-1 win.
Both squads stepped up physically as 96 total hits were collectively thrown. Surprisingly, the Golden Knights had a whopping 10 giveaways while the Habs only had five.
Carey Price was excellent, but Montreal may not get their usual edge in that regard thanks to Fleury. As such, they'll have to continue to throw lots of pucks on the net if they want to make things happen.
Playing without Jeff Petry hurts their chances, seeing as he might be the best all-around defenceman on the Canadiens' roster. The timetable for his return still hasn't been solidified, although he was seen taking reps at practice in a non-contact jersey.
A lot of folks think this series will be a walk in the park for Vegas, but don't count on it. After all, Montreal historically thrives when they're an underdog in the playoffs—especially when they get elite goaltending. They should, at minimum, give the Golden Knights a hard time.
On the other hand, it's hard to imagine Vegas losing in front of that rambunctious crowd. Pick the Golden Knights to win game two.
Thank you for tuning into our free NHL Stanley Cup Playoffs picks. Remember to choose the sportsbook provider that best suits your needs and good luck! Some of the top sportsbooks are listed below: