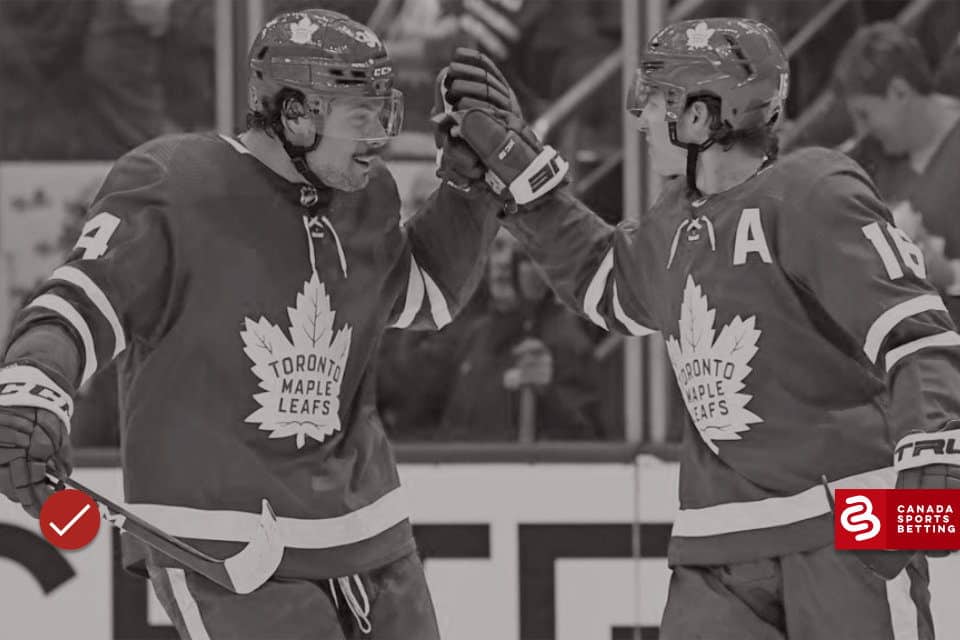 The 2021 NHL Stanley Cup Playoffs Odds have drastically fluctuated as the first round is almost complete. Let's look at some picks and predictions for meaningful, upcoming games. 
The Toronto Maple Leafs and Montreal Canadiens have seen no shortage of drama in their series so far. Leafs' captain John Tavares suffered a concussion during a freak accident in the opening period of game one and needed to be stretchered off the ice.
Montreal went on to win that game 2-1, but the Leafs won the next three games in a row. Now, the series sits at 3-1 in favour of the Leafs. Will they be able to eliminate the Habs in five games?
On the other side of the border, the Minnesota Wild continues to give the Vegas Golden Knights fits. The Wild managed to win game one, but the Golden Knights responded by winning three games in a row.
With a 3-1 series stranglehold, Vegas has had two chances to win the round but can't seem to close it out. The Wild have won two straight, and appear to have all the momentum. Are the Golden Knights, whom many predicted to win the Stanley Cup, now primed for an early exit?
Lastly, the Boston Bruins and New York Islanders are set to meet in round two after winning their respective series. Very few expected either of these teams to move on, but that's exactly what makes the playoffs so unpredictable. Who has the best chance of setting the tone by taking game one?
If you're new to betting please stay informed and check out our various sports betting guides before making any wagers. Now, let's take a closer look at the aforementioned games.
2021 NHL Playoffs Odds
These odds were last updated on Thursday, May 27th, 2021:
| | | | |
| --- | --- | --- | --- |
| Winnipeg Jets | 1.87 | 1.95 | Montreal Canadiens |
| Colorado Avalanche | 1.87 | 1.95 | Vegas Golden Knights |
| Boston Bruins | TBA | TBA | New York Islanders |
| Tampa Bay Lightning | TBA | TBA | Carolina Hurricanes |
Toronto Maple Leafs (1.40) vs. Montreal Canadiens (2.95)
It would appear that the Toronto Maple Leafs are on the cusp of winning their first playoff series since 2004.
At the same time, Toronto's inability to close out important games has been well-documented in recent years. This time feels different, but nothing is set in stone until the game is over.
Montreal surprised many by eliminating the Pittsburgh Penguins during last year's play-in round, and they were certainly hoping to build on that success against the Leafs—their historic rival.
So far, that hasn't been the case as there are very few positives for the Canadiens to draw on. The Habs have only managed to score four goals in four games and didn't seem to have an answer for the Leafs' suffocating play during a 4-0 game four loss.
Carey Price has been solid as always, but Jack Campbell has been even better which has seemingly neutralized the Habs' usual goaltending advantage.
This series is essentially over, barring some miraculous change in the Canadiens' play. Pick the Maple Leafs to win game five and the series.
Vegas Golden Knights (TBA) vs. Minnesota Wild (TBA)
It's been a series of providing proof for the Minnesota Wild, as they had a lot of naysayers heading into the playoffs.
Some of that had to do with the Wild themselves, as their recent playoff history features a lot of first-round exits. Their opponent, of course, doesn't help either as many views the Golden Knights as a top-five team in the league.
Yet here we are, on the brink of what should be an entertaining game seven. This series has been surprisingly high scoring given the penchant for defence both clubs showcased all season. Four-of-the-six games played have seen four or more goals, although the neutral zone has also been as clogged as expected.
The Wild have a young core with a lot of untapped potentials, and it would appear that some of their young guns are primed to take the next step a lot sooner than expected. What they are doing against the Golden Knights is truly impressive, and they aren't showing any signs of stopping now.
Vegas may be favoured to win, but take the Minnesota Wild to win game seven and bring home the series.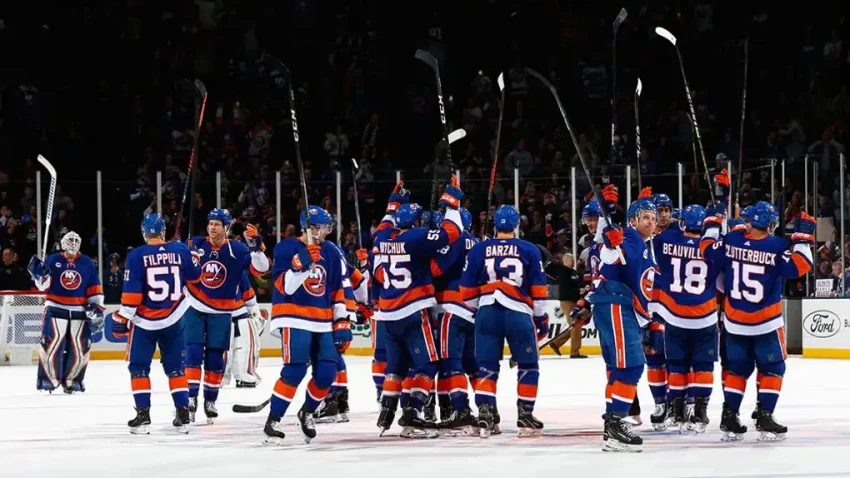 Boston Bruins (TBA) vs. New York Islanders (TBA)
All eyes were on the Pittsburgh Penguins and the Washington Capitals heading into the first round. After finishing 1-2 in the division, many figured both teams would have no problem knocking off their 3-4 counterparts.
The Boston Bruins and the New York Islanders had other ideas and won their respective series despite the underdog tags.
There's a famous expression that reads "offence wins games, defence wins championships", and this reigned true in the opening round for the East Division—causing both of the more defensive-minded teams to advance.
Many figured the Bruins and their ageing core would be hungry for playoff success, and they came out starving. The "perfection line", composed of Patrice Bergeron, Brad Marchand, and David Pastrnak, has yet to encounter an insurmountable obstacle.
They've been even more successful lately, thanks to the play of Boston's second line featuring Taylor Hall, David Krejci, and Craig Smith. Now, teams have two tough lines to play the matchup game against, thus benefitting the Bruins' entire top-six.
What the Islanders lack in firepower, they more than makeup for in defensive competence. Losing Johnny Boychuk and Devon Toews was rough in the summer, but they've responded well under the wise guidance of head coach Barry Trotz. The emergence of Ilya Sorokin is something worth noting as well, and the Isles' overall situation in net is something they can rely on with confidence.
This will be a tight series, and goals will be hard to come by. The Bruins always perform well at home, and game one will be at TD Garden. As such, pick the Bruins to win game one.
Thank you for tuning into our free NHL Stanley Cup Playoffs picks for upcoming, meaningful games. Remember to choose the sportsbook provider that best suits your needs and good luck! Some of the top sportsbooks are listed below: