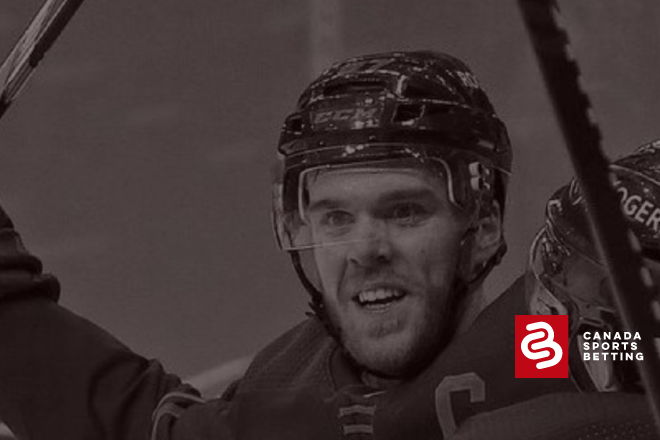 The Edmonton Oilers have two of the top three players in the running for the 2021-22 Hart Memorial Trophy. Those players are Connor McDavid and Leon Draisaitl. Sandwiched between the Oilers stars is Alexander Ovechkin of the Washington Capitals. Please check out our guide for betting on the 2022 NHL Awards.
2021-22 NHL Props: The Hart Trophy Odds
Check out the NHL MVP odds:
Connor McDavid looks for No. 3 
Connor McDavid has yet to turn 25. He'll celebrate that milestone on January 13. As fate has it, McDavid and the Edmonton Oilers will be off that day after playing the Minnesota Wild on the 12th and before facing the Vegas Golden Knights on the 14th — both games take place in Edmonton. Perhaps, at some point on that day, McDavid will glance at the two Hart Trophies he has already won and think about where he might put a third, as he is the favourite to claim the Hart again this season.
McDavid is projected to score 132 points this season. No player has scored as many points in a season since Mario Lemieux netted 161 in 1995-96. McDavid is first in the NHL in assists with 34 and tied for seventh in goals at 19. He is second on time on ice among forwards at 22:30 per game.
The one thing that could hurt McDavid in his hunt for a third Hart Trophy is the fact that his teammate Leon Draisaitl is also having a fantastic season.
Leon Draisaitl could keep the Hart in Edmonton
If McDavid does not claim the MVP, there's a better than average chance that the Edmonton Oilers will make it three years in a row with a player from that club winning the Hart. Leon Draisaitl, who claimed his first Hart in 2020, is also in the running for the award.
Draisaitl is tied with McDavid for the NHL lead in points with 53 and leads the league in goals at 26. The Oilers forward is also the NHL leader among forwards in time on ice at 22:55.
Like McDavid, Draisaitl is projected to score an enormous number of points, in his case 128.
As good as Draisaitl, it's going to take a fall off from McDavid and an explosion from Draisaitl to get voters on board for him to win the Hart. If Draisaitl played for a different team and had the same kind of year he is having with that club, he'd have a splendid chance to win the Hart. With McDavid on the ice in Edmonton, he feels like a long shot to win.
Can Ovie net No. 4? 
Alexander Ovechkin has three Hart Trophies to his name. He went back-to-back in 2008 and 2009 and then claimed his third in 2013. Now, at 36, when most NHL players are slowing down and headed toward retirement, Ovechkin is making a legit case for a fourth Hart Trophy.
Ovie, who is in the hunt to break Wayne Gretzky's all-time NHL goal-scoring record, is second in goals this season with 24. If he keeps up the pace he's on, Ovechkin will score 58 goals this year. He's only bested that number once in his career and that was in 2008 when he ended the season with 65. His second-highest goal-scoring total was the 56 he scored in 2009. He won the Hart in both those years. If Ovechkin claims the goal-scoring title in 2022, he has a pretty good chance of winning the Hart. Ovechkin last hit 50 goals in 2019 when he potted 51 in 81 games.
Ovechkin is fourth all-time in goals with 754. He has to pass Jaromir Jagr (766) and Gordie Howe (801) before he can wrestle with Gretzky's total of 894.
Remember to look into the many free sports picks we have available.
Our Canada Sports Betting Hart Trophy Pick
Alexander Ovechkin is having an amazing season and he will be the sentimental pick for the 2021-22 Hart Trophy.
 Be sure to take advantage of the best online betting bonus offers.