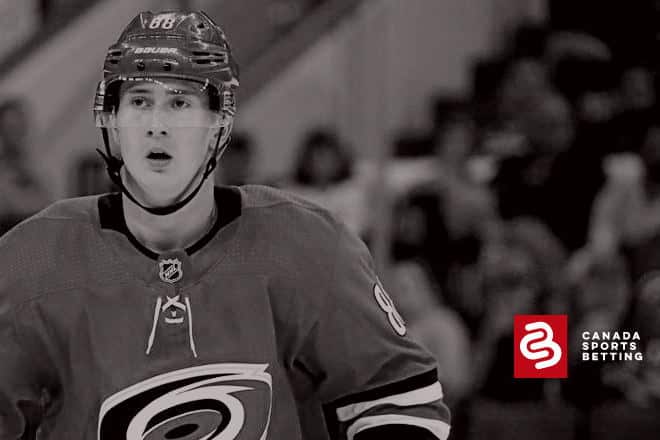 The Carolina Hurricanes have beaten the New York Islanders seven straight times since 2019. Can they open up the 2021-22 season by doing it again Thursday night? We give you free betting advice.
Thursday night in the NHL features quite a few games but one of the biggest may just be in the Metropolitan Division as the Carolina Hurricanes entertain the New York Islanders. Both teams have Stanley Cup aspirations and both have also been close.
While Game 1 may not be an instant panacea, it may set a tone and it will for our NHL Picks on October 14th, 2021.
NHL Picks For Thursday Night – By The Numbers
This is the first substantial slate for the 2021-22 NHL season. There are a total of nine games in all. Our NHL Picks will focus on three of those contests. It is kind of nice that the NHL is gradually building up its schedule. There were two games on Tuesday, five on Wednesday, and then nine tonight. Yes, the usual weekend docket of games will occur but the first few nights allowed bettors to get into the action without being overwhelmed.
Our Thursday night will feature three bets in all. The first thing we are going to do, however, shows our table that highlights those betting numbers.
| NHL Odds for October 14th | | | |
| --- | --- | --- | --- |
| New York Islanders | 2.05 | 2.05 | 2.10 |
| Carolina Hurricanes | 1.79 | 1.76 | 1.80 |
| | | | |
| Pittsburgh Penguins | 2.50 | 2.50 | 2.55 |
| Florida Panthers | 1.56 | 1.52 | 1.54 |
| | | | |
| Arizona Coyotes | 2.16 | 2.10 | 2.15 |
| Columbus Blue Jackets | 1.72 | 1.74 | 1.74 |
Do not forget that there are more NHL odds and options as well. Below are several of our favourite picks for Thursday night. 
Thursday Night Primetime Game – Carolina Hurricanes over New York Islanders
The Metropolitan Division rivals have not played each other in over a year. Yet, the Carolina Hurricanes and New York Islanders are expected to battle for the division crown all season and maybe more. Both teams are loaded with depth, scoring, and high aspirations.
This is particularly true for the New York Islanders who have come close twice to defeating the Tampa Bay Lightning and advancing to the Stanley Cup Final. In 2021-22, one of their bigger obstacles may just be the Hurricanes.
Two of the biggest questions in the Carolina offseason were how were they going to replace their goaltending and the loss of Dougie Hamilton. Arguably, the Hurricanes used two stopgaps in goal and acquired Jesperi Kotkaniemi via offer sheet.
Carolina added even more offensive power and depth to the equation. It is something that could help against teams like the New York Islanders. Another piece of good news for Carolina is that both Matt Martin (ankle) and Semyon Varlamov (undisclosed) will be out of the lineup.
New York Still Employs Bruising Style
New York still employs the same bruising style that caused many playoff teams fits last season. It will be a bit different for the Islanders as they were that one team that thrived heavily in the bubble. However, the Islanders did prove that they can adapt and play almost anywhere.
It appears Ilya Sorokin will go up against Frederik Andersen in the net. This game boils down to who can dictate their pace the best. Often it is said that offences can be ahead of defences. That is particularly what the Carolina Hurricanes are counting on for Thursday night's affair. It is a team that wants to wear down their opponent, draw penalties, play high tempo, and see if one can squeeze out opportunities and goals.
One intriguing concept is this. Despite the very close numbers, Carolina is both at 58% when it comes to the moneyline and ATS. That is just a measure of where the money is going. Once again, let's focus on the moneyline.
For those wondering 1.8 is pretty close to even which is typically around 1.9 or so when it comes to NHL odds.
Columbus Blue Jackets Beating the Arizona Coyotes
One of the possible surprise teams this year in the NHL may just be the Columbus Blue Jackets. Are they going to make the playoffs? Certainly not. Can they at least contend a little bit within the division? I think the Columbus Blue Jackets are a team that can surprise their opponents.
Columbus will be the team that unexpectedly generates a little more offence than expected. Players like Oliver Bjorkstrand and Patrik Laine are capable of 25-30 goals. Max Domi should return to full health for the first time in 2-3 seasons. While Columbus will not be confused with an offensive juggernaut. the Blue Jackets are serviceable enough to outscore teams like Arizona.
In the goaltender's net, Elvis Merzilikins and Joonas Korpisalo have looked pretty solid the past couple of seasons. Columbus is about to start their rebuild and part of their focus will be building around players like Bjorkstrand, Merzilikins, and Zach Werenski just to name a few. No one needs to rush things alone. At least Columbus is a bit ahead of Arizona.
That is a bad sign heading into the 2021-22 NHL campaign. The thought process is that Arizona may just be slightly better this season. Our pick for Thursday night is the Columbus Blue Jackets.
Final NHL Pick for October 14th – The Florida Panthers
The Pittsburgh Penguins surprised many with their thorough domination of the Tampa Bay Lightning on Tuesday night in Tampa Bay. Pittsburgh was able to outshoot and out chance Tampa Bay in a way that drew much notice. However, they are going up against an eager Florida Panthers team that wants to be successful in both the regular season and postseason.
Florida is just too healthy at this juncture and their depth is almost unfair. It is a bit surprising where their number is for Thursday night. At 1.56, it is better than expected. The Florida Panthers are our final winning pick.
Sometimes looking at sportsbooks like 10Bet can make the difference between winning and losing.