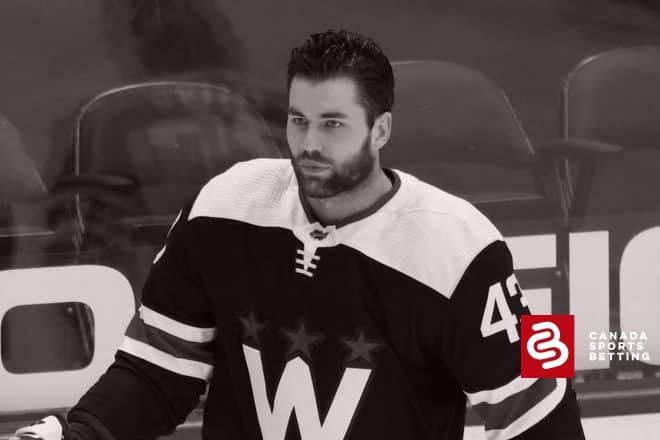 Thursday night NHL picks come straight from the ten-game NHL slate. It is a night where skating on the moneyline looks to be a rough one. Let's go for it!
The fun part of the sport of hockey is that there will inevitably be challenges. This NHL schedule tonight is full of them.
What makes this so unique? There are some nights where bookies and sites throw their hands up. That just means NHL Picks will not come so easily.
There is again plenty to choose from. The Jesperi Kotkaniemi Bowl takes place in Montreal as the Canadiens try to win a game for the first time this season. New Jersey tries to beat Washington without Jack Hughes (shoulder) in the lineup.
Taking several looks at this slate for Canada Sports Betting kept revealing that one common theme. Even. So many contests are near even on the moneyline.
Strangely, one that is not is one likely to stay away from. The Edmonton Oilers are considerable favourites to defeat the Arizona Coyotes on Thursday night. That oddly feels like the most fearful "trap" game.
One thing that is always suggested is this. Start checking goalie confirmations before betting. Yes, the NHL schedule is still a little spread out at times but do this anyway.
Thursday night picks will need some further examination as more numbers and data pour on in. Let us begin.
Thursday Night NHL Picks: So much EVEN
Again, instead of cowering away from some "EVEN" games, the goal is to run right towards them. The idea is to give our thoughts on the three core NHL picks. Injuries and early-season schedule chaos have played a role in what one likes to call "numbers hesitancy". It is why this slate appears so difficult.
On the other hand, there is Florida who found a way to repel Tampa Bay on Tuesday in Tampa Bay. San Jose spanked Montreal in Montreal. There is some bizarre and not so bizarre when one thinks about it.
This night feels like another wild one with closer games That helps fuel the excitement.
The numbers do not lie. Here is the table below.
The bettors have some intriguing NHL Odds to examine. Let's get in our NHL Picks. 
Thursday Night Prime Pick – Washington Capitals over New Jersey Devils
The Washington Capitals battle the New Jersey Devils from the Prudential Center on Thursday night. Washington is a road favourite again but why? Part of this stems from the simple fact that Washington has fared very well against New Jersey in the past. The Capitals swept all eight meetings against the Devils last season and have overall won 13 of the previous 15 contests.
It has not mattered who has been in or out of the lineup. The one constant may just be Tom Wilson? That's right. Alex Ovechkin is significant but Wilson stirs the drink as they say. For better or worse, Wilson sets the tone. Oh, you don't think so? Coaches are making adjustments.
Gerrard Gallant, Chris Drury, and James Dolan of the New York Rangers revamped his roster just to face Wilson and the Capitals. It failed. Even Lindy Ruff is keeping certain New Jersey players in the lineup to combat this "threat".
When looking at NHL picks, a few sites have Washington as bigger favourites. Partially, this mindset is a huge reason. Let us add a little to the fire. Jack Hughes is injured and definitely will not play on Thursday night at the least. Most forget that Mackenzie Blackwood has not played all year for New Jersey either. Jonathan Bernier is starting.
Furthermore, New Jersey's penalty kill is still giving up goals at an alarming rate. Washington is still one of the best ten teams on the power play. The Capitals are an older, experienced team going up against a younger, less experienced team. This is the toughest test so far for New Jersey – may be too tough.
It is why our pick is taking the Washington Capitals on the road to beat the New Jersey Devils on Thursday night.
Florida Panthers over Colorado Avalanche
The Colorado Avalanche are short-handed and not the same team in the early going. The Florida Panthers are not the same team either. They are even better than last season. When players like Sam Reinhart can play in the middle-six, that is scary. When Joe Thornton can just waltz around on the fourth line, that is a sign as well.
Their only issue is goaltending and defence at times. However, Florida is a team that can outscore its demons when needed. Right now, the Colorado Avalanche cannot do that. Part of that is due to injury and COVID. Nathan MacKinnon lost a little over a week, then there was Val Nichushkin and Pavel Francouz. Colorado does not have a backup goalie and at times, plan.
Florida has a plan and can win games in the regular season in every way. This makes this even pick simple.
Our pick here is the Florida Panthers at home over the Colorado Avalanche.
Nashville Predators over New York Rangers
The Nashville Predators take on the New York Rangers at home on Thursday night. Two of the best goalies in the NHL face-off in Juuse Saros and Igor Shesterkin. If one wants to know why the numbers here are so even then look no more. Great goaltending often tilts the odds.
Saros has endured some bad luck in the early going with tough losses to Carolina and even Seattle. The goaltender bounced back with a huge effort versus a young Los Angeles Kings team. Nashville has enough timely scoring and a raucous atmosphere. It is Saros that stirs the Nashville drink.
Take the Nashville Predators on the moneyline against the New York Rangers.
So, sportsbooks like Sports Interaction strike again with excellent numbers.