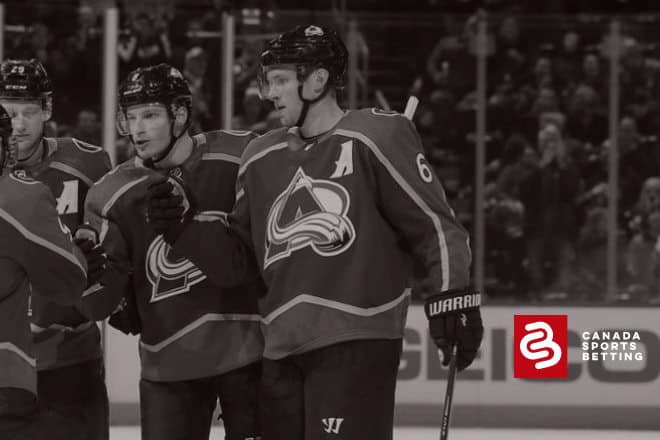 The NHL season has just started and already there have been a few knuckle pucks thrown our way. A big one happened on Tuesday night when Nathan MacKinnon tested positive for COVID. Let's make some betting picks anyway.
The NHL season opened on Tuesday night with two games. Wednesday night's schedule features five more games including one big surprise that impacts the game between the Colorado Avalanche and Chicago Blackhawks.
NHL Picks For October 13th 
Again with five games on the docket, the NHL Picks allow us a few extra options. Early season games can often produce a few more upsets along the way. Look at what happened in Tampa Bay on Tuesday night as the Pittsburgh Penguins played a hard-nosed game on the way to a victory.
Here at Canada Sports Betting, several games caught our eye but one stands out a little more than the rest. Below, we present a few of our favourite picks for Wednesday night.
Wednesday Night NHL Bets – The Unexpected News and Numbers
Thanks to that unexpected news, we have a slightly clearer picture of some NHL bets to make on Wednesday night. One of the bigger stories is that Nathan MacKinnon of the Colorado Avalanche will be out due to a positive COVID-19 test.
If one combines that with a new goaltender and that Colorado is facing Marc-Andre Fleury of the Chicago Blackhawks, there is considerable new intrigue. Here are some early numbers from the moneylines for Wednesday night.
| NHL Picks for 10/13 | | 10Bet | Spin Palace Sports |
| --- | --- | --- | --- |
| New York Rangers | 2.09 | 2.10 | 2.10 |
| Washington Capitals | 1.76 | 1.76 | 1.76 |
| | | | |
| Winnipeg Jets | 1.66 | 1.66 | 1.66 |
| Anaheim Ducks | 2.26 | 2.25 | 2.25 |
| | | | |
| Chicago Blackhawks | 2.67 | 2.70 | 2.70 |
| Colorado Avalanche | 1.50 | 1.46 | 1.46 |
Our plan of attack was to lean in with the late underdog and then backtrack with a home favourite and a road favourite. For more NHL Odds, here are some.
Again, night one went so much to the contrary that no one knows what may happen in night number two. It is why on Wednesday night, the idea is to take a few more risks with the NHL.
NHL Top Game Pick – Chicago Blackhawks over Colorado Avalanche
Our NHL top game pick strikes while there is value. The Chicago Blackhawks are a rather, entertaining team with an excellent goaltender in Marc-Andre Fleury. Now, the Colorado Avalanche has a new goaltender in Darcy Kuemper and is without their all-world talent.
Chicago appears outmanned but is far from it with the return of Jonathan Toews. Also, Patrick Kane and Alex DeBrincat make a heck of a duo. The Blackhawks are all about pushing the pace. They will keep giving up chances which does make them a risky bet on Wednesday night. They may give up 35+ shots even with MacKinnon not playing for Colorado. Their defence does often tend to bleed scoring chances.
That is what Marc-Andre Fleury is there for. He is the last line of defence that can regularly thwart a dominant offence and a defence that likes to play offence. Colorado was one of the most stingy teams last year in terms of shots allowed per game (25.6). Chicago allowed near the most at nearly 35 per contest over the second half.
In a game of contrasts, Chicago has the offence to push Colorado and even perhaps win outright on Wednesday night. A high-scoring contest is to the advantage of the Blackhawks.
Our top game pick is taking the Chicago Blackhawks to defeat the Colorado Avalanche.
Let's take a look at some other NHL games.
Washington Capitals over the New York Rangers
A Metropolitan Division rivalry game seems normal for an opening week in the NHL between the Washington Capitals and New York Rangers. However, given what happened with Tom Wilson and the Rangers pushed this rivalry to another level. Wilson got into New York's head so badly that the Rangers fired their GM and President Of Operations along with their coach. They brought in players like Ryan Reaves and traded Pavel Buchnevich to the St. Louis Blues.
New York believes with Gerard Gallant that they have a meaner team that is still an offensive threat. While that may be true, it is Washington and Wilson that seem to have control. New York could arguably have more firepower. Washington will not have Nicklas Backstrom as he recovers from hip surgery. Alex Ovechkin is questionable as well. Ovechkin did practice on Tuesday and that is encouraging for the Washington Capitals.
These games are often close and physical. It is why any chance Ovechkin plays further tilts the favor of this bet towards the Capitals. Washington is carrying nearly an even moneyline here of 1.76.
With those odds, the pick on this one is the Washington Capitals defeating the New York Rangers.
Winnipeg Jets A Slightly Easier Pick on Wednesday Night
The Winnipeg Jets are probably somewhat happy to be in the Central Division this year. However, they may be happier to face a rebuilding Anaheim Ducks team on Wednesday night. Winnipeg features one of the best goaltenders in the league in Connor Hellebuyck. Though Mark Scheifele is still suspended for his postseason hit on Jake Evans, Winnipeg has a considerable amount of offence and depth.
With Blake Wheeler, Neal Pionk, Nik Ehlers, and a plethora of offensive threats, the Anaheim Ducks and John Gibson may be in for a difficult night. Anaheim scored a league-worst 126 goals in 56 games last year. Their offence did not improve in the offseason either. Their margin of error is the lowest out of any team in the NHL.
Anaheim's biggest problem is their veterans not exactly contributing offensively going against a fast team that can easily outpace most of their lines. Winnipeg is projected to score 3.19 goals on Wednesday. Considering Anaheim allowed more than three goals in a contest last year, no one should be surprised.
Winnipeg, even without Scheifele has more offence. Our pick is taking the Winnipeg Jets at 1.66.
Sportsbooks like Spin Palace Sports have some great NHL numbers to open the NHL season.