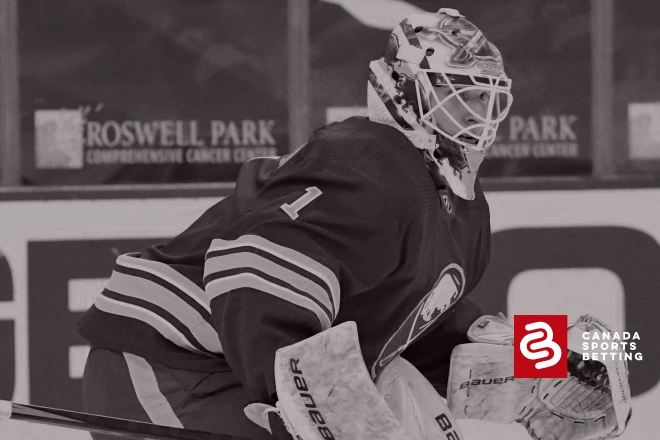 Ladies and gentlemen, it is Monday. With new COVID protocols, the schedule has been cut significantly. We present Free NHL Picks for December 20th, 2021.
Numbers Time For The December 20th Games
The hope is that these games are not cancelled as well. Our focus is on the two contests for Monday, December 20th. So, the close NHL betting odds have a distinctly even feel on this first night of the week. With numbers like this, it is safe to say the oddsmakers are expecting the contests to be within a goal.
Things have changed dramatically as all the slates are short this week. There is now an extra night off on Wednesday which was unexpected, to say the least. This is tentatively what the schedule looks like as of now.
Monday night — 2 games
Tuesday night — 4 games
Wednesday night — 0 games
Thursday night — 6 games
Now, let's take a look at the table here for Monday. Neither game expects to be dull.
Moneyline: Columbus Blue Jackets versus Buffalo Sabres
This Monday night lost a good deal of its buzz but nonetheless, these are the most likely games to not be postponed. The Columbus Blue Jackets are trying to stay near the playoff race while the Buffalo Sabres attempt to get closer to .500. Both teams are struggling mightily as each have won just twice in their last ten games.
First, let's go over some of the injury and COVID reports. Keep in mind, these can change at any time on Monday. Always check social media often with this short of a slate.
Dustin Tokarski is the only current Sabres player under COVID protocol. There are a slew of injuries including Craig Anderson, Robert Hagg, Will Butcher, Anders Bjork, and Casey Mittelstadt among the notable players. As for Columbus, the maladies listed are Adam Boqvist, Nathan Gerbe, and Patrik Laine. Also, Boone Jenner, Jack Roslovic, and Gabriel Carlsson have all tested positive for COVID.
Any more positive tests will jeopardize the game no question about it. Currently, Buffalo and Don Granato seem to have a couple of plans in place but they expect to fly to Columbus after Monday's game. Yes, these two teams play again in Columbus on Thursday night. With both teams so even, it is not a surprise they are this even on the moneyline.
Columbus and Buffalo Free Pick
The expectation of a close game between Columbus and Buffalo makes this free pick an intriguing challenge. With Buffalo having slightly more stable goaltending, this could pay off for the Sabres. Ukko-Pekka Luukkonen has been excellent on the net with a 2-2-1 record in five starts. Overall, the Finnish goalie has a 1.96 goals-against average and a .939 save percentage.
Columbus, on the other hand, has issues with injuries and the COVID protocol. Goaltending has been a struggle along with defence lately. Elvis Merzlikins has yielded 12 goals in his last three starts as he and Columbus continue to sputter on the road.
Buffalo is a bit more used to playing with a plethora of injuries. In an expected lower-scoring contest, Buffalo is our pick to win on the moneyline Monday night.
Moneyline: Minnesota Wild versus Dallas Stars
The nightcap of this short slate features the Minnesota Wild versus the Dallas Stars. The theme of Monday night is struggling teams and again both Minnesota and Dallas fit that bill. It was the Wild who were one of the hottest teams but now have lost three games in a row. Then, there are the Stars. They had lost five straight games before beating Chicago in overtime over the weekend.
Cam Talbot projects to face Braden Holtby. There were some rumblings that Jake Oettinger could start. However, Rick Bowness did mention he wanted Holtby in this pressure cooker of a contest. The Dallas Stars are 10-3-1 at home and have a solid moneyline edge obviously. Now, Minnesota is 9-6-1 on the road. They are no slouches away from home. However, their offence drops off by more than a half goal a game.
Dallas has managed just 75 goals on the season offensively while Minnesota has 108. That is the key part of this game. How do the Stars curb Minnesota's firepower while culling their own to nab a victory? It's an excellent question. What did Dallas learn in their first meeting? They tried to match the pace and got creamed 7-2 in Minnesota.
Dallas has to use their top-six and press just often enough. They have to make Minnesota think and keep them honest. Going full bore all the time does not work against a balanced team. Joe Pavelski, Roope Hintz, and Jason Robertson must strike early or set the pace. This line was not present in the first matchup. Minnesota has faced some great lines but this one has a little of everything.
Minnesota and Dallas Free Pick
As part of this year's free sports picks, an old battle between two "green" teams was a good way to end the night. Simply, Dallas is just a better team at home and it shows. They mostly look like the team many thinks can be a darkhorse shot to make a deep playoff run. Minnesota is in the teeth of a losing streak that may take a bit longer to get out of. Dallas was on both sides of that in just the last half dozen games.
Take the Dallas Stars and the moneyline in a very close affair over the Minnesota Wild.
Remember, there are other sports and such to bet on and some great NFL sites for betting on Monday and Tuesday night games this week.