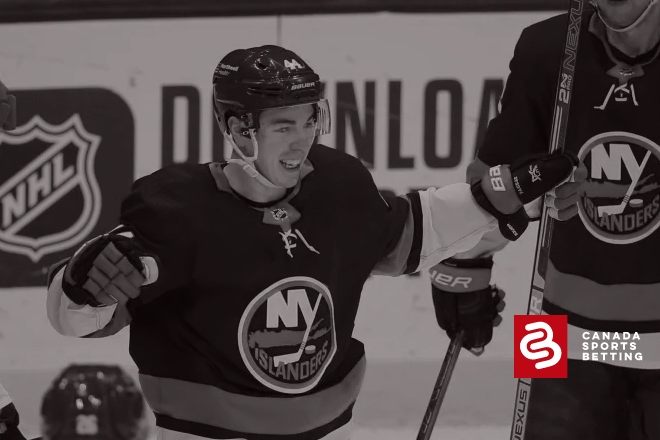 There are ten NHL games in all on Thursday night and here at Canada Sports Betting, we take a look at several picks for December 9th, 2021. It's pick time!
Jump Into The Numbers For The December 9th NHL Games
As always, we focus mainly on the moneyline with the games for Thursday, December 9th. The best NHL Canadian betting sites have some intriguing numbers. It is a good thing as we approach the Christmas holiday that there are quite a few busy NHL slates to bet on. 
With the ten-game schedule, games can be broken down to early and late games. For tonight, our focus is on two earlier contests and one late-night pick.
First, let us bring out the table with the numbers and then dig into some of these picks.
Moneyline: Nashville Predators at New York Islanders
The idea this Thursday night is to focus on some good home-ice candidates for the moneyline. Now, the New York Islanders entertain the Nashville Predators on Thursday night from the UBS Arena on Long Island. It is significant to note that the New York Islanders finally ended their long losing streak on Monday night with a 5-3 win over Ottawa on the road.
There is another piece of unfinished business as New York hopes to mount the beginnings of a rise up the Metropolitan Division standings. The Islanders are the only NHL team to not win a home game yet this season. To be fair, New York did start on the road for the first 13 contests.
New York has started at home with a 0-4-2 mark in the early going. However, the last three losses have all been just by one goal. They are getting closer as they say. Most all forget that a lot of the numbers have been thrown off by the fact that New York lost a few games due to having up to eight players diagnosed with COVID.
That is what makes this game difficult to gauge on the moneyline. Nashville is below .500 on the road against a team hungry to establish a feeling of a home-ice advantage. Do the sticks loosen a bit now that New York scored five time in Ottawa? Though Nashville comes in winners of two straight games, the feeling is that the Islanders finally got a proverbial monkey off their back. Now, let's take the New York Islanders on the moneyline Wednesday night.
Moneyline: Chicago Blackhawks at Montreal Canadiens
Let's get away from the favourites on the moneyline in this Chicago Blackhawks versus Montreal Canadiens matchup. The problem with picking games like this is all the drama surrounding both teams. Chicago is actually a road favourite in this contest with Derek King now coaching the team. The Blackhawks are 5-5 in their last ten games as their numbers began to stabilize.
Montreal, on the other hand, is still in a bit of a different boat. The Canadiens have lost four straight games and are still losing even despite the house cleaning that sacked Marc Bergevin and most of his staff. They stand at a conference-worst 12 games under .500. Dominque Ducharme does have Montreal playing a bit better and Jake Allen has kept the Canadiens in most games of late.
It is nice that the best-rated Canadian hockey sportsbooks, like SportsInteraction (SIA), have Chicago again as a slight favourite. Having Montreal as a slight home underdog helps here. The Canadiens still are in the midst of their worst start in franchise history. Only Arizona is worse right now in terms of being under .500 at 13 games. 
A top line with Nick Suzuki could be a good springboard. Suzuki is a streaky player but Montreal has tended to play better when he scores. Currently, he has points in two straight games. For what it is worth, the Canadiens can put a game together here and there. See the 6-3 home win versus the Nashville Predators and 6-3 road win versus Pittsburgh. Take Montreal as a modest 2.07 underdog on the moneyline versus Chicago Thursday.
Moneyline: Boston Bruins at Edmonton Oilers
The Boston Bruins face the Edmonton Oilers late on Thursday night in a battle of two teams with higher expectations. Even though Edmonton has lost three straight games, they are still a very slight favourite on the moneyline.
There is a bit of good news if one backs Edmonton on this night. The flu has ravaged the Boston Bruins — particularly on the defensive side of things. Players should return soon but the idea is that several players at a minimum are not 100%. Also, the Oilers have Connor McDavid and Leon Draisaitl. Losing streaks do not seem to last long along with point "slumps".
Despite the slight downturn, Edmonton has still won nine of their first 12 games at home. Boston is 5-4-2 on the road but has lost consecutive games themselves. Take the Edmonton Oilers at 1.80 on the moneyline to win over Boston on Thursday night.
NHL Betting 2021 Style
Again, NHL betting styles in 2021 often need to be weighed differently. It is why it becomes essential to watch NHL betting odds because they will shift early and often as the season is still just two months in. Do not forget to look at the table below for some potential bonuses and more betting options.