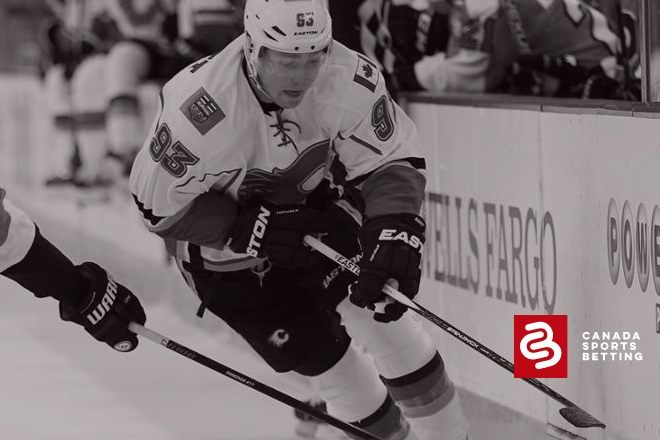 Hockey bettors, brace yourself for a busy night in the NHL with 11 different games on the calendar! But hey, not all of them are deserving of a bet from you. No, no, read this to get the absolute best NHL betting picks for November 16, 2021 — all free of cost to you!
Moneyline: Calgary Flames at Philadelphia Flyers
Let's begin with one of the most "toss-up" games of the night. The best NHL betting sites in Canada have pegged the moneyline between Calgary-Philadelphia almost dead even:
It was just two weeks ago when these two teams first met in what turned out to be a completely lopsided affair. At home, the Flames blanked the Flyers 4-0 on the back of a 20-save game from goaltender Jacob Markstrom. That performance, plus plenty more before and after, has helped Markstrom tally the second-best goals against average (1.81) in the league.
But admittedly, Calgary hasn't looked nearly as sharp since that meeting. It was on a three-game losing streak up until its last game when they shut out Ottawa. With this second meeting being in Philadelphia, we expect the Flyers to play much better in the rematch. Our prediction is the Flyers win in a one-score game.
Calgary
To beat the Philadelphia
Bet Now!
Over/Under 6 Goals: Edmonton Oilers at Winnipeg Jets
If the Oilers are playing — no matter who it is — you can almost guarantee its over/under will be set at six goals. That's once again the case when they visit Winnipeg, a team that shockingly swept them in the first round of last season's playoffs.
Our gut feeling is telling us Edmonton will be especially motivated to right last year's wrong and with its top-scoring offense, it's certainly capable of that. The Oilers have also hit the over in five of its past seven games. But at the same time, we sense Winnipeg won't budge itself. With an 8-3-3 record so far, they've proven thus far that last year's success wasn't a flash in the pan.
This matchup has the feeling of a playoff game and in that scenario, goals will be harder to come by. It's risky with the Oilers, but we're taking the under in this vengeful matchup.
Against The Spread: Arizona Coyotes at St. Louis Blues
Typically with our betting advice, we prefer to stick to moneylines and over/unders. But anytime the Coyotes are playing, the against-the-spread line is salivating because this team is bad, perhaps all-time bad. Seriously, the way things are going right now, Arizona could end up as one of the worst NHL teams ever.
At the moment, the Coyotes are 1-13-1. At this pace, they are on track to finish at 6-70-6 — which would be poorer than the current worst team of all time, the 1975 Washington Capitals that posted an 8-67-5 mark. And it's not just that Arizona is losing, it's that they're non-competitive. They've been outscored 60-23 thus far.
Yep, we're taking the Blues to cover and blow out the Coyotes. In Arizona's 13 losses, only three came by one goal. We're riding that trend again on Tuesday.
Moneyline: Carolina Hurricanes at Las Vegas Golden Knights
After a roaring 11-2 start to the season, Carolina has improved its odds to win 2022 Stanley Cup drastically. At the same time, Las Vegas' up-and-down 6-4 beginning hasn't lived up to its championship aspirations set in the preseason. Both predicaments set up a solid moneyline opportunity when the Golden Knights host the Hurricanes.
While we said the Golden Knights have been up and down, they're currently on the up thanks to a six-game homestand. In the first three outings on their home ice, Las Vegas tallied 14 goals and won each contest. We feel momentum is strongly in the Golden Knight's favor on the fourth game of this homestand, so yes, we're picking them to upset the NHL's best team record-wise.
How To Bet On NHL
Want more NHL odds and bets? Try visiting one of the Canadian bookmakers listed below. They'll have you covered from now until the Stanley Cup Finals in June with every hockey bet under the sun — moneylines, goal totals, props, and long-term futures betting. 
Better yet, join one of these bookies right now and you could score a sign-up bonus worth hundreds of dollars in free play. The table below has details on what site is currently offering what to first-time bettors. Select a deal that suits you best then hit the "play now" button to redeem your reward!