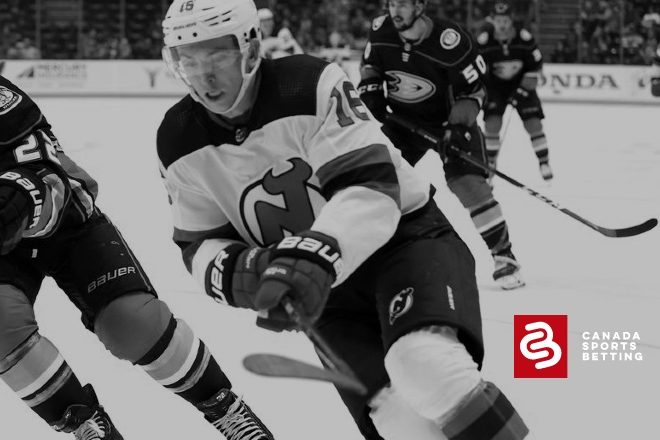 There are four wagers we absolutely love for Friday's five-game slate in the NHL and we're not keeping them to ourselves. Give this a read to get free NHL betting picks for Friday from us to you!
Canadian bookmakers  don't overlook their NHL betting odds — not in a country that's so rabid for the sport of ice hockey. Betting value is hard to come by, however, it's far from impossible to get. Here are the current betting odds available across the night:
Like any bets? Or are you undecided? Well, here is our free betting advice to help guide you. Fade our picks, tail 'em, it makes no difference, but here's which bets are getting our money before Friday night:
Against The Spread: Chicago Blackhawks at Winnipeg Jets
We don't advise betting NHL spreads on a regular basis due to how many games end in one-score games. However, when the "right" opportunity presents itself, you have to strike with force, which is the exact case here.
Look, Chicago is in pure turmoil. A sexual assault allegation from an ex-prospect has completely nosedived the season only three weeks in. Multiple execs in the front office have already stepped down and the players just aren't playing with fire — despite a number of splashy signings in the offseason. The Blackhawks have the second-worst record in the league at 1-8-2 and we can't imagine things turning around anytime soon.
They have a tough road matchup versus a Jets team that's as consistent as it comes. They've made the postseason four seasons in a row and thus far, look like they're headed to five. Winnipeg is 5-2-2 and has all the talent needed to blow out Chicago on their home ice, which is what we predict happens.
Against The Spread: Arizona Coyotes at Anaheim Ducks
Somehow, someway the Coyotes are even more sorry than the Blackhawks after three weeks. The team has yet to get into the win column with a 0-9-1 mark. As you'd imagine, everything is a problem for Arizona. The Coyotes are dead-last in both scoring (1.3 per game) and goals allowed (4.10). Not surprisingly, its goal differential with opponents is -29 — not a typo!
Things are so bad in Arizona that we're starting to believe they're the "ultimate fade" team, as in, if you bet against them routinely, you'll make a KILLING on the year! We're going to test that hypothesis on Friday and stake a wager on the Anaheim spread.
And if there's one bet to hammer hard with money, it's this one. You see, not only are the Coyotes winless, but they're rarely ever competitive. Only two of its nine losses during the season came by one goal. To us, that signals the Ducks should have little issues covering the spread whilst at home.
Moneyline: New York Rangers (2.28) at Edmonton Oilers (1.63)
It's starting to feel like the Oilers are legit Stanley Cup threats — which is saying a lot about a franchise that's advanced to the second round of the postseason only once in the last 15 years. Bookies seem to agree, too, as Edmonton's futures odds have shot up to +1200 after a dazzling 8-1 start to the season.
The offence has been the team's catalyst. The Oilers are averaging 4.2 points per game, which is the highest league-wide. Individually, Leon Draisaitl and Connor McDavid are No. 1 and No. 2, respectively, in points scored. They've kept on pace with last season when they finished in the same spots (only the reverse, with McDavid at one followed by Draisaitl).
The Rangers, who are 6-2 in their own right, is a real "show me" matchup for Edmonton. However, we like the confidence the home team is currently playing with and that's worth a moneyline wager on them!
Moneyline: Nashville Predators (2.00) at Vancouver Canucks (1.81)
If Flip Forsberg was going to suit up for the Predators, we would've likely picked them to win. However, he is not due to an upper-body injury that's designated him as week-to-week. Forsberg's absence greatly thins an already shoddy Nashville roster and at least early on, we sense they'll deeply miss the winger (a sign of things to come with Forsberg's free agency pending this summer).
Vancouver is our final pick of the night. And yes, we know all four of our betting picks are on home teams, but we love the matchups regardless. Being at home is just extra "icing on the cake."
How To Bet NHL In 2021?
To get up-to-date NHL betting odds — no matter the time or day — visit one of the Canadian bookmakers listed below. Each of these betting sites offers a bevy of hockey bets, and at bettor-friendly prices too.  
On top of that, these bookies also have promo bonuses available to gamblers. If you're a newbie, sign-up bonuses could net you hundreds of dollars in free play from the get-go. The table below has details on current offers available.