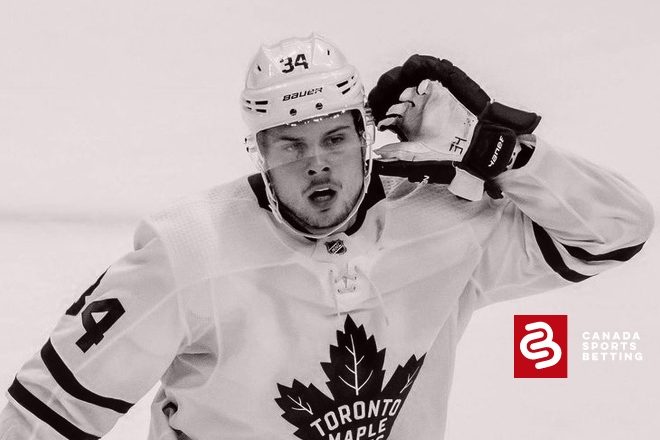 All my rowdy friends are here for Monday night hockey? That's right. There are four games in all as we get into some more NHL Picks as the Fall chill continues.
Normally, a Monday night four-game slate on the second week of the NHL season would not mean a lot. However, when Auston Matthews returns, that is a different story.
NHL Picks naturally gravitate toward the Toronto Maple Leafs for better or for worse. Look at how polarizing Toronto is. They have not made a deep playoff run since 1993, yet they are one of the top favourites when it comes to Stanley Cup Odds. Strange isn't it?
Now, Auston Matthews going up against the New York Rangers is not the only game in town. The Seattle Kraken continue their road trip out to the East Coast to face the Philadelphia Flyers. Finally, we peek out west to Arizona as the Coyotes host the St. Louis Blues.
Monday night picks focuses on the moneyline and offer some nuggets from the numbers and naturally, those picks.
Monday Night Hockey Picks: Digit Table Time
Playing with digits and tables seems like fun but it is a challenge even on this Monday night. Why? Any time a star player makes a season debut is a significant deal. Consider the run Auston Matthews went on to start last year. He had 18 goals after his first 20 games. That is 0.9 goals per game. When a team like Toronto can get that kind of boost, or even close, that is a tipping point.
Now, as this NHL season takes shape, favourites are never a 100% lock. Look at how the Philadelphia Flyers crumbled early against the Vancouver Canucks or even over the weekend where the St. Louis Blues scored five times in Colorado against the Avalanche. Anything can happen in October. NHL picks to take a look at three games in all. Let's check out those betting numbers.
All the NHL odds are here including some props and possibilities. Now, we present a few Monday night picks.
Monday Night Top Pick – Auston Matthews, Toronto Maple Leafs Win
The Toronto Maple Leafs get their star back on Monday night as Auston Matthews returns to face the New York Rangers. Like we mentioned above, Matthews got off to an incredible start which helped buoy the Toronto team into the playoffs last season.
So, why take Toronto over the New York Rangers tonight? There are a few reasons. For one, Toronto started to right itself, illustrated in a 3-1 win over the Ottawa Senators on Saturday night. Now, the Maple Leafs averaged over three goals a game last year. This year, in the early, going, the Maple Leafs are averaging just 2.33 goals per contest without Matthews.
That offensive dynamic boosts everything including the ability for Toronto to "play downhill". How valuable is Matthews? He scored 41 goals in 52 games last year. Twelve of those goals were game-winning goals (34% of their 35 wins). When a player accounts for 35% of the total offence, that cannot be ignored.
Again, Matthews allows the power play to flourish. This is typically a top-five to the top-ten unit during the regular season. This will steer some bettors towards the Toronto team over for example. However, our focus is again on the moneyline.
With the New York Rangers coming into town, they likely present the most prolific offence Toronto has faced all season. Artemi Panarin is a potential 100-point player and Mika Zibanejad can score 40+ goals. Even with injuries and COVID, New York can be a threat any given night.
Toronto is More Than Just Auston Matthews
Jack Campbell has gotten off to another excellent start. The Toronto Maple Leaf's goaltender has yielded just two goals on 63 shots in three appearances (two starts). Most forget that the Maple Leafs carry a top-ten defence and goaltender to go along with a potent offence.
Combine that with William Nylander, who has helped account for five of Toronto's seven goals this year, that is all the more reason to look into the Maple Leafs.
Our top pick is taking the Toronto Maple Leafs over the New York Rangers on Monday night.
Philadelphia Flyers over Seattle Kraken
This will be the tightest game of the night as the Philadelphia Flyers entertain the Seattle Kraken. The Flyers got off to a rough start over the weekend as they lost 5-4 in a shootout to the Vancouver Canucks. Carter Hart started like a train wreck yielding four goals on 13 shots. Then, he proceeded to stop 26 straight shots, carry the Flyers into a shootout, then lost in a said shootout.
Philadelphia faces its former coach in David Hakstol. If that is not enough motivation, no one may know what is. Seattle is 1-1-1 on the season and allowing three goals per game. They have shown an ability to play some defence and score some timely goals. This boils down to team defence and goaltending for the Flyers. If Carter Hart can play a little more consistently, then Philadelphia should prevail.
Take the Philadelphia Flyers narrowly over the Seattle Kraken.
One Final Pick for October 18th
Monday night's final game looks at the Arizona Coyotes at home versus the St. Louis Blues. This looks to be quite a risk. St. Louis did defeat Colorado in Colorado. However, the Avalanche was without Nathan MacKinnon and several other players.
Throw the rout at the hands of the Columbus Blue Jackets out. If Arizona can muster three goals, they could pull off the win. Does St. Louis let down?
We think they do as Arizona is our final pick to defeat the St. Louis Blues.
Top sportsbooks like Spin Palace Sports have more great numbers to take a look at.