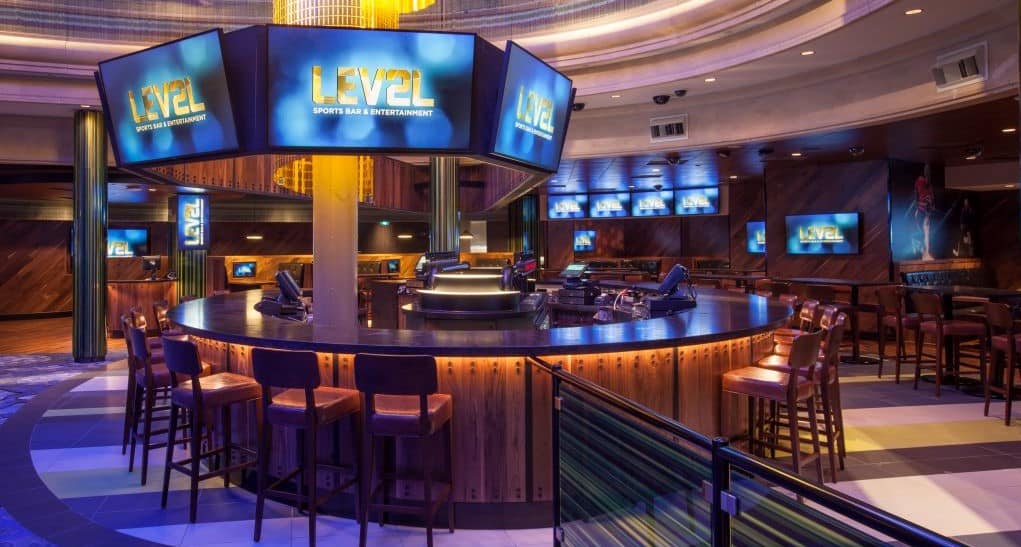 l had long dreamt of the day that I could visit a sportsbook in Niagara Falls.
The fantasy of heading to the sportsbook with a few friends, throwing down a few wagers while watching a big game, and enjoying some snacks and adult beverages seemed so far away from reality in Ontario for decades.
But after the launch of Ontario's regulated iGaming and sports betting market in April, I knew that the launch of retail sports betting wouldn't be too far behind.
There were rumblings that sports betting would be available in casinos in September, just in time for the NFL season. But September came, and went, as the Ontario Lottery and Gaming Corporation, casino service providers, and the provincial government of Ontario tried desperately to come to an agreement on compliance.
Then, suddenly on Oct. 31, OLG announced retail sports betting had the green light and casino operators could launch their respective products and services at will.
Nearly immediately after OLG's announcement, Great Canadian Entertainment revealed retail sports betting was live at 10 of its casinos across Ontario. Not long after that, Caesars Windsor rolled out its new sports betting kiosks and announced plans for a new sportsbook in in the near future.
On Nov. 16, Fallsview Casino Resort in Niagara Falls opened 21 sports betting kiosks, and one week later an additional 15 kiosks debuted at nearby Casino Niagara.
The pre-game warmup
Last Thursday, I couldn't wait any longer and seized the opportunity to check out the retail sports betting experience at both of the Niagara Falls casinos. I had tempered my expectations in advance, as I knew this retail sports betting launch seemed to come together quickly and I had a feeling the casinos weren't entirely prepared.
It just so happened to also be my wife's birthday, so we enlisted the help of my mother to babysit our 14-month-old daughter and booked a hotel room for the night.
I was excited. A night out with my beautiful wife, a nice meal, followed by a visit to the casino to check out retail sports betting and maybe play some slots.
We checked into our hotel and were pleasantly surprised to find out we had been upgraded to a room with a partial view of the iconic waterfalls.
Awesome, great start.
After we freshened up, we grabbed a taxi over to one of our favourite restaurants for a luxurious five-course meal. The meal was fantastic. The wife was happy.
We then decided to order a cocktail and let the fine cuisine settle in our stomachs before descending upon Casino Niagara. And that's when the night took a turn for the worse.
My wife and I traditionally order a cocktail and sit by the fire at our favourite Niagara restaurant after our meals. I went to the restroom quickly before ordering the drinks and suddenly a couple walked through the door and stole our spot by the fire. The spot was vacant all night, and we had anticipated everything going according to plan.
OK, no worries. I ordered a couple of martinis regardless for us to have at our table.
The waitress came back five minutes later and regretfully informed me she didn't have the proper ingredients for the apple martini that I ordered. I panicked when asked for an alternative drink on the spot and ordered a dirty martini (same as my wife had ordered) which I don't even like.
I forced a few sips of the martini, but in the end, my wife ended up finishing it for me.
OK, time to move on and get the bill.
Oh crap, $250 with tip!? Yikes, I'm already dipping into my allotted casino funds to cover this expensive culinary experience. Shake it off and move on, I thought to myself.
We laboured during our short walk to Casino Niagara after the five courses of deliciousness, but eventually waddled our way into the casino through the Victoria Ave. entrance.
The main event
I had read the press release in advance, so I knew the sports betting hub at Casino Niagara was located at the LEV2L Sports Bar. However, if I hadn't been privy to this information, I would've had no idea where to find the sports betting kiosks. If there was signage relating to the new sports betting offerings, I didn't see it.
We jumped on the escalator down to the sports bar and my first thought as we approached was that it looked modern and the lighting was good.
There were five people sitting at the bar, and a few more at the surrounding tables in the bar/restaurant. It was Thanksgiving in the United States, so the NFL game between the Minnesota Vikings and the New England Patriots was being featured on the TVs. It was around 8:30 p.m. ET when we arrived and I expected it to be much busier.
You could tell most of the clientele were just taking a break from casino games and not actually paying attention to the NFL action. There was one gentleman sitting in front of the big screen intently watching the game, though. You could hear a pin drop.
This wasn't the kind of atmosphere I was expecting. No cheering, no camaraderie, no energy. This sucks.
I noticed a few bar top betting kiosks and a row of kiosks lining the wall on the left side of the bar area. Time to check out these machines and analyze the odds/markets available.
Kambi is providing the Niagara casinos with its sports betting solutions and kiosks. And the machines themselves were slick and brand new. I took out a brand new $20 bill and attempted to load my cash into the machine, which spit my perfectly crisp bill back out at me five consecutive times before finally accepting it.
Annoying, but this has happened to me many times while playing slots in the past. Not a big deal, but surprising given the machines were new and my bill was flawless.
Time to check out the odds and throw a bet down. I had handicapped the game ahead of time and knew I liked the Vikings to win outright and possibly cover the 2.5-point spread. The game had already started and was tied 7-7 in the first quarter, so I quickly bet the Vikings live moneyline at -134.
I then took a deeper dive into the odds for last Friday's slate of NHL games and compared them with some of the odds being offered online at Pinnacle, which is known for having some of the lowest-margin odds in the industry.
Boston vs. Carolina. The kiosk had the Bruins at -155 on the moneyline and the Hurricanes at +125. At Pinnacle, Boston was -158, and Carolina was +142. I checked the odds at a few other online sportsbooks, too. Proline + (Bruins -164, Hurricanes +135), PointsBet (Bruins -160, Hurricanes +135) and bet365 (Bruins -155, Hurricanes +135).
After comparing the odds of a few more games, it was obvious that I could find slightly better odds for most markets online if I shopped around. That was in line with what I was expecting, though. The odds being offered at the kiosks were at least competitive with their online competition.
I decided to take a second to look over at my wife sitting at a table nearby and she was clearly getting annoyed with me poking around on the machines for so long. I ran over to check in on her and do damage control (it's her birthday so I have to make sure the night rolls along smoothly and I've done a great job to this point).
"What do you think of the sports lounge, babe?" I asked.
My wife loves sports but she's new to the sports betting scene. She has an account with theScore Bet and only throws down the occasional wager, usually on a game she plans to watch. Like most new sports bettors in Ontario, she loves to bet on the local teams, like the Toronto Raptors and Toronto Blue Jays. She uses theScore Bet because she's already familiar and comfortable with the news app, which made for an easy transition to the betting application. She has no plans of "trying to learn" how to use any of the other apps.
"I wouldn't even know it's a sportsbook," she exclaimed. "There's no signage anywhere and it's pretty dead in here."
My wife has been to a few sportsbooks in Las Vegas, and I've never been to Sin City, so I really value her opinion on this topic.
I looked around and she was right? How would anyone know sports betting was even available here unless they walked directly up to the kiosks, which could have easily been mistaken for ATMs or cash out machines?
She pointed out that the actual bar wasn't ideally set up for viewing games and rooting on bets. Some simple interior design upgrades, in her opinion, would greatly enhance the experience. The TVs were scattered around the bar, and she suggested that a larger wall with clustered big screen TVs (like Real Sports in downtown Toronto) would be better suited for the space. Many of the tables were pointed away from the viewing areas, too. Perhaps some comfortable home theatre chairs and larger furniture would entice patrons to spend the entire day or evening in the lounge.
"An awesome drink special wouldn't hurt either," she exclaimed.
We walked around the bar/lounge area, which I'm guessing has a capacity of 250-300 people, and then saw some signage reading "Sports Betting" on the far wall beside an information area.
Great, I'm going to go ask some questions.
I strolled up and three casino employees were huddled around the area. I had read sportsbook ambassadors would be on site to answer any questions patrons had about the new sports betting operations.
"Hi, how can I help you?" asked one of the friendly employees.
"I have a few questions about the new sports betting operations," I replied, without revealing my identity as an industry reporter.
I learned that the maximum wager that could be placed was $1,000. That could be really helpful for a sharp bettor that's being limited by his or her online sportsbook, I thought.
You can also cash in winning sports tickets at either of the Niagara casinos, which I expected as the day-to-day operations of both locations are managed by Mohegan Gaming & Entertainment. However, I had read before visiting the Niagara casinos that Great Canadian Entertainment is forcing sports bettors to cash their winning tickets at the exact location they purchased the ticket from. For example, bettors can't purchase a ticket at Casino Woodbine and then cash it at Pickering Casino Resort even though both locations are GCE properties. Lame.
As the lengthy discussion continued, I realized that one of the gentlemen I was speaking with was in fact, Greg Yott, the director of sportsbook for Niagara Casinos, after he pushed back his suit jacket to reveal his name tag.
I then spilled the beans that I was actually a sports betting reporter checking out the retail operation. Mr. Yott continued to be very candid with me despite knowing my job title.
"We didn't have a lot of time to get this all together," he said. "Everyone knew [retail sports betting] was in the works, but the formalization of everything was actually quite quick.
Yott said the atmosphere was lively at the sportsbook for Canada's World Cup opener last Wednesday and that he's been happy with the initial turnout.
"We still have a lot of work to do in order to improve operations and our marketing around sports betting," he said.
Yott also mentioned that Fallsview Casino Resort is working hard to open a state-of-the-art sportsbook lounge by late 2023 to complement the existing lounge at Casino Niagara.
Before I knew it, 20 minutes had flown by and now my wife was really annoyed that I was neglecting her.
I whisked her away to the slot machines and promptly provided a beverage as a peace offering.
Whew, dodged a bullet there.
Fallsview Casino Resort
I had plans to finish the night at Fallsview Casino Resort and hopefully cash in my winning ticket on the Vikings at the conclusion of the game, but my wife had other plans.
The huge meal had taken its toll on her, and when combined with the prospect of having a peaceful sleep at the hotel without the risk of being woken up by a screaming child, she wanted to call it an early night.
I had already pressed my luck all evening, so I obliged with her request.
I woke up the next morning, quickly threw on some clothes, and ran across the street from the hotel to the Fallsview Casino Resort to cash my ticket before we went back home. I learned the night before from one of the sportsbook employees that I actually had an entire calendar year to cash in a winning ticket, but my wife requested a fancy Starbucks beverage to start the day and I wanted to use my winnings to purchase the overpriced latte.
I used the main entrance and finally saw some promotional signage for the new sports betting operations.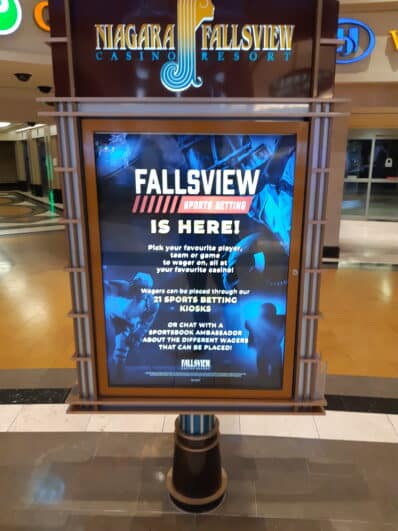 Okay, maybe the retail sports betting experience is better at the Fallsview location?
I walked into the casino and tried to put myself in the position of a new sports bettor that had just read about the new sports betting kiosks. How would I find them?
No signage, anywhere.
I wandered around aimlessly looking for the kiosks for five minutes until I stumbled upon the cashier cage. Time to cash my ticket, I thought.
I proudly presented my winning ticket to the cashier behind the cage. She snickered and took a long walk to the far side of the cage to insert the ticket into a machine.
After numerous failed attempts to process the ticket, she appeared frustrated. A supervisor was called over to assist her. Five more minutes went by and then the cashier walked back to me while muttering "this is not my job" a couple of times to herself.
I confronted her and asked why it took so long to cash the ticket?
"They're always changing the way we do things around here," she exclaimed. "We never had to worry about processing sports betting tickets before."
I remembered that the sports betting kiosks had gone live over a week ago at Fallsview and it was obvious that some of the kinks with processing tickets hadn't been worked out yet.
OK, so not the best customer service experience I've ever had. She begrudgingly forked over my $35 and then I continued on my quest to actually find the sports betting kiosks at the venue.
After a few more minutes, I found them. However, I only recognized them because of my previous experience at Casino Niagara the night before. There was no signage, except for a tiny podium alongside the machines that had a QR code on it for more information on sports betting. I'd guess that nine out of 10 casino patrons would have no idea what the kiosks were actually for.
Also, two of the machines were out of service, which is surprising seeing as they're only a little over a week old.
Conclusions
I spent a total of about an hour in and around the sports betting kiosks at both locations and only noticed two other bettors besides myself using them.
To be honest, the experience was simply a disaster. There was no "experience" to be had. Sports betting seemed like a rushed add-on that clearly wasn't ready to be rolled out by the casino operators.
However, there is massive potential for sports betting at both properties.
The LEV2L Sports Bar could easily be expanded and made into a first-class sports lounge. There's room for expansion, as evidenced by an abandoned poker table area directly to the right of the bar area. With a few tweaks, the bar area as it currently exists could actually be a comfortable and fun place to root on bets.
As for the kiosks themselves, I found them easy to use and the odds were competitive with others in the online realm.
It's been a couple of very tough years for the two Niagara casinos from a revenue perspective due to COVID-19 restrictions and closures, so it's understandable that a timely major investment in sports betting wasn't prioritized out of the gate. It's going to take some time to recover financially from the pandemic and for everyone to feel comfortable in a crowded casino environment again.
Sports bettors will be keeping their fingers crossed that the new sportsbook lounge currently under construction at Fallsview Casino Resort actually delivers a Vegas-like sports betting experience. Time will tell.
In the meantime, I'll continue placing my sports wagers online while still dreaming about the sportsbook experience I've been craving in my own back yard for years.