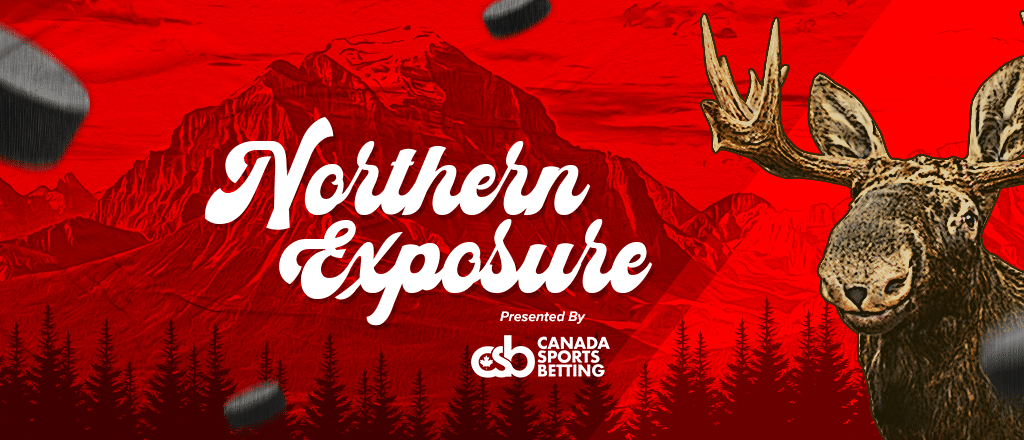 Each week, Canada Sports Betting recaps all the top sports betting and iGaming news in Canada and highlights upcoming events.
Our top stories this week
Event of the week
NFL – Bills vs. Bengals – Nov. 5
Buffalo Bills fans have had this date circled on the calendar ever since the NFL schedule was released.
The Bills have had some extra time to rest following their Week 7 victory over the Tampa Bay Buccaneers on Oct. 26, and that rest will be beneficial for quarterback Jake Allen, who is dealing with a shoulder injury. He didn't practice on Wednesday but did return to the field on Thursday with the team.
After starting the year 1-3, the Bengals have hit their stride, winning three straight games (and covering the spread in all three contests) to vault back into playoff contention.
This could be one of the most highly anticipated games of the season. Buffalo opened as a 1.5-point favourite at bet365 on Tuesday, but that spread has been on the move all the way to Bills +2 as of Thursday afternoon.
NorthStar Bets launches Across Canada
Players outside of Ontario now have access to the NorthStar Bets online sportsbook and casino via northstarbets.com.
The operator advised a nationwide launch would occur shortly on Oct. 10, and it only took a few weeks to get the product live in other jurisdictions outside of Ontario. Northstarbets.com is being offered through a wholly-owned subsidiary NorthStar Gaming acquired earlier this year with the purchase of Slapshot Media Inc. (Spreads.ca).
Canadian gaming lawyer Jack Tadman wrote an interesting article regarding NorthStar's pending expansion across Canada last week, exploring the risk the operator is taking by launching in other provinces using Spread.ca's Kahnawà:ke Gaming Commission license. In Ontario, NorthStar is directly licensed with the Alcohol and Gaming Commission of Ontario is and is operating as a part of the regulated iGaming market in the province.
NorthStar Bets also announced this week the completion of a $10.3 million financing round that is being used to support its Canada-wide launch.
In addition to a premium online sportsbook and curated online casino, NorthStar Bets also offers users betting insights for the markets offered on the platform.
ESPN BET sets launch date
ESPN BET will launch on Nov. 14 in 17 U.S. states, ESPN and PENN Entertainment, announced Thursday.
The ESPN BET app will be going live in Arizona, Colorado, Illinois, Indiana, Iowa, Kansas, Kentucky, Louisiana, Maryland, Massachusetts, Michigan, New Jersey, Ohio, Pennsylvania, Tennessee, Virginia, and West Virginia, pending licensing approvals in those states.
ESPN BET is expected to be a major disruptor in sports betting markets south of the border and gain significant market share on industry leaders FanDuel, DraftKings, and other popular U.S. brands. PENN/ESPN is hoping to capture a 20% market share in its U.S. jurisdictions.
PENN announced a 10-year partnership with ESPN to create an online sportsbook in August and there is a Canadian connection to the deal. PENN will be using theScore Bet's tech to power the ESPN online sportsbook and casino in the United States. In October 2021, PENN completed its transaction of theScore for $2 billion (USD). In Canada, theScore Bet is PENN's online sportsbook and casino and it exclusively operates in the province of Ontario, at least for now.
FanDuel upping its novelty game
Who doesn't love a good novelty bet?
FanDuel Canada offers one of the most comprehensive novelty betting sections in Ontario and the operator is now seeking a dedicated entertainment and culture trader to further enhance its offerings.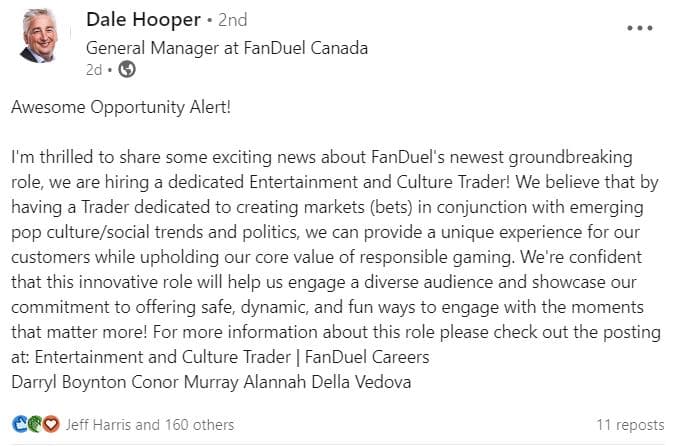 FanDuel is currently offering odds on the Academy Awards, Time Person of the Year, Grammy Awards, Canadian politics, and even when the first official snowfall will be in a few major Canadian cities, including Toronto.

FanDuel was one of the first operators to launch in Ontario in April 2022.