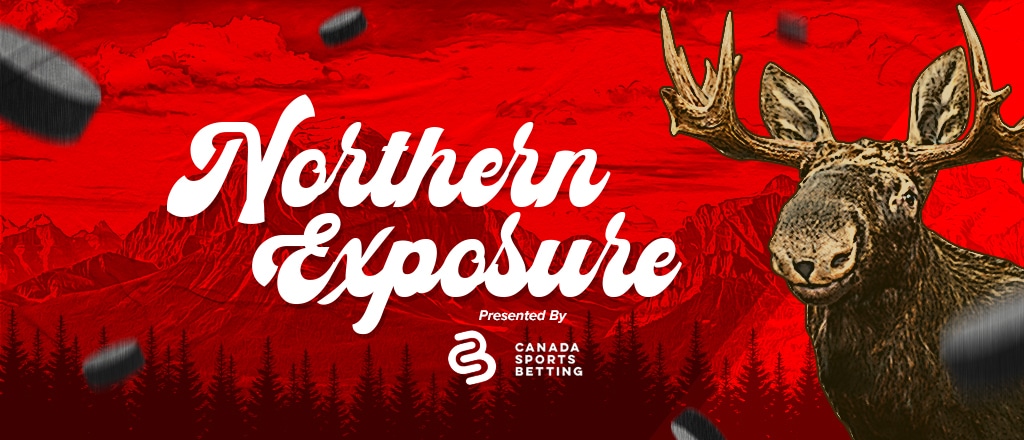 Each week, Canada Sports Betting recaps all the top sports betting and iGaming news in Canada, highlights the event of the week, and takes a look ahead at some of the most intriguing games to bet on over the weekend.
Our top sports stories this week
Event of the week – PGA Championship
The golf season's second major is underway at Oak Hill Country Club in Rochester, New York, and six Canadians — Corey Conners, Adam Hadwin, Nick Taylor, Adam Svensson, Mackenzie Hughes, and Taylor Pendrith — are competing in the PGA Championship this year. All of the Canadian players in the field are facing very long odds to win the tournament, with Conners (+11000 – PointsBet) having the shortest odds of the bunch.
All of the action from the four-day event can be watched on TSN. Soaking rains are expected throughout the day on Saturday in the Rochester area, so third round play could be suspended until Sunday, if Mother Nature doesn't cooperate.
Jon Rahm, who won the first major of the season at the Masters, and Scottie Sheffler, had the shortest odds (+750) to win the event prior to play opening up this morning after a brief frost delay.
Fanatics acquires PointsBet's U.S. assets
A major business deal went down south of the border earlier this week when Fanatics Betting and Gaming entered a binding agreement to acquire PointsBet's U.S. assets for roughly $150 million, as first reported by Sports Handle.
"Fanatics and PointsBet are excited to enter into an agreement for Fanatics Betting and Gaming to acquire PointsBet's U.S. business," the companies said in a joint statement. "While there are still several steps in the process to complete the acquisition, both parties are confident in the outcome."
PointsBet will retain its Australian and Canadian businesses, which is important to note for bettors using the operator in the province of Ontario.
Fanatics, the world's largest sports apparel and collectibles company, only recently entered the U.S. sports betting market by opening a sportsbook at FedEx Field, the home of the Washington Commanders, in January. The operator is licensed to operate in Ohio, Maryland, Massachusetts, and Tennessee and will have access to 14 U.S. states (most importantly New York) when the acquisition of PointsBet is complete. The acquisition could shake up operator market share south of the border, where DraftKings and FanDuel are dominating the sports betting landscape.
PointsBet's Canadian business had a solid quarter, growing 21% on a quarterly basis to $6.1 million total net win (Australian dollars) for the three-month period ending March 31.
PointsBet was one of the first operators to launch in Ontario when eligible in April of last year.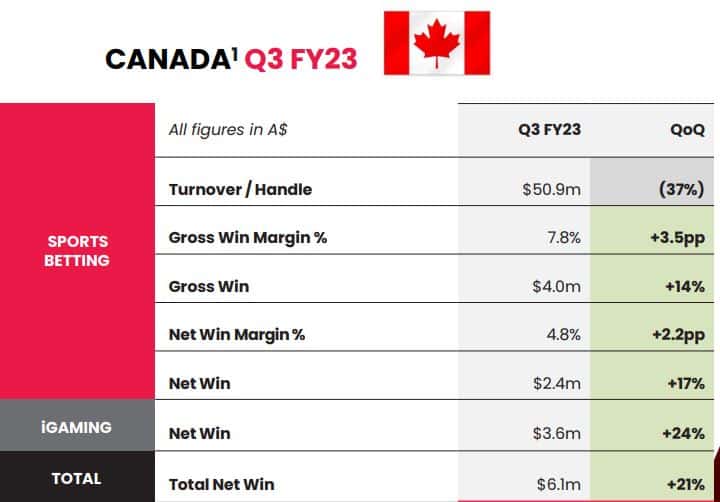 Pinnacle's CEO steps down
Pinnacle CEO Paris Smith is stepping down as CEO after 17 years to take on an advisory role with the company.
Smith announced the news on her LinkedIn page:
After an incredible 17 years with Pinnacle, I am making a change and will be stepping away from the intense day-to-day requirements of the CEO role to transition into an advisory role with Pinnacle.
I am excited for this new challenge as this will allow me to explore some new opportunities and strategic projects alongside Magnus Hedman – while still remaining close to the strategy and support of the beloved Pinnacle team.
Throughout my time at Pinnacle, the company has grown in both scope and size, often seeing opportunities to be a market leader. My passion for the industry and the people in the industry will never leave me. I have focused on building a diverse and experienced management team within Pinnacle that allows me to move into this next phase of my career with the confidence that Pinnacle is in good hands.
I hope I have created a lasting legacy in my time as Pinnacle's CEO, as I have always said it is an honor to have the privilege to lead such an incredible brand and organization. The confidence that has been given to me is greatly appreciated. I am excited to be able to focus more on the long-term strategy and business opportunities as I continue to promote, network, and create the connections to continue the success of Pinnacle. My passion for leadership and mentoring will be a focus for me moving forward. I will continue to be representing Pinnacle externally and share the updates and successes of the company at the conferences.
A search is now underway for Pinnacle's next CEO to navigate this ever-changing industry. This is an exciting time and I'm so grateful for the team at Pinnacle which have become friends and family. The culture of Pinnacle is unique and one of the many attributes that makes it such a special company. Many thanks to everyone who has made not only the last 17 years at Pinnacle but the previous 11 years in this fabulous industry such a special part of my life. I'm forever grateful and humbled.
Pinnacle joined Ontario's regulated market last October, but the operator had previously been doing business all across Canada for decades in the grey market. Ontario was the first North American jurisdiction that Pinnacle received a license in.
Known for its high betting limits and low-margin odds, the operator calls itself the pioneer of esports betting, which it has offered since 2010 on its platforms.
Century Casinos sells four Canadian properties
Century Casinos has struck a definitive contract for VICI Properties to acquire the real estate assets of four properties in the province of Alberta: Century Casino & Hotel Edmonton, Century Casino St. Albert, Century Mile Racetrack and Casino, and Century Downs Racetrack and Casino for an aggregate purchase of $221.7 million in cash.
The transaction is expected to close in the second half of 2023.
Century Casinos owns and operates numerous gaming venues across Alberta as well as in select states in the USA.
In January, VICI Properties aslo announced the purchase of four of Pure Canadian Gaming Corporation's properties: Pure Casino Edmonton, Pure Casino Yellowhead, Pure Casino Calgary, and Pure Casino Lethbridge.
Advertising feedback closed in Ontario
The feedback period from industry stakeholders regarding the Alcohol and Gaming Commission's proposed ban on online gaming operators using athletes and celebrities to promote products in Ontario has officially closed.
The Canadian Mental Health Association made its four-page feedback submission to the AGCO public and it's clear that the organization is taking a strong stance against ahtletes and celebrities continuing to participate in iGaming advertising campaigns.
"We appreciate the AGCO acknowledging the emerging risks of promoting gambling to underage and vulnerable people and their call for consultations on this issue," said Camille Quenneville, CEO, CMHA Ontario, in the release. "Many of our branches offer problem gambling supports and are observing an increase in clients bringing forward the issue of celebrity endorsements for iGaming. Gambling-related harms such as financial loss, mental health issues, substance use, and suicide ideation, can have devastating and long-lasting impacts on the individual and their family.
"It is important that online gambling is not depicted as a risk-free recreational activity. Individuals who engage in the activity should be provided with local services and resources to support those at-risk of harmful gambling."
The CMHA also provided the following data to support its stance:
Surveys show that students self-reporting betting money on online gambling increased from 4% in 2019 to 15% in 2021.
CMHA Ontario's 2022 poll found that 35% of Ontarians who gamble increased their gambling activity since 2020.
Gambling is strongly associated with increased tobacco use, alcohol consumption and use of other substances.
The Canadian Gaming Association also made a feedback submission, recommending that the AGCO establishes an industry working group so that industry stakeholders and regulators can work together to gain a clearer understanding of the public policy issue at hand and review relevant research. The CGA is also asking for a "guidance document" so that operators have a clear understanding of any revisions made to the advertising standards and can remain compliant moving forward.
The AGCO will now review the feedback it has received from industry stakeholders and will ultimately decide if any alterations should be made to its proposed amendments to its advertising standards. Operators will have three months to come into full compliance once the AGCO posts the final revisions to the advertising standards.
BCLC to implement enhanced ID requirements at casinos
Patrons at British Columbia's land-based casinos can expect some enhanced ID requirements this summer.
The British Columbia Lottery Corporation announced earlier this week that every patron will soon be required to show government-issued photo identification upon entering a B.C. casino to support people enrolled in BCLC's Game Break self-exclusion problem gambling program.
Security staff will scan ID, and that information will be checked against BCLC's database of individuals restricted from entering gambling faciltites, including those enroled in the Game Break program. BCLC says no personal information will be stored as a result of the scan for those permitted to enter the casino.
As of May 1, BCLC had over 10,000 Game Break enrolments over the past year. These enhanced measures will help the organization support its mandate of having the "healthiest players in the world."
An official implementation date for the new policy will be announced in the coming weeks.
BetVictor partners with CEBL
BetVictor is the new sports betting partner of the Canadian Elite Basketball League for the 2023 season.
In addition to being the official home of sports betting for the CEBL, BetVictor also becomes the presenting partner of CEBL+, the league's official OTT and streaming platform, as part of the deal. CEBL+ will be home to live broadcasts, documentaries, highlights, and basketball features. Canadians will have free streaming access to games this season through CEBL+.
"This partnership provides us with a unique opportunity to connect with Canadian basketball fans and showcase our commitment to providing the best sports betting experience possible," said Product Manager Samuel Boswell in a release. "We have an extensive range of sports betting options which include live In-Play betting, parlays and futures markets; fans can bet on the games they love and experience the excitement of basketball like never before. At BetVictor, we are committed to responsible gambling and ensuring that our customers enjoy a safe and enjoyable betting experience. Through our partnership with the CEBL, we hope to promote responsible gambling and provide fans with the tools they need to gamble responsibly."
The 2023 CEBL season tips-off on May 24 as the Ottawa BlackJacks host the defending 2022 Champion Brampton Honey Badgers.