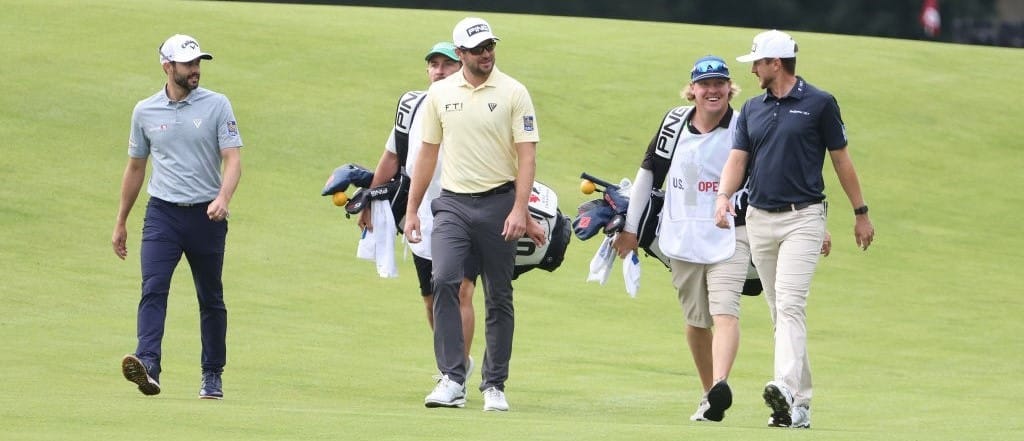 The PGA Tour is back with the first major tournament since the Masters in April. The tournament, which will run from May 18-21 at the Oak Hill Country Club in Rochester, New York, represents a unique opportunity for an underdog to make a name for themselves — or for a big name to add further laurels to their legacy.
From a betting perspective, it helps to know who and what to pay attention to. In this betting preview, you'll get three players worth backing, three to fade, three who could come from the depths to surprise, and a glimpse at which Canadian players to watch for.
All odds in this article are courtesy of PointsBet.
Canadians in the field
The beautiful thing about the PGA Tour is its diversity. Players from all around the world are members of the Tour, including a few Canadians. Let's take a quick look at each of them and their odds to win the tournament.
Corey Conners (+11000): The top Canadian according to the odds. Conners is one of the most accurate in this group, 10th in greens regulation on the Tour. He finished 17th at the 2021 PGA Championship, so it's not unrealistic to think he could climb even higher.
Adam Hadwin (+35000): Hadwin has more experience than the other Canadians, having been in six prior PGA Championships. He has yet to make the top 25, but has made the cut in the last four, so it's not like he's totally unequipped to make a run this year.
Nick Taylor (+40000): Taylor has one major strength to his game in his putting. He's sixth on the Tour in putting average, but it's his driving game that could wind up getting the better of him. He also missed the cut in his last appearance in the tournament in 2020.
Adam Svensson (+40000): This is Svensson's second major appearance following the Masters. He's the second-ranked Canadian, having quality accuracy in his drives. His ability with the irons could prove beneficial at Oak Hill.
Mackenzie Hughes (+50000): Hughes is 59th in the OWGR rankings. He's been in four PGA Championships before, making the cut just once (2020). Whether he can get over the hump this year bears watching.
Taylor Pendrith (+60000): The longest of longshots, but maybe worth a glance. Pendrith's game is well-suited for Oak Hill, making the 129th-ranked OWGR golfer one to keep a close eye on throughout the week.
Three players to back
Predicting a winner in any event, let alone a major like the PGA Championship, isn't easy. The best players in the world can have an off weekend, putting them in the middle of the pack rather than the top of the leaderboard. That said, a few players deliver with regularity. That's part of the reason why they are among the best in the world. With that, here are three players that you should definitely keep in mind when placing your bets at a sportsbook on who will win the PGA Championship.
Max Homa (+4500): Homa has risen steadily up the ranks and is oftentimes one of the dark horses to win any particular event. He even started on fire, winning the Fortinet Championship and being part of the Presidents Cup team. Homa is one of the best putters on the Tour, making him a strong presence at the PGA Championship. He's seventh in total strokes gained and 10th in putting overall. If he has a strong weekend on the greens, he could finally get the first major of his already promising career.
Scottie Scheffler (+750): This can't be filed under "bold," but it's difficult to avoid mentioning Scheffler as a candidate. Arguably the best player in the world for the last year and a half, Oak Hill could well provide another feather in an already well-feathered cap. It may be an obvious pick, but sometimes the obvious pick is the right one. He can make par from just about everywhere, a critical ability for this tournament. He's also finished in the top 10 in six of his last eight majors, so his recent performance under the brightest lights has been nothing but spectacular. There is no reason to believe he can't continue his string of great starts.
Sungjae Im (+3300): The betting public tends to stick with the names it knows. Sometimes, it helps to keep things simple. But it also means missing out on great players who have been having a solid season and have a chance to walk away with the PGA Championship.
Im has been one of the best players going, especially in recent tournaments. He has placed in the top 25 in his last seven starts, four of those being top-10 finishes. He is great off the tee and has the kind of high-upside game that can leave him at the top of the leaderboard when the tournament comes to an end.
Three players to fade
Just as there are players who have shown strong performances recently, there are those who have struggled. Even the best players in the world struggle from time to time and these are the three names you should avoid backing heading into the PGA Championship.
Rory McIlroy (+1400): Despite being one of the best players in the world and possessing 23 wins on the PGA Tour, it's hard to back him in this tournament. He has been awful over the last few weeks, missing the cut in two of his last four Tour starts. In his last appearance, the Wells Fargo Championship, he finished 47th. Part of this poor run can be directly attributed to his lack of consistency when on the greens. He's currently 162nd in putting average, 172nd in strokes gained putting, and 112th in one-putt percentage. All of which bodes less than favourably for him at the PGA Championship.
Collin Morikawa (+3500): Morikawa is one of the more interesting players listed here. He has the ability to go far in just about any tournament but his recent play has been bad. He missed the cut at the Wells Fargo and has been one of the most volatile players for years. His putting and short game have struggled and he'll need it in this tournament. Asking him to put together a better short game against this field may be asking too much. The right call is to stay away from betting on Morikawa — if only for the sake of your nerves.
Brooks Koepka (+2000): This pick may surprise a few. After all, how can you not back him after his performance at the Masters? Plus, Brooks has the kind of game that excels at Oak Hill: distance, power, and discipline. When Koepka is healthy and focused, he's one of the best on the big scenes. At the same time, Koepka has been known for his disinterest while on the course, and has shown some signs of wobbling at recent events. Though he has the ability to be dominant, the mental game will let him down at Oak Hill. It's a tough fade, but it all depends on which version of Koepka will show up.
Three potential dark horses
While it's easiest to back the favourites, that doesn't necessarily equate to a win. Sometimes, you have to look deep into the field to find someone who has the perfect mix needed to make a run during a major weekend. Here are three players who could surprise and provide a huge payout.
Tommy Fleetwood (+7000): Don't let the odds fool you: Fleetwood has been very good this season. He finished top three at the Valspar, then secured another top-five performance at the Wells Fargo, and managed a top-15 finish at the RBC Heritage. These are big achievements on their own, and they have all come within his last five starts. Fleetwood showed the ability to gain strokes in a field full of talent. He also has a short game that is perfect for making par, something that will be crucial in an event like the PGA Championship. Don't be shocked to see Fleetwood on the first page of the leaderboard come Sunday.
Gary Woodland (+8000): Woodland is interesting for a few reasons. For starters, his putting game can be outright disastrous in the worst of times and may well be his undoing this weekend. That being said, the rest of his game is very, very good. He gained 22 strokes from tee to green over the last two events. Oak Hill is a place for good ball strikers and that is one of Woodland's main strengths. If he can tighten his putting game, he could be a force. Another thing to consider is his past at this event. He has made six consecutive cuts, including a pair of top-two finishes.
Yannik Paul (+60000): This may be a touch more outlandish than most bettors will want to go, but we think it's worth taking a second to consider German golfer Yannik Paul. While it's easy to ignore him given his ranking as the 104th golfer in the world, his path to the tournament has been extremely impressive. At the start of the 2021 season, Paul wasn't even among the top 1,800 golfers in the world. Shooting up nearly 1,700 spots in two years shows that he has something to offer. He has potentially elite tee-to-green ability and has proven himself a dangerous name on the DP World Tour. He has three finishes in the top six over his last five starts. Heading into his first PGA Championship, it shouldn't shock anyone to see him make some noise.