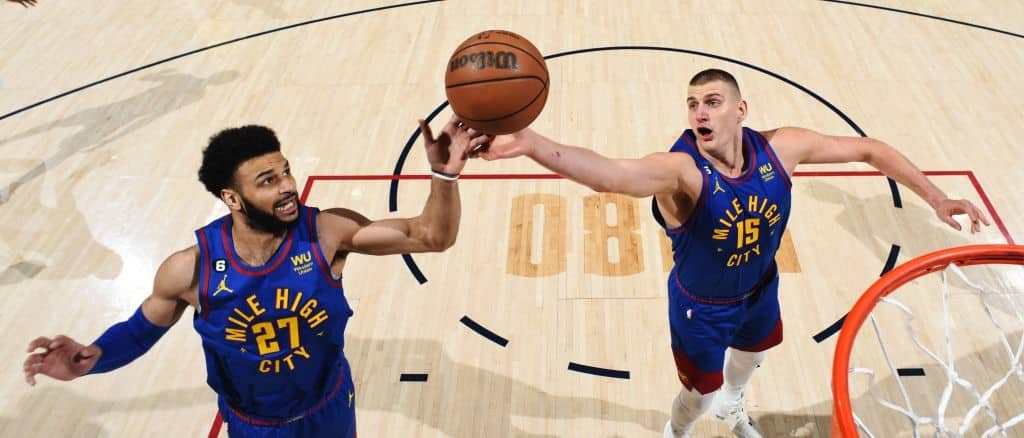 The Western Conference Finals started off with a bang as Nikola Jokic put on one of the best first-quarter performances in NBA history, before Denver dominated for three and a half quarters of high-intensity basketball. They the Nuggets needed to thwart a dangerous late Lakers surge, before finally winning Game 1 by a final score of 132-126.
It was a fascinating game: for most of it, the Nuggets looked like they could sweep the series, but by the end, Lakers fans had plenty of reasons to feel confident. Game 2 takes place on Thursday, and going into the game there's no telling how this series will go.
Keep reading for more on this riveting matchup, with a closer look at each team, betting trends and analysis.
Lakers vs. Nuggets odds
All odds courtesy of

Previous meetings
In the only game of the series so far, the stars showed up to play, with Jokic posting an astonishing 34 points, 21 rebounds, and 14 assists while Canadian point guard Jamal Murray added 31-5-5 for Denver. The Lakers were led by Anthony Davis dropping 40 points and 10 rebounds and LeBron James pouring in 26 points, 12 rebounds, and nine assists.
With both teams seeming to prefer shorter playoff rotations, it's really going to be a battle between whose stars and/or role players rise to the occasion. The Lakers and Nuggets split their four regular-season matchups this year but it should be noted they never played each other after L.A. revamped its roster at the trade deadline.
| | | | | |
| --- | --- | --- | --- | --- |
| Date | Home Team | Spread Odds | Result | Total |
| May 16, 2023 (Game 1) | Denver | Nuggets -7 | 132-126 Nuggets | 222.5 (over) |
| Jan. 9, 2023 | Denver | Nuggets -12.5 | 122-109 Nuggets | 237 (under) |
| Dec. 16, 2022 | Los Angeles | Nuggets -1.5 | 126-108 Lakers | 236.5 (under) |
| Oct. 30, 2022 | Los Angeles | Nuggets -2.5 | 121-110 Lakers | 229 (over) |
| Oct. 26, 2022 | Denver | Nuggets -5 | 110-99 Nuggets | 230 (under) |
About the Lakers (8-4 SU, 9-4 ATS, 6-7 o/u)
Los Angeles came into Game 1 with the best defence of any team in the playoffs and found itself on the receiving end of a blitz from a red-hot Denver squad. Maybe it was the famous mile-high altitude that wore the Lakers out, but for whatever reason, they were unable to stop Denver's offence early on. The Nuggets led 106-92 after three quarters and the series looked like it could be over quickly.
The Lakers, to their credit, made key adjustments in how they defended Jokic, and attacked the paint more and more through LeBron and Davis. They moved the relatively undersized Rui Hachimura over to guard Jokic, leaving Davis free to roam the paint in what seemed to be a game-changing stroke of genius. Los Angeles stormed back in the fourth to get within three, nearly tying it on a missed LeBron three with under a minute left.
Granted, Hachimura cannot be expected to contain Jokic consistently, but the Lakers will be able to draw plenty of confidence from their comeback effort. Denver will have to bring its A-game once again, and with the Lakers better acclimatized to the altitude, there's good reason to believe Game 2 will be very tight.
About the Nuggets (9-3 SU, 7-5 ATS, 7-5 o/u)
For most of Game 1 on Tuesday night, the NBA world was being put on notice by Jokic and the Nuggets. Perhaps they felt jilted at not being considered the overall title favourite, or perhaps they were hearing too much talk about a Lakers upset. So for three quarters they showed why they were the best team and dominated the Lakers top-ranked defence.
It's the fourth quarter, however, that they'll need to answer for. Even leading by double-digits most of the game and being up by as many as 21 in the third quarter, Denver let L.A. back into the game and could very easily have lost. The Lakers made defensive adjustments in the second half to slow down Jokic and on offense James hunted Murray, driving him into the paint and forcing him into five fouls.
The Nuggets, who started out shooting red-hot and scoring very efficiently, actually had their biggest edge on the boards, out-rebounding the Lakers 47-30 including 15-5 on the offensive glass. They used that advantage to make plays in transition early on, and the Lakers struggled to cope. The Nuggets will once again be striving for that edge in Game 2, but should expect the Lakers to put in a more robust defensive effort from the get-go this time around.
Notable injuries
Lakers backup centre Mo Bamba missed Game 1 with an ankle injury and is questionable for Game 2.
Betting trends
Lakers are 10-4 ATS vs. winning teams in their last 14 games.
Five of the last seven Lakers games have hit the over.
Nuggets are 5-2 ATS at home this postseason.
Seven of the last 11 Nuggets games have hit the over.
Player prop trends
Even if the Nuggets know they can't shoot as well as they did in Game 1, they're still going to shoot and Jokic is going to get them open looks. Taking the over on threes made seems like a good bet for their best shooters: Murray 2.5 (-155), Michael Porter Jr. 2.5 (-110), Jokic 1.5 (+160) and Kentavious Caldwell-Pope 1.5 (-110). They all had at least three long balls each in the previous game.
Now that the Lakers' defensive strategy appears to be more set, watch for Davis to increase his rebounding totals as he will not be asked to guard Jokic for most of the game, at least early on. LeBron has grabbed at least nine rebounds in four of his last five games and had 12 in Game 1. Look for that number to actually go down in this game as the Lakers should start a bigger lineup. Davis' line for rebounds is set high at 12.5 (-130 over), while LeBron's is 9.5 (-145 under).
Wagers to consider
In Game 1, the Nuggets opened as -5.5 favourites and closed at -7. The o/u was 222. The lines for Game 2 open with the Nuggets again favoured -5.5 (-110) with the O/U this time at 227 at bet365. With the Lakers managing to cover even after being down significantly for most of the game, this series will be closer than many thought and taking the Lakers +5.5 (-110) before the smart money piles in and moves the line would be a good idea.
The Nuggets are still going to try and control the tempo and pace of this game. The Lakers will focus on staying close and not letting Denver get too far ahead at home. With that said, look for the Nuggets to cover the first half spread at -3 (-110) odds.