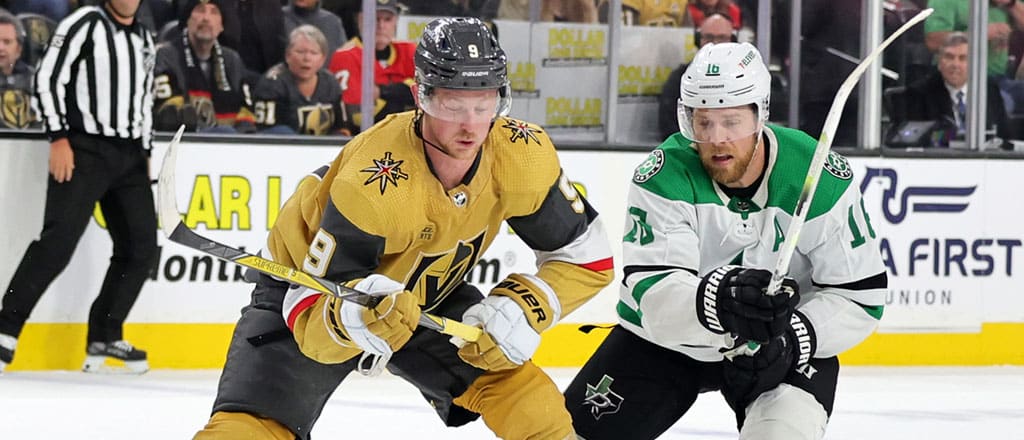 If you're solely in it for the seven Canadian teams, the National Hockey League season died with the second round of this year's playoffs. The Toronto Maple Leafs made it further than they usually do, but were quickly eliminated. The Edmonton Oilers came storming out of the gate, particularly Connor McDavid and Leon Draisaitl, but also saw their season end in the conference semifinals. It's a tough blow that brings the nation's cup-less streak to 30 years, despite representing a nearly a quarter of the league's teams.
If you're in it for the best hockey possible, and maybe a bet or two, the fun is just getting started. Four teams remain in the Stanley Cup playoffs, with the Final getting closer and closer. Let's take a look at the matchups ahead, and the betting odds associated with them, courtesy of bet365.
NOTE: While there's some variance from venue to venue, these odds will be more or less applicable to all of the best sportsbooks in Canada!
2023 NHL Eastern Conference Final
Carolina Hurricanes vs. Florida Panthers
Stanley Cup odds: Hurricanes +230, Panthers +325
Series odds: Hurricanes -130, Panthers +110
Schedule:
| Game | Home team | Date | Time (ET) |
| --- | --- | --- | --- |
| 1 | Hurricanes | May 18 | 8:00 PM |
| 2 | Hurricanes | May 20 | 8:00 PM |
| 3 | Panthers | May 22 | 8:00 PM |
| 4 | Panthers | May 24 | 8:00 PM |
| 5* | Hurricanes | May 26 | 8:00 PM |
| 6* | Panthers | May 28 | 8:00 PM |
| 7* | Hurricanes | May 30 | 8:00 PM |
*If necessary
The Florida Panthers have played the role of ultimate spoilers in these playoffs, despite just barely squeaking in themselves. After shocking the world with an upset against the 65-win, record-setting Boston Bruins in seven games, they took on a Maple Leafs team who came in thrilled to be in the second round for the first time in their core's seven years of trying, and first time for the organization at large since 2004. They gave them a very similar humbling to the one they received when they snapped their own 25-year series drought the year prior, not quite sweeping them like Tampa Bay did to the Panthers last year, but pushing them out in five games, the fastest that anyone has eliminated Toronto in this era.
While many give credit for the Panthers' new look to summer acquisition Matthew Tkachuk, and he certainly has been an impactful player for the team this year, the effort in Round 2 came from the returning cast, with 12 of 14 goals being scored by members of last year's team. Sergei Bobrovsky, whose seven-year contract with the Panthers has been widely panned since he joined the team in the summer of 2019, has had maybe his best month as a Panther, posting a 7-1 record and .928 save percentage in his last eight games, beginning in Game 5 of the Boston series. He's been their playoff MVP, and continued success will most likely rely on him.
On the other side, the Carolina Hurricanes are the favourites to win this series, and a team that many have expected to break through and go on a serious run for a few years now. Seen as poster children for today's data-driven hockey concepts, the Hurricanes value shot volume, transition through puck possession, aggressive defensive pressure, and a general sense of setting the tone for their opponents to follow. While the Hurricanes are low on superstars and having the likes of Andrei Svechnikov, Teuvo Teravainen, and Max Pacioretty out of the lineup doesn't help them offensively, their depth has been relentless and helped them keep the highest goal difference in the playoffs up to this point, outscoring their opponents 40-28.
No individual player has been a better example of timely depth help than Jordan Martinook. The 30-year-old had the most productive season of his career this year, posting 34 points – hardly huge numbers, but decent. A zero-point first round against the New York Islanders created some concern, only for him to pop off for three goals and seven assists against the New Jersey Devils, a series in which the Canes averaged nearly five goals per game.
Both teams are coming into this series with plenty of time to rest and heal up some bumps and bruises. The Hurricanes punched their ticket five days ago, while the Panthers did so the day after. This means both will have nearly a week of breathing time before going head on.
Prediction: Hurricanes in six games (+425)
2023 NHL Western Conference Final
Vegas Golden Knights vs. Dallas Stars
Stanley Cup odds: Golden Knights +250, Stars +280
Series odds: Golden Knights -135, Stars +115
Schedule:
| Game | Home Team | Date | Time (ET) |
| --- | --- | --- | --- |
| 1 | Golden Knights | May 19 | 8:30 PM |
| 2 | Golden Knights | May 21 | 3:00 PM |
| 3 | Stars | May 23 | 8:00 PM |
| 4 | Stars | May 25 | 8:00 PM |
| 5* | Golden Knights | May 27 | 8:00 PM |
| 6* | Stars | May 29 | 8:00 PM |
| 7* | Golden Knights | May 31 | 9:00 PM |
* If necessary
For a brief moment, it looked like the Western Conference Final would be a battle of the two newest teams in the league, as the Seattle Kraken got within a game and a goal from turning a 30th-place debut season to a final four appearance in year two. The Kraken may very well have next, but the Dallas Stars were in their way, and decided that they have now, and made themselves the last team to join the semi-final dance Monday night with a dramatic 2-1 win in Game 7.
In a lot of ways, this has been a long time coming for the Stars. This core started with Jamie Benn and Tyler Seguin a decade ago, but it's now Jason Robertson, Miro Heiskanen, and Jake Oettinger – all picked in the same 2017 draft class – that are steering them to new heights. The seemingly immortal Joe Pavelski, now 38 years old and still producing at a point-per-game clip, has also helped solidify the operation. While the Stars went to the Stanley Cup Finals in the 2019/20 bubble, this version is much deeper, and feels much more legitimate – perhaps an even better version of the team than the one that hoisted Texas' first cup in 1999.
As alluded to, the Stars' opponents are the Vegas Golden Knights, who despite being the second-newest team in the NHL, have proven their 2018 Cinderella run to the Final to be no first-year fluke. Ruthless and eager to win to the point of occasional controversy, Vegas has stopped at nothing to build on its island of misfit toys and make it a legitimate juggernaut.
Vegas has gotten to this stage by wiping out Canada's representation – making easy work of the Winnipeg Jets, and surprising many by shutting down the Oilers' heavy artillery in Round 2 – thanks in large part to Adin HIll, the team's third-string netminder, posting a .934 save percentage over his last five games. But credit is due to others as well. Bruce Cassidy has shaped the team to his mould in his first year as head coach, coincidentally building off what was left for him by Dallas coach Peter DeBoer in his previous job. Jack Eichel has returned to superstardom and risen to the occasion in his first playoff appearance. Jonathan Marchessault's Game 6 hat trick was a delightful sight from a day one Golden Knight, showing that he's still got plenty to give. Mark Stone has remained an excellent two-way threat.
Overall, these are two deep, fun teams that are very deserving to advance. I like Vegas a little bit more, but either team breaking through wouldn't surprise me. If you want a surprise, though, you might enjoy hearing that the Golden Knights are, against all odds, the northern-most team left in the playoffs. How's that for crazy?
Prediction: Golden Knights in six games (+450).
Stanley Cup outright odds
| Team | Stanley Cup Outright odds |
| --- | --- |
| Carolina Hurricanes | +230 |
| Vegas Golden Knights | +250 |
| Dallas Stars | +280 |
| Florida Panthers | +325 |
Odds courtesy of Bet365.
At the end of the day, these are four very good teams with championship-friendly pieces scattered across their rosters. Some were better than others in the regular season, but all have proven to be deserving candidates, even despite concerns about none of them being based in "traditional markets." I'm personally a believer in the Golden Knights going all the way – they've got the star power, a quality coach, the depth, and if Hill stays hot, your prototypical 'freak run' goaltender – but nothing would surprise me the rest of the way.