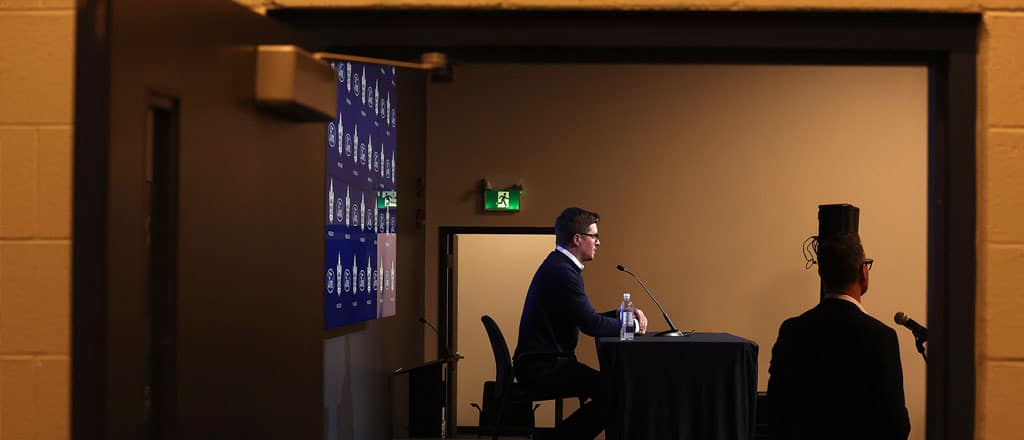 If you go back just two and a half weeks, it would be sound crazy to think that the Toronto Maple Leafs' summer discourse would already be this chaotic. After all, the end of April saw the team's first playoff series win in nearly two decades, against arguably the most dominant team of this era.
But here were are, about a fortnight later, with the National Hockey League's conference finals about to get underway, with Toronto's season over and a lot of people frustrated. Not necessarily because Toronto lost in the second round, but as the say – how it lost. The Leafs' star players stopped scoring, their third game was an incredibly flat performance, and the series ended in just five games, the fastest Toronto has been eliminated in a series in this era.
Yes, the Florida Panthers are on a heck of a run right now, having previously usurped the 65-win Boston Bruins and proving themselves to be closer to the Presidents' Trophy-winning team they were the year before than the team that barely squeaked in this time around. But a five-game bounce, that momentarily looked like a sweep in the making, is beneath the expectation for the team, even with the prior series win, given the lack of success over the last seven years of playoff contention.
So what now, then? How do you address another "wasted season" and come back better? It's too early to be definitive on some decisions, with the offseason still being a few weeks away on a transaction front and with many teams still assessing their own situations (or even still playing). But there are a few core ideas to consider.
Address Kyle Dubas' situation ASAP
The absolute No. 1 priority – and one that could get settled by the time you read this – is figuring out the situation with Leafs general manager Kyle Dubas. Dubas, who completed his fifth year as GM and ninth in the organization, is on the last year of his contract and has options available to him.
Many were surprised to see him come out publicly and say that the biggest barrier is his own comfort level, on a personal level and with his family, and that the options he's presented himself are to either continue in Toronto if offered a chance to return, or take a break entirely.
"I definitely don't have it in me to go anywhere else," Dubas said in his end-of-year press conference. "It'll either be here or it'll be taking time to recalibrate [and] reflect on the seasons here. But you won't see me next week pop up elsewhere. I can't put [my family] through that after this year."
Being in the Toronto spotlight, particularly as a polarizing figure for reasons that aren't always controllable, is no doubt taxing and the 37-year-old feeling burnt out by it isn't abnormal. All the same, there is potential for creativity within this honesty – with other clubs such as the Pittsburgh Penguins rumoured to have interest in him and Toronto's tepidness to make him a substantial offer going into this season, it's possible that being open about his concerns doubles as an opportunity to gain leverage. Saying the above signals to other teams that if they want him, they will have to blow him away with an offer, and if a huge offer is made, it can be used to get the best possible contract from Toronto.
Should Dubas decide to go, the Maple Leafs will have decisions to make. Do they look outside their doors, or do they promote from within? Jason Spezza has been in the tutorial stage as Dubas' special assistant this year, but might not be fully ready. Assistant GM Brandon Pridham is linked to other teams – Toronto can probably afford to let him make a leap, but can it afford to lose him if Dubas goes too?
Decisions to make behind the bench
While I think bringing back Dubas is a pretty easy case to make – I don't agree with every move he makes, but the organization is in extremely healthy shape and the process behind his decision making is sound.
A tougher sell might be the team's head coach, Sheldon Keefe. The Leafs have had incredible results with him in the regular season – his 166-71-30 (.678) record in the regular season is among the best in league history, let alone team history – but a 13-17 record in playoff games and 1-4 record in playoff series has left a lot to be desired.
Keefe is an easier fall guy than Dubas, as the organizational impact of a good head coach is less significant than a good manager, and arguably less so than a good player. A bad one can be disastrous, but good ones have diminishing returns in what they can impact. Keefe has his own "coachisms" that annoy me – an overreliance on faceoffs, a fallback to utility players in tough spots, and no real nuclear option in his pocket besides "swap Nylander and Marner," but this will likely be true of any coach that comes in, if not to an even worse extent.
A coaching decision here will likely depend on the market. Firing Keefe would be the easiest way to take pressure off everyone else's back, particularly Dubas, but it makes no sense if you can't line up a capable staff to replace him. Names like Andrew Brunette (associate coach in New Jersey) are interesting for tactical reasons, while Bruce Boudreau is a popular one for a mix of heartstrings and offensive preference. After that it gets pretty muddy – in fact, the next worthwhile option might be their own assistant, Spencer Carbury, who is reportedly interviewing with other teams, and similar to Dubas and Pridham, could be a tough double-whammy to swallow in a worst-case scenario. I think you make this change as long as the new options aren't a massive downgrade, but you take the heat instead if the alternatives aren't up to par.
Get Auston Matthews locked in
On the roster, the most important thing the Leafs can do this summer is a move of continuation. That is, to extend Auston Matthews as soon as possible. His window for extension begins on July 1st, though teams obviously talk beforehand. Matthews is known to be close with Dubas, which makes keeping the GM all the more important for this negotiation, and he publicly stated his intentions to stay in Toronto this week.
"My intention is to be here," Matthews said at cleanout day. "I think I've (said) that before, how much I enjoy playing here and what it means to me."
He also stressed the importance of getting the deal done early. "I think that it's important and it will work itself out in due time. As far as everything else goes, it's a true honour (to play in Toronto)."
What the contract will look like remains to be seen, and is a topic we will get into as the spring turns into summer. But having these conversations now is a no-brainer; players like Matthews are few and far between in this league, and while his scoring dried up in the final three games of these playoffs, concerns about him 'not showing up' are likely overblown. The 25-year-old had points in 15 of 16 playoff games prior to that slump and, particularly in Games 4 and 5, looked more snakebit and banged up than disengaged. If anything, his dip from his 2022 MVP season might be to the team's benefit when negotiating the numbers on the extension.
Be open, but patient with Nylander, Marner
Toronto's loss has many feeling that the solution out of its playoff struggles involves moving one of the team's longstanding core pieces. Morgan Rielly was incredible in these playoffs and has seen that discussion about him fade dramatically over the past few weeks, and John Tavares sounds a lot like a player who will use his no-movement clause to stay in Toronto even if the Leafs did find a trade partner. As mentioned above, an extension-willing Matthews is a player you keep.
This leaves wingers William Nylander and Mitch Marner, who have one and two years left on their respective deals. Both had career seasons – Nylander put up 40 goals and 87 points and was once again the team's most visibly-engaged forward in the postseason, while Marner reached the 99-point mark in the regular season while finding himself in the Selke Trophy conversation (at least, for who finishes second or third, with the the award being Patrice Bergeron's to lose). While typical spring frustrations with Marner forcing plays did appear at times in the playoffs, he was very productive against Tampa and scored Toronto's lone game-winner against Florida.
With that said, the end game is to find ways to improve the team, and the two wingers represent Toronto's best bang-for-buck on the high end and its most expendable, yet wanted, high-dollar trade chip, making them both easy candidates.
Patience is likely key in making a move involving either. With the Panthers being the team that knocked Toronto out, their 2022 offseason move for Matthew Tkachuk, which sent their most productive forward (Jonathan Huberdeau) and defenceman (MacKenzie Weegar) to Calgary, is cited as the move to replicate. Dubas even referenced it in his press conference (in one of many future-focused quotes that make it sound like his lean is to stay), but context on the quote has been lost. While many see it as him admitting that they need to trade firepower for firepower, Dubas' point was one of not rushing.
"If you're going to do something like that, you gotta bet it's got to be thoroughly done, which the team we just played serves as a great template for," Dubas began to explain in the full response. "They won the Presidents' Trophy, they lost in the second round, they were disappointed. They get to the summer and they trade two of their core guys for a great younger player. That's a big move, but I don't think it was hastily done. I think it was late July, a late Friday night in late July that they make that move."
The Tkachuk trade came on July 22, after the superstar winger told the Flames he did not intend to extend his contract there. It was a relatively sudden situation, and Tkachuk had given a short list of teams that he'd extend with. Because the Panthers were on that list and because they weren't aggressively shopping Huberdeau and Weegar, they suddenly became the team that held the leverage in that situation, rather than the team that was desperate to move their guys, giving them the opportunity to make a move where they got the youngest — and best — player in the deal.
The Maple Leafs shouldn't rule out the potential value that Marner and/or Nylander can afford them on the open market. There is always room to get better, and there are arguments for moving on from both players. Nylander's upcoming extension may require a prohibitive raise, and Marner has often looked like a player that puts too much pressure on himself in crunch time, which would make a move away from his hometown mutually beneficial. But Toronto doesn't want to look like the team with the proverbial gun to its head, so locking into trade proposals in the middle of May helps no one. Assessing the market, and having those players ready at the hip if other game-breaking talent becomes available in a way that Toronto is best suited to acquire, is the play to make this summer.
Decide future of remaining free agents, support players
Beneath the core, there are a lot of decisions to be made on support players. Up front, the team's free agents include Alexander Kerfoot, Ryan O'Reilly, David Kampf, Noel Acciari, Michael Bunting, Wayne Simmonds, and Zach Aston-Reese. On the blue line, Justin Holl, Luke Schenn, and Erik Gustafsson are up for renewal. Lastly, Ilya Samsonov is a restricted free agent, meaning that the Leafs retain his rights and have more leverage when it comes to his negotiation, perhaps the most important of the bunch.
Toronto also has Matt Murray's deal moving to its last year at a $4.69-million cap hit, and an opportunity to start figuring out an early extension with Timothy Liljegren, who hasn't fully established his spot but had significant stretches of top-four play.
The Leafs could also, in theory, move Jake Muzzin's contract to not have to deal with Long-Term Injured Reserve complications, though he's a person they'd like to keep in the organization post-retirement and if they can keep him around the room without it causing cap trouble, I imagine they consider holding onto the final year of his deal.
There's a lot to decide within the free agent group in particular. Most of the market is interested in bringing back Acciari and Schenn at the right prices, as both showed themselves to be useful depth and room presences. Bunting is a back-and-forth conversation – his late-season controversies may have done Toronto a favour in terms of getting a team-friendly extension on the board, but Bunting may find individual benefit in going somewhere else in the short term, "rehabbing" his reputation away from the spotlight, and cashing out in a year or two. O'Reilly would be nice to have back in a support role, but at 32 years old, is likely too young to start going on the Spezza/Giordano track and will likely price himself out.
Commit to a draft mentality
One of the reasons why the Maple Leafs are in a bit of a tough spot in terms of the salary cap is because they're not finding home-run contracts in the same way as other contenders do. COVID-19 getting in the way and freezing the ceiling obviously made the Core 4 extensions a bit of a worst-case scenario, but Matthews and Marner breaking out into superstars before their entry-level deals were over didn't help things either.
Great teams tend to find second-layer impact players through the draft to support their main core, leveraging their entry-level deals to create great depth at a low price. Toronto has drafted pretty well on a talent basis in recent years despite not having many picks, but hasn't quite found those home runs. Matthew Knies' impressive debut in the playoffs has many hoping he'll be one of those guys, and in a sense, Timothy Liljegren has been one too, but Toronto has had many of its draft picks either not exceed their position by enough, or stumble into unforeseen hurdles (Nick Robertson's injuries and Rodion Amirov's illness being examples). The Maple Leafs hold the 28th overall pick (via Boston) and a fifth and sixth round pick this year. I wonder if they consider trying to find a way to trade up, or trade the pick out for an already selected young talent who projects to be NHL-ready sooner than later. The late picks, it goes without saying, should be upside swings – if you aren't swinging for power on day 2, there's really no point in drafting at all.
Plan a comeback for creativity and shake the identity crisis
Tying the above together, a big discussion point for Toronto this season should be the on-ice identity of the roster. For several years now, the overarching, oft-repeated concern about the team is that it's too one-dimensionally offensive, and doesn't focus enough on team defence or having balance of play styles.
If you look at the acquisitions and the construction of the lineup beneath their superstar forwards, though, the Leafs have become what they are constantly accused of not being — defensive-oriented, dull-time killers who do most of the checklist things that people associate with winning. They are built to counter opposing teams and leave the superstars to deliver the knockout punch.
As we've seen, though, all it takes for that to fall apart is a cold streak for a small handful of players. People take the wrong lessons from it and decide that nothing else has changed and that they must finally do the things that they already asked for and received. These past few seasons under Dubas, Keefe, and this core have mutated into a team that is talented enough to beat anyone, but isn't very assertive for a lot of its ice time, which creates its own vulnerabilities.
For me, the way out doesn't necessarily have to be a grenade in the middle of the dressing and boardrooms, but a shift back towards the creative options when it comes to decision making. If you're addressing the blue line, for example, a focus on already good shot suppression and goal limitation might be best aimed towards puck movement and activation, areas where the team struggled against Florida. Up front, maybe the next round of bargain hunting involves one-dimensional offensive players rather than the pursuit of punt teams who slow the pace of play and eat clock. Maybe creating a wide rotation of systems rather than relying on a short book of breakouts, power-play schemes, and the like is a good option? Maybe it's a general shift from counter-balancing the Core 4 (or whatever core you start the year with) and instead building personnel and game plans that complement them.
Similar to the missed point with Dubas' thoughts on the Tkachuk-to-Florida trade, we often see teams succeed at winning in specific ways and decide that their way is ideal, or that you need to prepare to shut that way down, when perhaps the real lesson is to find a cohesive method and lean into it. It won't always work – it's a luck-driven game after all, and maybe none of what we're talking about really even matters – but at minimum, it's a noble way to go out. Toronto's ethos moving forward should be a team that defines themselves and takes chances, for better or worse, on and off the ice, without worrying about the consequences.