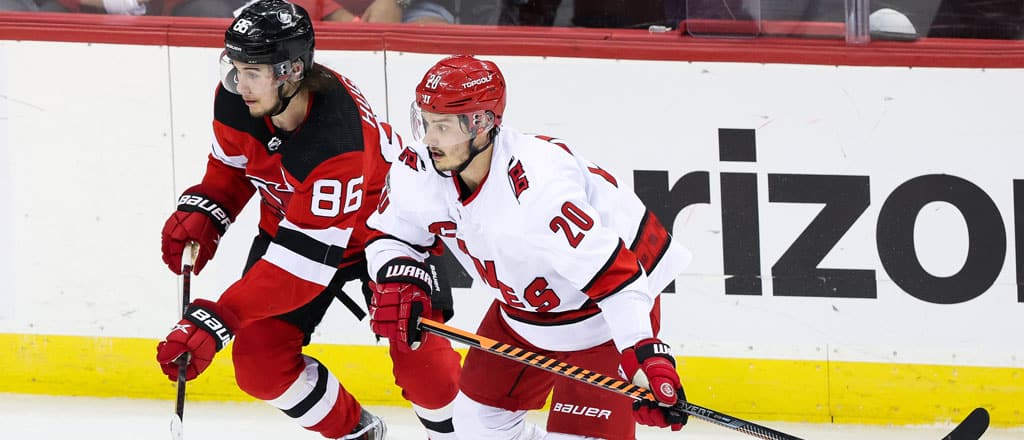 The National Hockey League season is nearing, with preseason just a few weeks away and the regular season opening night of October 10th rapidly approaching. As such, if you've got a strong feeling about a team, or an award-chasing player, now is a good time to get value on them before people catch on. Previously this summer, we've looked at particularly shrewd earl Stanley Cup and Awards futures. Now that most of the remaining big moves have materialized, we can take a deeper look at where the team's stand ahead of their respective training camps, with odds courtesy of our friends at bet365.
In this preview, we'll be focusing on the Metropolitan Division.
This post is part of a series looking at all four NHL divisions. Make sure to check out all of our previews as they come!

Atlantic Division – Metropolitan Division – Central Division – Pacific Division
Some might look at this division and critique it as top heavy, but the more fun approach here is to embrace the heavy hitters.
The New Jersey Devils share the top of the list, and they do so less through big offseason additions and more through the expectation of core growth. The team took a big leap last year as Jack Hughes took the leap into upper-superstardom, while the likes of Nico Hischier, Dougie Hamilton, Jesper Bratt, and Dawson Mercer all found new gears. The team did add Timo Meier just before last year's trade deadline, so in a sense, their big splash this summer was locking him in to an eight-year contract extension. On the peripherals, trading Yegor Sharangovich to Calgary for Tyler Toffoli should give them a bit of extra finishing touch. The subtraction of Ryan Graves is likely the team's biggest blow, but with Luke Hughes coming in as a sky-high upside rookie, the team hopes that they've off-set that issue.
Over in Carolina, the Hurricanes hope to make another deep playoff run. Sebastian Aho is sticking around for another eight years after this one, and the Canes have somehow upgraded their already fantastic blue line, opting for high-AAV, short-term in signing Dmitry Orlov, who finished last year with Boston but has spent most of his career in the division with Washington. They also brought back Tony DeAngelo to add some offensive punch from the point. Up front, Michael Bunting comes in from Toronto as their primary forward signing, with the Scarborough native signing a three-year deal. The team attempted to sign Vladimir Tarasenko as well, though negotiations hit a snag and he ended up in Ottawa.
The Rangers swapped out a short-term vet for another to kick off their offseason, letting Patrick Kane (and the aforementioned Tarasenko) go and bringing in Blake Wheeler on a league-minimum deal, hoping to benefit from Winnipeg's buyout of their former captain. Nick Bonino and Jonathan Quick come in as well, hoping to lend veteran, championship-winning presence to the team. Much of the rest of their moves are on the peripherals, instead hoping for an improved year from their internal talent. Across town, the Islanders were even more static, mostly focusing on internal extensions, including seven year deals for Scott Mayfield (??) and Pierre Engvall (???).
Moving to Pennsylvania, it's arguable that no team in the NHL made more moves of substance this summer than the Pittsburgh Penguins. Kyle Dubas moved boardrooms from Toronto to the steel city after extension talks fell out, and immediately went to work on his new team, overhauling not just the front office but much of his roster as well. The likes of Ryan Graves, Noel Acciari, Lars Eller and Alex Nedeljkovic were signed as free agents, and Rielly Smith came over from Vegas in a June cap-relief trade that saw Pittsburgh become the benefactors. No move for the Pens was bigger, however, than the one that sends Norris Trophy winner Erik Karlsson to the club. Karlsson comes in at partially retained but still healthy $10 million, but that was off-set by Pittsburgh shedding a lot of their salary cap weight, moving out Jeff Petry, Mikael Granlund, and Casey DeSmith along the way.
The Philadelphia Flyers, on the other hand, are very much still the rebuilding team in the state, and let the world know it. Ivan Provorov has been shipped to Columbus, Kevin Hayes is off to St. Louis, and Tony DeAngelo was bought out. James van Riemsdyk was also not renewed. Not that any of these players are at the level they once were, but it still shows a conscious effort to take a rebuild seriously, something new GM Daniel Briere vowed to do.
Over in Washington, the efforts to rebuild are on hold while the team focuses on a singular mission. Not to win the Stanley Cup, not to tank, but to get Alex Ovechkin to 895 career goals. The 37-year-old sits at 822 following a 42-goal campaign in 2022/23, essentially needing two more 35-40 goal seasons or three 25-30 goal campaigns to get there. Last year saw the team post their worst record since 2007, but with the chase in mind and the 2018 Stanley Cup still numbing any pain, no one is all that bothered. As far as adding towards that mission goes, the Caps didn't do all that much this summer, losing Connor Brown and Conor Sheary, but gaining Max Pacioretty as he hopes to leave injury issues behind him.
Lastly, the Columbus Blue Jackets are hoping for a much better result after a disappointing 2022/23 campaign. In the long run it may work out to their benefit, as landing the third overall pick meant getting Adam Fantilli, who has franchise player potential in the long run and could even be ready for NHL usefulness today. Columbus also made an effort to upgrade their blueline in acquiring Ivan Provorov from Philadelphia and Damon Severson from New Jersey. The biggest wildcard will be behind the bench, as Mike Babcock returns to the NHL after three and a half years removed from the highest level.
| | Line | 22/23 | YoY | xGF% | PDO |
| --- | --- | --- | --- | --- | --- |
| New Jersey Devils | 107.5 | 112 | -4.5 | 56.9 | 100.2 |
| Carolina Hurricanes | 107.5 | 113 | -5.5 | 60.6 | 98.9 |
| New York Rangers | 101.5 | 107 | -5.5 | 49.6 | 101.2 |
| Pittsburgh Penguins | 96.5 | 91 | +5.5 | 53.8 | 99.2 |
| New York Islanders | 91.5 | 93 | -1.5 | 49.5 | 101.5 |
| Washington Capitals | 85.5 | 80 | +5.5 | 49.4 | 99.6 |
| Philadelphia Flyers | 75.5 | 75 | +0.5 | 47.2 | 99.2 |
| Columbus Blue Jackets | 73.5 | 59 | +14.5 | 43.1 | 98.1 |
xGF%: Expected Goals Percentage. A weighted measure of shot control at 5v5.
PDO: A combination of Shooting and Save % at 5v5. Large deviations from 100.0 can be signs of fortune/misfortune.
Most of the teams in the Metropolitan Division are being given point lines that are within three wins of their previous years results, which makes predicting specific results here intensely difficult.
For me, the most obvious one to look at from an over front is the Penguins. No other team in the Eastern Conference had better expected goal or other forms of shot metrics and still missed the playoffs, and the team made clear, decisive upgrades to it's lineup this summer. The counter-argument against them is that last year was a rarity in that Sidney Crosby, Evgeni Malkin, and Kris Letang were all healthy throughout, and they might not have the same fortune this time around. Though, that's what Karlsson was brought in to bring insurance for.
On the under end, I think their rivals in Philadelphia are the obvious choice. The Flyers brought in little to nothing this summer and lost a lot of secondary talent and are being given a line that has them at an equal or better season. To me, that seems extremely unlikely, unless Carter Hart goes on a Vezina trophy-caliber run.
I'm also feeling a similar split in New York. With the Rangers, I'm curious about whether their coaching change from Gerard Gallant to Peter Laviolette unlocks a bit more of their offensive skill, and while Igor Shesterkin was good last year, it was technically a down year for him on paper, so if he can get back into the 0.920s or greater, that could buy them the wins necessary. With the Islanders, they'll need Ilya Sorokin to maintain his 0.924 and his 62-game workload, which isn't impossible but nevertheless remains a tough task. They'll also have to hope that a full season of Bo Horvat is the kickstart that the forward group needs, because goals for remains a major concern.
I have hard time gleaning much out of Washington, and while Columbus looks to be better, 14 points or 7 wins is a lot to feel confident in one way or another. I do think they're capable of doing it – say what you will about his habits, but Babcock has lifted the floor of teams in the past, and the talent injection from Fantilli, Severson, and Provorov is a lot more than nothing – but it's still a bit of a risky one.
Lastly, I'd likely leave the two goliaths in New Jersey and Carolina alone. Both of those teams can have massive years – neither would shock me if they smashed their lines, but in a league where it's a lot easier to have a shockingly low point total than a shockingly high one, I'm not huge on taking a line as high as 107.5 on anyone, even the best teams. All it takes is a slump or a couple injuries to make it a near impossiblity.
Confidently Over: Pittsburgh Penguins
Confidently Under: Philadelphia Flyers
Feeling Over: New York Rangers
Feeling Under: New York Islanders
Use Your Judgement: Washington Capitals, Columbus Blue Jackets
Let It Play Out: New Jersey Devils, Carolina Hurricanes
Where I would look at Carolina and New Jersey, though, is in your Stanley Cup futures. I personally put a little into the New Jersey basket when I wrote about early odds back in July, along with Pittsburgh for a sheer value perspective. Carolina is also a team that always remains in that mix, though we've yet to see them step up from a finishing front in the spring.
As far as winning the division goes, this is probably a two-horse race, with Carolina being the most likely victor, though anyone in the Top Four has a decent shot. Overall, I'd say the Devils are the team I'm seriously watching to go deep this year, the Penguins are the team I think provide a lot of value on these boards until the season starts, and Carolina is the team that hasn't put it all the way together yet, but I can't fault anyone for believing in. That's the beauty of hockey though – we never know for sure what will happen!
Check back next weekend, as we wrap up this series with the Atlantic Division.