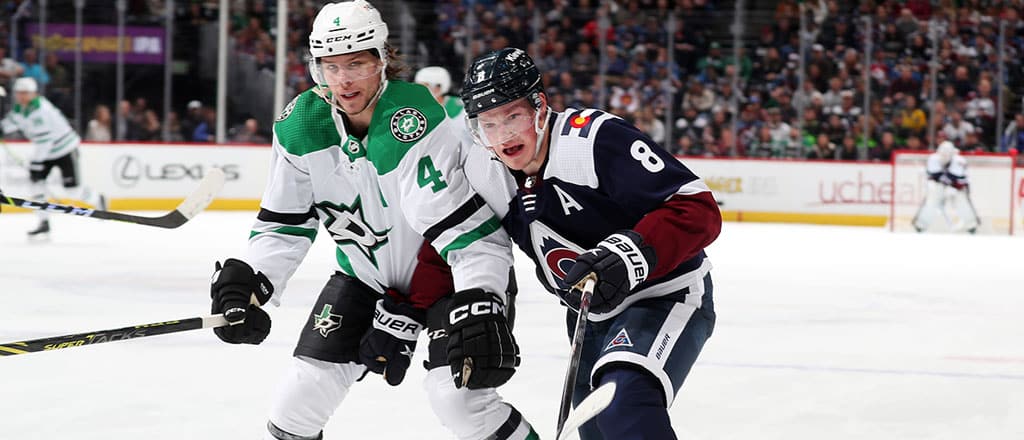 The National Hockey League season is nearing, with preseason just a few weeks away and the regular season opening night of October 10th rapidly approaching. As such, if you've got a strong feeling about a team, or an award-chasing player, now is a good time to get value on them before people catch on. Previously this summer, we've looked at particularly shrewd earl Stanley Cup and Awards futures. Now that most of the remaining big moves have materialized, we can take a deeper look at where the team's stand ahead of their respective training camps, with odds courtesy of our friends at bet365.
In this preview, we'll be focusing on the Central Division.
This post is part of a series looking at all four NHL divisions. Make sure to check out all of our previews as they come!

Atlantic Division – Metropolitan Division – Central Division – Pacific Division
Now wait a second, you might say. This order of teams is the exact same as last year! Nothing has changed! What gives? Well, you can argue that not enough has changed to mess with what's already there.
The Avalanche, who led the division last year, haven't changed a ton about their roster over the summer, mostly swapping around depth pieces. The closest you'll find to significant losses on the depth chart are Alex Newhook, who was traded to Montreal, and Lars Eller, who signed with the Penguins. They did add a couple of replacements to fill those gaps and others – Ross Colton was acquired from the Tampa Bay Lightning as a mid-term add, and the Avs are going to the reclamation well after trading for Ryan Johansen and signing Jonathan Drouin as a free agent. The latter has people particularly curious, given Drouin's insane chemistry with Nathan MacKinnon back in their junior days. Gabriel Landeskog will likely miss the full season, but that was the case last year as well. Valeri Nichushkin remains a question due to legal issues, but it does sound like he'll rejoin the team ahead of 2023/24.
For Dallas, the hope is that the young core spearheaded by Jason Robertson, Jake Oettinger, and Miro Heiskanen will continue to blossom, though there is also a jolt of reenforcement coming from the signing of Matt Duchene to a one-year, $3 million deal, fresh off a buyout by the Predators, who are a little further down this list. Minnesota takes a couple of paper losses in Matt Dumba and John Klingberg, though the latter was a rental and the hope is that walking away from the former kept them from being cornered into long-term contract talks. They'll be hoping to get the best yet from Kirill Kaprizov, and an even bigger year from breakout goaltender Filip Gustavsson, who was signed to a three-year extension in July.
Looking towards the next tier, the Winnipeg Jets are a major wildcard, with talks early in the summer of names like Connor Hellebuyck and Mark Scheifele potentially being traded. Some other big moves have been made while those sit in limbo, like the trade of Pierre-Luc Dubois to Los Angeles for Gabriel Vilardi, Alex Iafallo, Rasmus Kupari and a draft pick, and the buyout of former captain Blake Wheeler. Nashville sits behind them looking to make a major culture reset, previously mentioned in the Johansen trade to Colorado and the Duchene buyout, but further established with the signings of veterans Ryan O'Reilly and Luke Schenn out of Toronto, as former coach and new GM Barry Trotz looks to set up a floor of hard work while he and his scouts begin their search for franchise-defining talent.
In St. Louis, the shift towards a rebuild is very much on, as evidenced by the team's lack of aggressiveness in replacing its trade deadline departures of the aforementioned O'Reilly and Vladimir Tarasenko, who they sent to the Rangers and ultimately ended up in Ottawa. Kevin Hayes will fill some of the void, as the Blues acquired him at half his $7.14 million cap hit in a salary dump move for the Flyers, though if he has a good season, he could just as easily become a trade chip at that shaved ticket.
Beneath them, you have the bottom rung of Arizona and Chicago, and both teams are hard to get a firm grasp on as they each made significant changes over the summer, while each adding a blue chip prospect. Arizona has Logan Cooley coming in from the University of Minnesota to begin his much-hyped career, even going so far as calling him the "top prospect in the world" in a recent press release. To support him they've brought in the likes of Jason Zucker, Sean Durzi, Alex Kerfoot, and Matt Dumba. While Cooley is poised for his own fantastic career, the true top prospect in the world is likely Connor Bedard, who the Blackhawks drafted first overall after winning a draft lottery that created a collective groan around the league. To support him, with minimal cap space spent, the Hawks went on a spending spree, trading for Taylor Hall and signing Nick Foligno and Corey Perry – moves that would be seismic a few years ago, but are now guidance-giving, cap-meeting moves for them this year, especially with Jonathan Toews and Patrick Kane both gone from the organization.
| | Line | 22/23 | YoY | xGF% | PDO |
| --- | --- | --- | --- | --- | --- |
| Colorado Avalanche | 106.5 | 109 | -2.5 | 52.5 | 100.8 |
| Dallas Stars | 105.5 | 108 | -2.5 | 52.5 | 101.0 |
| Minnesota Wild | 96.5 | 103 | -6.5 | 50.4 | 100.6 |
| Winnipeg Jets | 91.5 | 95 | -3.5 | 51.6 | 100.6 |
| Nashville Predators | 87.5 | 92 | -4.5 | 47.5 | 100.6 |
| St Louis Blues | 87.5 | 81 | +6.5 | 44.4 | 100.8 |
| Arizona Coyotes | 74.5 | 70 | +4.5 | 43.5 | 100.7 |
| Chicago Blackhawks | 73.5 | 59 | +14.5 | 41.6 | 98.7 |
xGF%: Expected Goals Percentage. A weighted measure of shot control at 5v5.
PDO: A combination of Shooting and Save % at 5v5. Large deviations from 100.0 can be signs of fortune/misfortune.
The top half, and even one of the bottom half teams in the Central Division, can take a slight hit and still meet their points line, while the teams at the bottom need to make some leaps. A big factor at play here is the smoothing effect that comes into play for projections like these – projecting a full season purely on rosters, not taking into account injuries or puck luck, will always lead to a more parity-filled list of totals. The gap between the highest and lowest lines this year is 41 points (66.5 to 107.5), while a typical gap between first and last place is about 55 to 75 points.
In the case of this division, in particular, no one other than Chicago moves by more than three or four wins, and that mostly makes sense. None of these teams were particularly dominant in controlling play, and only the bottom three could say they truly struggled. Puck luck wasn't a huge outlier for most of them, with their PDOs generally sitting in the 99-101 range.
Given that there are so few obvious tells in this division, and so many teams still far away from contention, this is a really tough one to feel overly bullish or bearish for any team. If there's a team that could show some volatility in the playoff hunt, it might be Minnesota. Core players like Mats Zuccarello and Jared Spurgeon aren't getting any younger, and as great of a story as Gustavsson was between the pipes last year, you always run a bit of a risk of repeatability when a goalie walks in and suddenly posts a .931. Should he taper, that could be serious trouble for them, especially with Marc-Andre Fleury now pushing 40. The lines bake that in a bit, but I could see them missing the playoffs entirely if one or two of the mentioned players struggle.
The Jets are another one to keep an eye on, particularly in the next few weeks as we figure out whether they have more moves coming up. Hellebuyck, who reportedly is not interested in returning to the Jets after this year, would make a great trade chip for the team should they lean into a rebuild, but he's also capable of keeping them in the mix as long as he's there.
The Blackhawks will be a tantalizing line for a lot of people, since Bedard is such a potentially transcendent talent and they've given him some support. One might look to the 26-point improvement the Toronto Maple Leafs made in their first year with Auston Matthews, though that team also added several other long-term NHLers on the upswing to a roster that had poor finishing luck the year prior. Sidney Crosby's first year in Pittsburgh was a zero-point improvement, Alex Ovechkin's first in Washington was good for 11 points, and Connor McDavid's injury-shortened year in Edmonton was good for eight.
The Blackhawks did have a 16-point jump when they added Patrick Kane, Jonathan Toews, and Dustin Byfuglien in 2017/18, but it's hard to say if this group can do the same. These teams eventually made big leaps, but those first years are usually a feeling out process. Especially when one looks between the pipes and sees a tandem of Petr Mrazek and Arvid Soderblom, who likely won't keep enough pucks out of the net to win the Hawks many more games. Though, with 2024's projected first overall pick being Bedard's buddy Macklin Celebrini, who played last year for the USHL Chicago Steel, I don't think they'll mind one more year of waiting.
Confidently Over: N/A
Confidently Under: N/A
Feeling Over: N/A
Feeling Under: Minnesota Wild
Use Your Judgement: Chicago Blackhawks
Let It Play Out: Everyone Else. It's a weird division this year with tight lines!
Looking at the bigger stakes might actually make more sense for the Central Division than riding the lines. Particularly, I'd keep an eye on Colorado and Dallas, who are turning the clock back to the late 90's with a second wave of dominance. The Avs took a step back from their 2022 Stanley Cup last year with a first-round exit to the Seattle Kraken, but will no doubt be hungry for another with megastar Cale Makar entering his prime. The Stars took their deepest run of this era to the Western Conference Final, before losing to the eventual champion Vegas Golden Knights.
Both of these teams would be intriguing options to win the Stanley Cup, given the depths of their talent. As far as the Presidents' Trophy goes, Colorado likely has the more long-term-suited lineup, though a Vezina Trophy-calibre year from Jake Oettinger could also put Dallas in the mix. For the same reason I'd look to Colorado to win the division, but I think those two teams remain the ones to keep your eyes on. Minnesota and Winnipeg are outside possibilities, but I wouldn't be making serious commitments unless they look sustainably great at the quarter-season mark, even if you're conceding potential value.