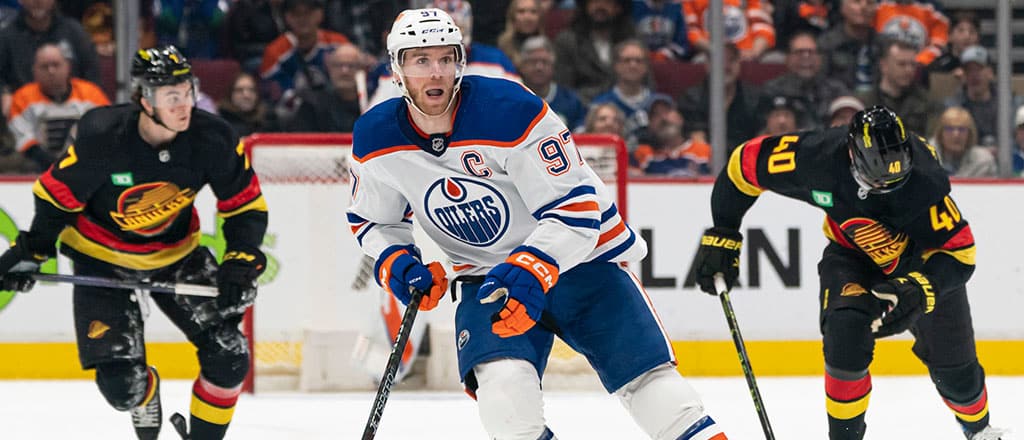 The National Hockey League season is nearing, with preseason just a few weeks away and the regular season opening night of October 10th rapidly approaching. As such, if you've got a strong feeling about a team, or an award-chasing player, now is a good time to get value on them before people catch on. Previously this summer, we've looked at particularly shrewd earl Stanley Cup and Awards futures. Now that most of the remaining big moves have materialized, we can take a deeper look at where the team's stand ahead of their respective training camps, with odds courtesy of our friends at bet365.
In this preview, we'll be focusing on the Pacific Division.
This post is part of a series looking at all four NHL divisions.
Make sure to check out all of our previews as they come!

Atlantic Division – Metropolitan Division – Central Division – Pacific Division
First, we take a look at the points line and each teams' shot at making the playoffs, and things look pretty stable compared to last season.
The Edmonton Oilers haven't added much, trading out Kailer Yamamoto and Klim Kostin to free up some cap space and signing Connor Brown and Drake Caggiula to fill their roster spots, but remain a dominant threat as long as they have Connor McDavid and Leon Draisaitl leading the way. The Stanley Cup champion Vegas Golden Knights are running back more or less the same core roster as they had last year. The Los Angeles Kings made perhaps the biggest splashes in the division's top end making a blockbuster trade for Pierre-Luc Dubois, followed by extending him and trade deadline acquisition Vladislav Gavrikov.
In the middle, it feels like the Calgary Flames might not be done with the futures of Noah Hanifin and Elias Lindholm still in question, but for the immediate future, the team's big move over the summer was to trade Tyler Toffoli for Yegor Sharangovich and a draft pick, a move that hurts their immediate finishing ability but they hope to be beneficial to them in the medium-long term. The Seattle Kraken lost some depth in the likes of Daniel Sprong and Ryan Donato, but hope that Kailer Yamamoto and Pierre-Edouard Bellemare can fill some of that gap. The Vancouver Canucks shocked some by buying out Oliver Ekman-Larsson, but the move allowed them to find some cap space and spread out the defensive dollars a bit, committing some to Carson Soucy and Ian Cole, which should help them in an immediate sense.
Lastly, we have the bottom rung. The Anaheim Ducks underperformed in a big way last year and they hope that signing Alex Killorn and Radko Gudas can get the team moving in the right direction, along with the potential addition of 2023 second-overall pick Leo Carlsson, though it seems likely that he won't play the full year in the NHL next year. The San Jose Sharks, well, they're almost hoping for a step back, or at least not much of a step forward this year, looking towards getting one more blue-chip prospect after drafting Will Smith (no, not that one) and trading away Erik Karlsson last weekend.
| | Line | 22/23 | YoY | xGF% | PDO |
| --- | --- | --- | --- | --- | --- |
| Edmonton Oilers | 105.5 | 109 | -3.5 | 54.3% | 100.4 |
| Vegas Golden Knights | 103.5 | 111 | -7.5 | 51.7% | 101.1 |
| Los Angeles Kings | 101.5 | 104 | -2.5 | 53.2% | 98.8 |
| Calgary Flames | 94.5 | 93 | +1.5 | 55.4% | 98.0 |
| Seattle Kraken | 94.5 | 100 | -5.5 | 52.0% | 101.0 |
| Vancouver Canucks | 88.5 | 83 | +5.5 | 46.5% | 99.7 |
| Anaheim Ducks | 67.5 | 58 | +9.5 | 38.4% | 99.4 |
| San Jose Sharks | 66.5 | 60 | +6.5 | 49.9% | 98.3 |
xGF%: Expected Goals Percentage. A weighted measure of shot control at 5v5.
PDO: A combination of Shooting and Save % at 5v5. Large deviations from 100.0 can be signs of fortune/misfortune.
Looking at what needs to be done to accomplish their point totals, the top rung of the division can all take slight dips to hit their overs while the bottom feeders will need decided improvements. Part of that is the smoothing nature of projections, which don't try to point out the outliers and surprising events that spread out the standings over the course of the season, like injuries or puck luck.
A particularly interesting one to me here are the Flames, who only need to add 1.5 points or a single win to last year's total. The Flames had the best shot driven metrics (Corsi, Expected Goals, and the like) of any non-playoff team in the West by a considerable margin, had awful luck in one-goal games, and had sub-par results both in terms of finishing and goaltending, the latter of which being an area that was supposed to be of strength for the team. Even though I think the Toffoli trade is a downgrade for the team in the immediate, a lot of signs suggest that last year was pretty close to a worst-case scenario for the team. With a coaching staff overhaul, another year for Jonathan Huberdeau (who dropped from 115 points to 55) and Nazem Kadri (87 to 56) to adjust to their new teams, I'd likely take the over on them, barring further core trade discussion heating up.
The Ducks would really intrigue me as well. Anaheim underperformed expectations significantly last year, their top young players will be a little bit better, they've added quality veterans and a coaching change should clean up some of that massive shot metric gap that swelled up throughout the year.
As far as unders go, it's not hard to look at the Seattle Kraken's 10.4% shooting percentage at 5-on-5, first in the league by nearly a whole percentage point in 2022/23, and wonder if they're going to have the same finishing touch this year. If they lose even 10% of that, which would still keep them among the top finishers, that's about 20 goals lost, which could be recovered in other areas but won't be easy to fill up. San Jose seems like an obvious one, with their best player gone in Karlsson. The void between his on-ice and off-ice minutes last year was massive, effectively the difference between them being mediocre and the league's worst team, which is where the expectation seems to be for the upcoming season.
I also wonder a bit about the Vancouver Canucks – their highs are very high, and it wouldn't be a shock to see a better year out of Thatcher Demko in goal which closes that three-win gap. Coaching will be another big question – do they gain more from not having a situation like the team had with Bruce Boudreau last year, or do they lose more in not having the new-coach bump from Rick Tocchet joining the team? The difference between the two coaches last year was a 70 vs. 94 point pace, and getting the latter would be plenty. Similarly, the Los Angeles Kings can go a lot of different ways, with the Dubois trade creating a significant lineup shakeup, and total question marks in net as they find out whether their veteran duo of Phoenix Copley and Cam Talbot can find a groove.
Back to the point about smoothed-out projections, if you feel a team is due to chase the top of the standings, it's usually shrewd to consider their over. At the same time, the margin for error starts to get a lot higher as you have higher point lines. For example, the Oilers could be a Presidents Trophy threat, but what if their powerplay dries up, or one of Connor McDavid or Leon Draisaitl is injured? With Edmonton and Vegas in particular, I'm reasonably convinced that these are the two best teams in the division – it just might not be worth chasing thin margins on them affirming it.
Confidently Over: Calgary Flames
Confidently Under: San Jose Sharks
Feeling Over: Anaheim Ducks
Feeling Under: Seattle Kraken
Use Your Judgement: Vancouver Canucks, Los Angeles Kings
Let It Play Out: Edmonton Oilers, Vegas Golden Knights
Save for the Ducks having worse odds than the Sharks for the big trophies (which really, isn't all that significant in the grand scheme of things, as both are extreme longshots to be anywhere near a division win, first overall, or heaven forbid, the Stanley Cup this year), most of this looks pretty much as expected.
For my money's worth, it'll be hard to discount Vegas until they prove otherwise, as they've been sustainably one of the top four or five teams in the league in overall talent for the past few years, and didn't make significant changes this summer. My biggest concerns would be if the deep run hurts them from a rest and recovery standpoint, and how healthy captain Mark Stone is. For Edmonton, I think the upside is always the highest when you have the best player of the era at his peak, and several other strong pieces around him, so for them to be atop the leaderboard isn't shocking either. These would be the two teams I'd be most curious about.
For the Kings, I think they've got a better chance of exceeding their Stanley Cup odds than their regular season ones. Again, goaltending remains a concern, but it's easier for that to get masked by a hot streak over a few weeks than a few months. The biggest outside threat for the division title likely comes from Calgary, if they undergo a total pendulum-swing from 'everything goes wrong' last year to 'everything goes right' this year.
Whatever happens, it'll be fun to see where it goes. Check back in a few days as we continue our journey across the four divisions!