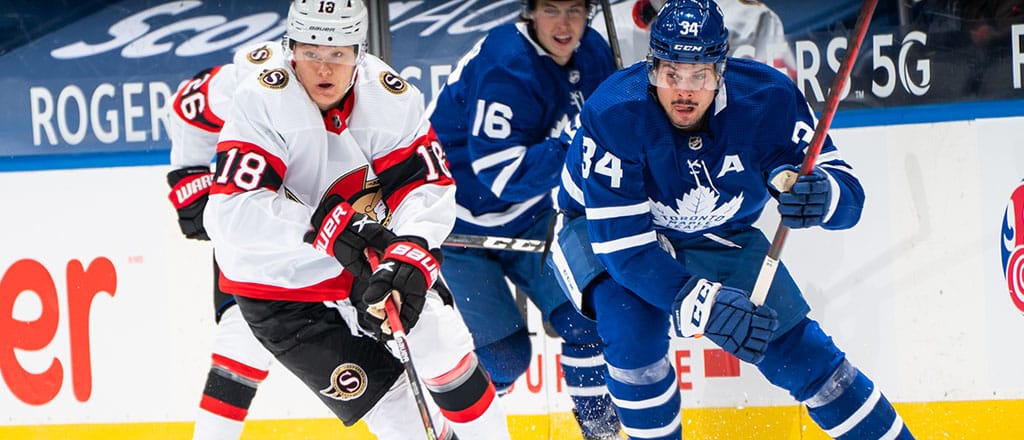 The National Hockey League season is nearing, with preseason just a few weeks away and the regular season opening night of October 10th rapidly approaching. As such, if you've got a strong feeling about a team, or an award-chasing player, now is a good time to get value on them before people catch on. Previously this summer, we've looked at particularly shrewd earl Stanley Cup and Awards futures. Now that most of the remaining big moves have materialized, we can take a deeper look at where the team's stand ahead of their respective training camps, with odds courtesy of our friends at bet365.
In this preview, we'll be focusing on the Atlantic Division.
This post is part of a series looking at all four NHL divisions. Make sure to check out all of our previews as they come!

Atlantic Division – Metropolitan Division – Central Division – Pacific Division
Just as some fault lines start the form at the top of this juggernaut of a division, the bottom end has begun to bolster up, adding a whole new layer to the thunderdome.
At the top of the projections are the Toronto Maple Leafs, who finished second in the division last year. The team saw significant changes in management, but remains very similar at the core. Their biggest on-ice shakeups come with the support talent, which sees the likes of Michael Bunting, Justin Holl, and Alex Kerfoot exit for shorter-term deals to Tyler Bertuzzi, Max Domi, and John Klingberg. While the former pair are receiving hype for their pestiness, the trio's true value will likely come in the fact that they are all lopsidedly offensive players. Toronto's depth under the "Core 4" and Morgan Rielly has become increasingly focused on defence and "balance" in recent years, so players who are determined to push pucks forward first and foremost are a welcome change of pace.
Next, we see the Bruins, who face the steepest projected point drop in the league, but still are expected to make the playoffs. Yes, the retirements of Patrice Bergeron and David Krejci are huge blows down the middle, and the departure of Taylor Hall and Nick Foligno and non-retention of their rental class doesn't help either. But this is still a team that has superstars in David Pastrnak, Brad Marchand, and Charlie McAvoy at the top, great goaltending, and is falling from the best record in NHL history. Florida shows up with a slight bump after a roller coaster season, underperforming through the fall and winter to barely make the playoffs, only to go on a Cinderella run to the Stanley Cup Final in the Spring. They'll return with more or less the same group, with the most significant change being Radko Gudas leaving for Anaheim and Oliver Ekman-Larsson coming in this place on a post-buyout contract.
Over in Tampa, their hope is that the Lightning's big offseason acquisition will be health and rest. For the first time since 2019, their main group will have a full-ish offseason to work with after their first-round loss to the Maple Leafs. Losing Ross Colton (trade) and Alex Killorn (free agency) will be roster blows, but Tampa Bay is used to that, and they'll likely look to players like Mikey Eyssimont and Alex Barre-Boulet to step in and fill that void.
Moving towards the teams that missed out of the playoffs last year, Buffalo's biggest acquisition came before last season finished, with Devon Levi poised to be the man between the pipes on a full-time basis moving forward. It's been very quiet beyond that, but the hope there is that the further progression from their young core. Ottawa and Detroit had interesting summers that included each other, made serious with an early-July trade that saw Alex Debrincat head to the Red Wings for Dominik Kubalik, Donovan Sebrango, and draft picks, after Debrincat made it clear his future wasn't with the Senators. In that deal, the Wings got immediately better while the Senators got a bit of help, along with cap space to get a little more. They got that in Vladimir Tarasenko, a signing that took nearly a month to pull off but ultimately will add scoring punch. Detroit didn't stop with the Debrincat trade either, adding Jeff Petry (trade), JT Compher, Justin Holl, Daniel Sprong, Alex Lyon, and Klim Kostin (trade) to a group that's looking to make a leap.
Lastly, you have the Montreal Canadiens, where the rebuild continues. They acquired Alex Newhook from Colorado during Draft Week, and are making a redemption bet on Lias Andersson, who they signed as a free agent, but for the most part the team's gains were in weaponizing cap space and continuing to wait for their moment.
| | Line | 22/23 | YoY | xGF% | PDO |
| --- | --- | --- | --- | --- | --- |
| Toronto Maple Leafs | 106.5 | 111 | -4.5 | 54.3 | 101.1 |
| Boston Bruins | 100.5 | 135 | -34.5 | 54.4 | 103.5 |
| Florida Panthers | 98.5 | 92 | 6.5 | 53.9 | 100.2 |
| Tampa Bay Lightning | 96.5 | 98 | -1.5 | 52.2 | 100.6 |
| Buffalo Sabres | 92.5 | 91 | 1.5 | 49.1 | 99.7 |
| Ottawa Senators | 91.5 | 86 | +5.5 | 51.2 | 98.3 |
| Detroit Red Wings | 86.5 | 80 | +6.5 | 45.7 | 99.1 |
| Montreal Canadiens | 71.5 | 68 | +3.5 | 42.8 | 99.8 |
xGF%: Expected Goals Percentage. A weighted measure of shot control at 5v5.
PDO: A combination of Shooting and Save % at 5v5. Large deviations from 100.0 can be signs of fortune/misfortune.
Looking at what teams need to do to accomplish their point lines, there's a lot of variety, with varying degrees of risk.
The most interesting one is going to be Boston. As mentioned before, the team still has strong pieces and has a huge buffer before they get to their line. The questions for them are two-fold. How important is it to lose your top two centres, and how much of last year do we think was real? Even if you believed that last year wasn't going to be the beginning of the end of their window, no one expected a 65-win, 135-point season that set several NHL records. They did have a pretty sound process, but it's fair to ask whether David Pastrnak will score 61 goals again, or whether their goaltending duo will put up a 0.929 save percentage in a 0.904 league again. I can see this being a decently hard time – it's hard to discount a team with the star power and goaltender tandem they have, but I can see them falling beneath the 100-point markt his year.
On the flip side, I have a lot of faith in Tampa Bay. A summer of rest for the likes of Kucherov, Stamkos, Hedman, Point, and Vasilevskiy – especially since they had pretty healthy seasons in 22/23, will likely carry some weight. Backup goaltending will likely be a key swinger here – Brian Elliott had a rough season (22GP, 41% quality starts, 0.891 SV%), and the Bolts are betting on Jonas Johansson to look more like his split between the Colorado Avalanche and Eagles, and less like the rest of his career. If it doesn't work out I could see them being a team that makes an early-season move for a capable backup, and if they find one in some form, they should cruise above their 96.5 line.
At the top, I generally advise against taking the teams that have massive points lines, and the Leafs are no exception. It's not so much that I don't believe they could cross 106.5 – a 0.652 record gets them there and they've cleared that in every full season they've had with Sheldon Keefe behind the bench – but all it takes is a few injuries or a stretch of wobbly goaltending to jeopardize a points line and when the bar is so high, the margin of error is too slim to be worthwhile, at least in my eyes. If you trust that things will stay consistent, the talent level is there.
In the mid-tier, we've been saying the Sabres will take their leap for years only to see it not materialize. But last year was a noticeable step in the right direction, as the team jumped 16 standpoints upward on the backs of massive seasons from Tage Thompson, Rasmus Dahlin, Jeff Skinner, Alex Tuch and others. Adding to their blue line would be nice, but the biggest upgrade for me will be a full year of Levi in the goaltending rotation – he's done nothing but exceed his development curve and I wouldn't be surprised to see him end up a legitimate Calder Trophy threat this year.
Ottawa is another interesting one, with the team having underperformed it's shot metrics last year and their younger players getting closer to prime age. I could see this season going a lot of ways – it wouldn't shock me if they got around to that massive step that was hyped up last summer, and it wouldn't shock me if there was still more to be done. Signing Joonas Korpisalo is what might put them over the top here, giving them some goaltending stability.
I'm less confident in Detroit than others – most of their signings still feel like floor-enhancing moves and even with DeBrincat in, I've got doubts about their ability to break open games. Florida also feels like a mixed bag, with their year-over-year points drop last year coming despite not having significantly poor puck luck. It's possible that what we saw in the regular season last year is closer to their true form than the 21/22 Presidents Trophy run, or last spring's cup fun – but I wouldn't fault you for disagreeing and leaning into them.
Lastly, I wouldn't be shocked if the Habs went a big over their total this year. They probably don't have the goaltending to be legitimately good, but a lot of their more skilled players last year missed significant time to injuries, or were called up late. I could see their skater group having a much better year, and with only two extra wins over last year needed to get above their points line, I actually like them a little here.
Confidently Over: Tampa Bay Lightning
Confidently Under:
Feeling Over: Buffalo Sabres, Montreal Canadiens
Feeling Under: Boston Bruins
Use Your Judgement: Ottawa Senators, Detroit Red Wings, Florida Panthers
Let It Play Out: Toronto Maple Leafs
The books like the Maple Leafs more than anyone else in this division, and that mostly makes sense. I don't think Toronto are a guarantee to be dominant as their support core's stylistic shift will take some tinkering, and there's a valid argument to be made about the blue line getting a bit older. They do seem the best suited to win the division, though, and a best case scenario could see them take a run at first overall. The Stanley Cup, though? Bet365 is giving the buds the shortest odds in the NHL to win the whole damn thing this year. Leafs fans have heard this song before, though, and hurt too many times to feel confident in that pick. It's not illogical, but it still feels nonsensical. If you're torn here, you're probably right to be.
The value in this division seems to be tied to Tampa, and it looks like bet365 recognizes that and has already somewhat mitigated it. Even though their projected points total is pretty low, there's an awareness that they could have another great year in their back pocket, especially when winter turns to spring. They have just the twelfth-highest points line, but are tied for the eighth-shortest odds to win the Stanley Cup. There's boom-bust potential there, and one more run would certainly cement that group's legacy as a modern dynasty.
Thanks for following along with this division preview series – we'll be back at it with more NHL content throughout the pre-season, regular season, and beyond!