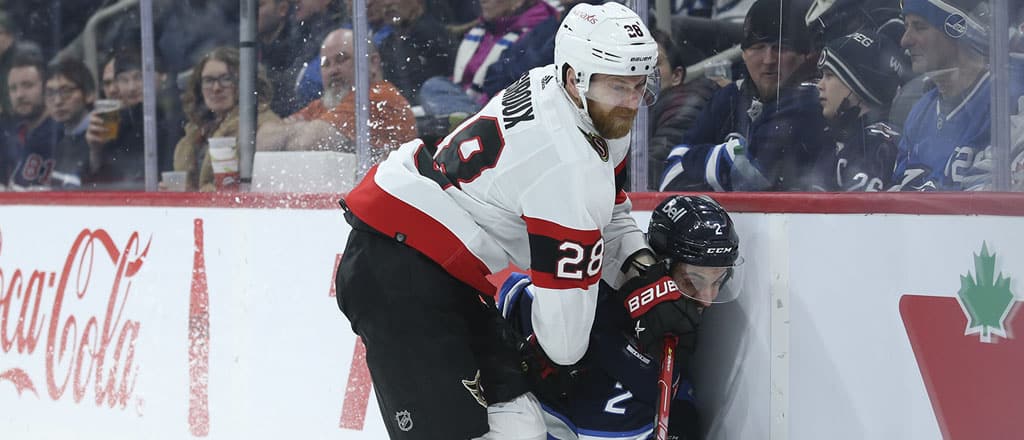 It's time for Hockey Day In Canada! How is it different than Hockey Night in Canada, you might ask? Well, CBC likes to put on a big show of celebrating Canadian hockey, hosting a bevy of events from a smaller Canadian city (this year, it's Owen Sound, Ontario), while having all the Canadian teams play on national broadcasts from morning to the end of the night, with as many of those games coming against each other.
In this case, the National Hockey League action actually begins in the afternoon, as the first game on tap is a PWHPA Dream Gap tour matchup in Owen Sound at 11:00 p.m. The books aren't taking bets on that, but it's a great loop with some of the best Women's Hockey Players in the world facing off against each other – players you'll see in future Olympics and World Championships, for example – and it's worth you tuning in early. But for now, this post focuses on the NHL games that will dominate the back end of the day – let's dive in!
3:00 p.m ET HDIC Headliner: Tampa Bay Lightning vs. Calgary Flames
With seven Canadian teams, someone's going to end up having to host an American opponent. In this case, that honour belongs to the Calgary Flames, who will go up against their 2004 Stanley Cup Final opponents in the Tampa Bay Lightning. Now, the teams have obviously changed over entirely since (save for Flames head coach Darryl Sutter, who somehow is back after having left), and the Lightning have both the historical bragging rights and the recent success, but this still sets up to be a good opening NHL game for the day.
Calgary comes in having lost its last two games, winning last Saturday's HNIC matchup against the Stars, 6-5, but only putting two pucks in its opponents nets since in a 2-1 loss to Nashville and a 4-1 loss to Colorado. The only 5-on-5 goal came from Nikita Zadorov, so not exactly someone you can rely upon to fill the net again, especially against a stingy defensive team. This is a situation where you hope that the ex-Panthers duo of Jonathan Huberdeau and MacKenzie Weegar have a couple secrets from their Battle of Florida days to pass along, though the 4-1 loss that they had against the Lightning on Nov. 17 leaves you questioning the odds of that.
On Tampa's end, Steven Stamkos seems to have a weight off his shoulders after finally picking up his 500th career goal on Wednesday. Stamkos sat at 497 on Dec. 13 but was only able to put in two in his next 14 games. On Wednesday, he racked up a hat trick against the Canucks, moving him to 502, and picked up 503 against Edmonton the following night. The Lightning's road trip wraps up with this game against the Flames, with the stint currently sitting at 3-1-0. I'd look to Stamkos to keep his mojo going in this one – almost definitely with another point, and it wouldn't be surprising if he mixed in another goal.
7:00 p.m. HDIC Headliner: Toronto Maple Leafs vs. Montreal Canadiens
Firstly, I owe a shoutout to my buddy, Jake. On Thursday night, the Maple Leafs ultimately cruised to a 4-1 victory over the Winnipeg Jets, but the landing seemed far from gentle to start, as Toronto started the first period pretty slow. Jake tweeted out "3 leafs goals this period, bet 20 dollars on it". Simple, direct, and undercutting our whole bit. I told him I'd shout him out in this post if it happened. Auston Matthews scored eight seconds into the second period, and I knew what was coming. A few minutes later, he scored again, and Mitch Marner's shorthanded goal with about five minutes left locked Jake in. So shout out to you, my dude. You swung for power and you hit the sweet spot.
This means the Leafs are coming in hot towards Saturday, and they're heading straight towards a very, very broken Montreal Canadiens team. Weirdly enough, the broken end isn't so much on the results sheet, with wins in four of seven including against decent opponents like Winnipeg, St. Louis, and the New York Rangers. But a lot of that is great goaltending from Sam Montembeault, and not so much the team dominating. After all, the team just added Juraj Slafkovsky, Jake Evans, Jonathan Drouin, and Joel Armia to the IR on Tuesday, continuing a long list that has already come to form.
With that said, it's the Bell Centre against the arch Canadian rival on a Saturday night. This might be a good opportunity to keep an eye on the puckline, as Montreal has a habit of playing above its weight for games like this, while Toronto can play down to opponents from time to time.
10:00 p.m. HDIC Headliner: Edmonton Oilers vs. Vancouver Canucks
We're probably going to talk about this more in a dedicated piece next week, but all signs point to this being the last weekend of Bruce "There It Is" Boudreau's tenure behind the Vancouver bench. Hired midway through last season, Boudreau became a rallying point for the 2021/22 regular season. This year, however, things have come down-to-earth through little fault of his own, and the organization has decided to replace him with Rick Tocchet. This in itself isn't great decision making, but the way it's been handled – Boudreau has been publicly known to be a "lame duck" for months now – has been a slap in the face.
So I hope this weekend, and especially this game against the Oilers, is a fun sendoff for him. It doesn't have to be a win – the Canucks desperately need to stop racking up points and steer themselves into the Connor Bedard sweepstakes – but the fans need to make this a celebration, and the players need to show up. To their credit, they've been competitive even in defeat during this most recent losing skid, and players like Quinn Hughes are starting to regain form and restore confidence. Is that enough to stop Connor McDavid and the high-flying Oilers? The odds say no, with Edmonton having won five in a row over the last 10 days, but I personally hope the Canucks make a game out of it.
Evening Matchup (7:00 p.m.): Winnipeg Jets vs. Ottawa Senators
There is only one non-headliner on the schedule this weekend, which is incredible when you consider all seven teams playing, but makes sense given the deep schedule. Yes, the smaller market Winnipeg Jets and Ottawa Senators have drawn the short end of the stick here, being relegated to the secondary channels for the second evening game.
The Jets continue to succeed, with wins in eight of their last 11. Their current road trip hasn't been all that kind to them, though, as they've dropped 4-1 results to both of our 7:00 p.m. headliners, losing to the Canadiens on Tuesday and Toronto on Thursday. In both games, the lone Winnipeg goal came from Kyle Connor on the power play. The 26-year-old winger continues to produce, with 55 points in 46 games, leading the team. This means that Nikolaj Ehlers' post-injury return header took a pause this week, but I'd look to him to lead a bounce-back against Ottawa.
The Senators have had a rough week, and they're going to be hitting the ground tired for this game. Last Saturday saw them get shelled 7-0 to Colorado, and they followed that up with just one goal in a 2-1 loss against St. Louis. Wednesday treated them better with an overtime win against the Penguins, and they'll get a chance to double up Friday night in Pittsburgh, which would be great for confidence but iffy for energy. The last time Ottawa and Winnipeg faced off, the Jets handily took the game by a 5-1 result – the aforementioned Connor was the star of this game with two goals and an assist.
Sunday, Sunday, Sunday
As far as Canadian teams go, we only have one game on tap for Sunday. That's probably for the best, since so many will be focused on the NFL Divisional Round. Southern Ontario? Forget about it, everyone's watching the Bills (contrary to popular belief, the spread is not set at "a billion"). The only team standing to close out the weekend is Winnipeg, which continues its road trip to take on the Flyers. The Jets will be doing so with low gas in the tank, but thankfully for them, the Flyers are coming in from a game against Detroit the night before, so there will be no advantage of rest.
The Flyers have had a high-attention week in hockey circles due to Ivan Provorov purposefully skipping warmups earlier this week to avoid wearing the team's Pride Night jersey, citing religious reasons and opening up a can of worms that we don't have enough time to address with deserved nuance in this post. What has gone under the radar with them was the eight wins in 10 games they stringed together going into and including that Tuesday night affair, though a loss to Chicago has you wondering whether it's luck, regression, distraction, or a bit of all three crawling up on them. Whatever the case, the Jets will be the heavy favourites in this one, and keep keeping an eye on Ehlers here – he's set up for a potential rocket of a second half of the season.
Where to Watch HDIC Games
Want to tune into these games? Of course you do, that's why you're here. Worry not, we're here to help!
As always, the headliner games will be best watched by Canadians on the CBC. Canada's public broadcaster flexes it's muscles by offering free hockey to all on Saturday night, in whatever way you wish to watch it – on their website, through their app, on your cable box, or even through the old school antenna.
For Ottawa/Winnipeg, you'll have to head elsewhere. That game is available on Sportsnet 1, Sportsnet West, and CITY TV in English, and TVA Sports 2 in French. On Sunday, to keep watching the Jets, you'll catch their game against Philly on TSN 3 (Winnipeg).
For those looking to stream the games, your best official bet would be Sportsnet Now, with the premium package required for non-local games. To learn more about Now and your other options, check out CSB's "How to watch the NHL in Canada" guide!
Saturday Night NHL Lines
Lots of action is available on all of these games come the weekend. Our friends at NorthStar Bets already have the main lines up – check them out below! You'll also find all sorts of spreads and props available when you click through.