Get ya' popcorn ready it's finally playoff baseball time! The MLB season wrapped up in thrilling fashion as the Toronto Blue Jays, San Francisco Giants and Baltimore Orioles joined the New York Mets to clinch all the Wild Card spots that begin today. The Blue Jays host their division rival after exchanging wins and losses with them in the regular season while the 2014 World Series Champions Giants travel to New York to play the Mets who made the NLCS last season.
2016 MLB Playoffs Bracket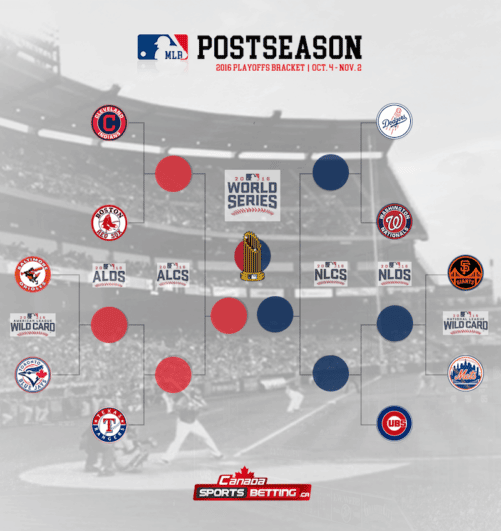 Interesting Scenarios: if the Blue Jays win their Wild Card game, this will set them up with a rematch to last year's unbelievable series against the Texas Rangers. The Jays came back from a 2-0 series deficit to win and advance to ALCS. The Indians already get a tough test in the Red Sox who are one of the favourites to win the World Series. The Cubs who have the best odds according to books could end up rematching the Mets who swept them in the NLCS last time around. The Mets' opponent, the Giants are playoff monsters but face a steep climb to their fourth championship in seven seasons. It's a pick'em between the Nationals and Dodgers, arguably the bracket's closest match-up on paper.
2016 MLB Postseason Full Schedule
-NEXT COMING-
Wild Card Games
Tuesday, Oct.4: American League Wild Card Game
Baltimore Orioles @ Toronto Blue Jays, Sportsnet. The Blue Jays opened as -150 favourites despite the Orioles edging them out in their regular season series, 6-5. The Orioles are the playoffs' biggest underdogs being as high as +2500 to win it all while the Blue Jays are the most favoured among the Wild Card teams at +850. This game could be a high-scoring game with both the Orioles and Jays boasting heavy bats and prolific hitters and both starting pitchers, Tillman for the Orioles, and Stroman for the Blue Jays have been lit up a few times by the opposing team. It will boil down to whichever team gets hot first and which team's bullpen can outlast the other.
Wednesday, Oct.5: National League Wild Card Game
San Francisco Giants @ New York Mets, Sportsnet. Despite having home field advantage and winning the season series 4-3 against the Giants, the Mets find themselves +190 underdogs. The experience edge goes to the Giants who find ways to win on the strength of timely hitting, solid defense, and their aces delivering. Madison Bumgarner has shown vulnerability to Mets' big hitter Yoenis Cespedes and Justin Ruggiano has lit him up for a few homers as well. On the Mets end, Noeh Syndergaard will have to live up to his godly moniker and overcome the pressure to deliver a solid game. Expect some fireworks and playoff drama in this one.
Division Series
AL Wild Card @ Texas Rangers
Thursday, Oct.6: Game 1, TBS/Sportsnet
Friday, Oct.7: Game 2, TBS/Sportsnet
Sunday, Oct.9: Game 3, TBS/Sportsnet
Monday, Oct.10: Game 4, TBS/Sportsnet
Wednesday, Oct 12: Game 5, TBS/Sportsnet
Boston Red Sox @ Cleveland Indians
Thursday, Oct.6: Game 1, TBS
Friday, Oct.7: Game 2, TBS
Sunday, Oct.9: Game 3, TBS
Monday, Oct.10: Game 4, TBS
Wednesday, Oct 12: Game 5, TBS
Los Angeles Dodgers @ Washington Nationals
Friday, Oct.7: Game 1, FS1
Saturday, Oct.8: Game 2, FS1
Monday, Oct.10: Game 3, FS1/MLBN
Tuesday, Oct.11: Game 4, FS1
Thursday, Oct 13: Game 5, FS1
NL Wild Card @ Chicago Cubs
Friday, Oct.7: Game 1, FS1
Saturday, Oct.8: Game 2, MLBN
Monday, Oct.10: Game 3, FS1/MLBN
Tuesday, Oct.11: Game 4, FS1
Thursday, Oct.13: Game 5, FS1
Conference Series
AL Lower Seed @ AL Higher Seed
Friday, Oct.14: Game 1, TBS
Saturday, Oct.15: Game 2, TBS
Monday, Oct.17: Game 3, TBS
Tuesday, Oct.18: Game 4, TBS
Friday, Oct.21: Game 5, TBS
Saturday, Oct.22: Game 6, TBS
NL Lower Seed @ NL Higher Seed
Saturday, Oct.15: Game 1, FOX/FS1
Sunday, Oct.16: Game 2, FOX/FS1
Tuesday, Oct.18: Game 3, FOX/FS1
Wednesday, Oct.19: Game 4, FOX/FS1
Saturday, Oct.22: Game 5, FOX/FS1
Sunday, Oct.23: Game 6, FOX/FS1
World Series
NL Champions @ AL Champion
Tuesday, Oct.25: Game 1, FOX
Wednesday, Oct.26: Game 2, FOX
Friday, Oct.28: Game 3, FOX
Saturday, Oct.29: Game 4, FOX
Sunday, Oct.30: Game 5, FOX
Tuesday, Nov.1: Game 6, FOX
Wednesday, Nov.2: Game 7, FOX
Category : MLB News