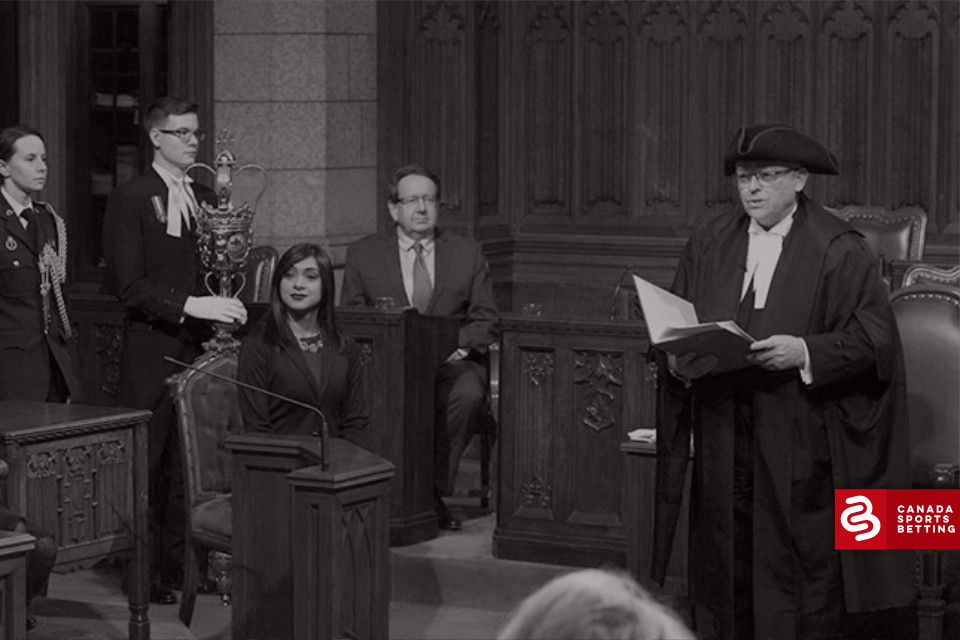 Bill C-218 keeps clearing hurdles like an Olympic champion. The Bill was granted Royal Assent by the Governor-General's office on June 29, Bill C-218, also known as the Safe And Regulated Sports Betting Act, would legalize single-sport betting across Canada. It is one step away from being enacted. All that's needed now is for David Lametti, Minister of Justice and Attorney General of Canada, or the federal cabinet to set a launch date.
Royal Assent Granted to Bill C-218
Bill C-218, which legalizes single-sports betting in Canada, was granted Royal Assent by the Governor-General's office on June 29
Seven days earlier, the bill was passed into law by the Senate of Canada
It awaits enactment by the ruling federal Liberal government before Canadians will be able to make single-sports bets
Bill C-218 is down to the final step. Canada's Safe And Regulated Sports Betting Act is currently sitting on the desk of David Lametti, the Minister of Justice and Attorney General of Canada. Either Lametti or the cabinet of Prime Minister Justin Trudeau's ruling federal Liberal government will complete the final step of the bill's journey to becoming a law by setting a date for the bill to come into force.
This is basically a rubber stamp measure. In plain English, it means that the government must set a launch date for legal single-sports betting in the country. The betting odds are that this day will be arriving sooner rather than later.
It took all of seven days for the Governor-General's office to grant Royal Assent to Bill C-218 after it passed through the third reading in the Senate of Canada on June 22. Bill C-218 began life as a Private Member's Bill introduced by Saskatchewan Conservative MP Kevin Waugh.
Sports betting was already legal in Canada, albeit only in the form of parlays – a series of wagers combined into one bet. Bill C-218 simply amends the Canadian Criminal Code to permit single-sports betting.
Lametti Praises Decision
While it wasn't his government that pushed Bill C-218 into law, it's the government that gets to make the final decision as to when the law will be enacted across the country. Lametti was heaping praise on the news that Royal Assent was granted to the bill.
"I am pleased to welcome the Royal Assent of Private Member's Bill C-218, an act to amend the Criminal Code, which will bring the common practice of single event sport betting into a legal, regulated and safe environment while strengthening our economy and supporting well-paying jobs for Canadians," Lametti said in a statement.
Lametti was also quick to point out that even though the Liberals weren't manning the point on this bill, the government is fully supportive of the new law, although he was vague on when they might put the law into motion.
"The federal government supports this law reform," Lametti said. "Bill C-218 amends paragraph 207(4)(b) of the Criminal Code to permit provinces and territories to conduct and manage single event betting on any sporting event, except horse racing, which will be maintained by the federal government. The federal government proposed similar amendments through Bill C-13 in November 2020, and I am pleased that the amendments ultimately enacted in Bill C-218 are aligned with this foundational work. Bill C-218 will come into force on a day to be fixed by order of the Governor in Council.
"These amendments to the Criminal Code give provinces and territories the discretion to conduct and manage single event sport betting in their respective jurisdictions and offer Canadians an opportunity to place bets in a regulated environment either online or in physical facilities."
Provinces Await the Go Ahead
Several of Canada's 10 provinces have been preparing behind the scenes to be ready to launch single-sports betting within days of the law coming into force.
In provinces such as Alberta (PlayAlberta.ca) and British Columbia (PlayNow.com), where online wagering is already legal, they are just awaiting word that they can launch their single-sports betting platforms. Both provinces want to get their sites operational as soon as they can since 100 percent of the revenues earned by these online platforms go back into the coffers of the provinces to help local programs such as education and health care.
With a population of 14 million, Ontario stands to be the industry leader in gaming across the country once single-sports betting is enacted. The provincial government has already published a discussion paper explaining how it intends for single-sports betting to operate in Ontario.
How to Bet On Sports In Canada?
Just because Bill C-218 has yet to be enacted, that doesn't mean that Canadians can't still bet on sports. There are a number of leading online betting sites that will provide bettors with the chance to place a wager on sporting events. The best bet you can make is to shop around in advance and seek out the right deal before joining one of these sportsbooks. Check out Bet99 and Sports Interaction as examples.
The signup bonus offers that are in place at all of these recommended sites will prove advantageous to the bettor. And since you'll get a good deal wherever you go, why not check out several sites and find the ideal fit for your needs?
Do you want a risk-free first bet as a signup bonus? Perhaps you find a no-deposit bonus to be enticing. Or maybe you simply like the feel of cold, hard cash in your account and you want to go for a matching first deposit bonus. Whatever option you choose, you're already a winner.
Remember that new players and returning customers are eligible for better bonuses when they deposit using Bitcoin. As well, take advantage of the betting advice offered at these sites to help newcomers acclimatize to sports betting.
See below the top sportsbooks where you can wager online and choose the right one for you: