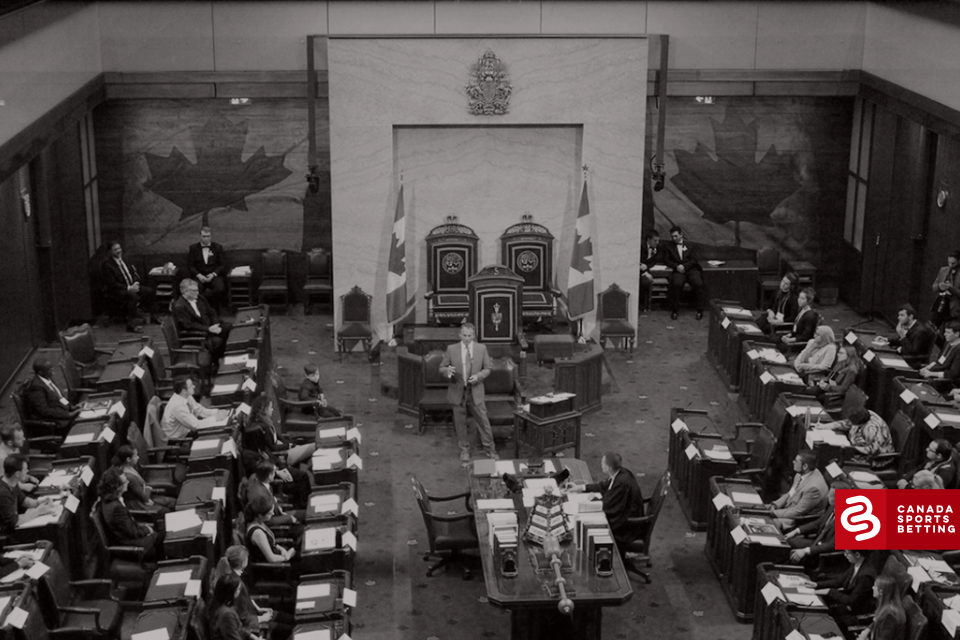 Canadians will soon be able to play single-sports bets throughout the country thanks to the Senate of Canada opting to pass Bill C-218 without amendments, meaning it is in the portal to become a law. However, that doesn't mean that Canadian sports bettors know when they will be able to make those wagers. There are still some steps that must be taken before the law is enacted across the country.
Canada Approved Single-Sports Betting
Canada has approved single-sports betting nationwide with the passage of Bill C-218
The bill received Royal Assent from the Governor-General's office on June 29th
All that's left is for the ruling federal Liberal government to set a date for the law to go into force
Canadians will soon be able to place single-sports bets throughout the country. How soon? That's the answer currently without a definite answer, though industry insiders are of the belief that it will be sooner rather than later.
With the June 22nd passage of Bill C-218 by the Senate of Canada, the bill known as The Safe And Regulated Sports Betting Act is making single-sports betting legal from coast to coast in the country. That step was followed by the office of the Governor-General of Canada granting Royal Assent to the bill. This rubber-stamp formality that officially declares any bill that has passed through the parliamentary process as law took place on June 29th. Since Canada is currently without a Governor-General due to the resignation of Julie Payette earlier this year, this ceremonial task was performed by Canadian Chief Justice Richard Wagner.
Now that Royal Assent has been granted, the final step before bets can be placed will be for the ruling federal government of Liberal Prime Minister Justin Trudeau and his cabinet to declare a date when the law will go into force. It's anticipated that last act will happen around Labour Day, just in time for Canadians to bet on the NFL season. It will be up to each provincial government to licence betting houses and regulate how single-sports betting will work within their jurisdiction.
Conservative MP Kevin Waugh of Saskatchewan, who successfully put forth Bill C-218 as a Private Member's bill, wants to see those formalities completed with haste. "I call on provincial governments to act as quickly as possible to get the necessary regulations and licences in place so that all Canadians can begin to place their wagers," Waugh said in a statement. "This bill is a win for Canadian taxpayers, workers and sports fans."
Little Resistance Offered
Previous attempts to legalize single-sports betting in 2011 and 2015 both fell short. Each bill was met with staunch resistance to its passage from the major North American sports leagues. This time around, those same leagues threw their powerful voices vehemently in support of the passage of Bill C-218.
For instance, NBA Commissioner Adam Silver wrote an op-ed in support of legalized and regulated sports betting. The commissioners of the NBA, NHL, CFL, MLB and MLS combined to send a letter to the Canadian government calling for the legalization of Bill C-218.
"Sports leagues changing their tune was a game-changer," Amanda Brewer, an adviser to the Canadian Gaming Association, told the Toronto Star.
Industry stakeholders who've been fighting for this law to be changed for well over a decade felt a sense of relief as their long, hard battle was ultimately won.
"There a sense of 'finally,'" Paul Burns, president and CEO of the Canadian Gaming Association, told the Toronto Star. "We can now get on with what we've wanted to do for so long."
Provinces Getting Ready To Roll
Ontario, Alberta and British Columbia, three of Canada's four most populous provinces, are already full speed ahead when it comes to preparing for the licencing and regulating of single-sports betting. All expect that they will be up and operational before the end of the calendar year.
"Some provinces will move extremely quickly," Burns said. "They're in a good place to get going."
Ontario has already created a division of the Alcohol and Gaming Commission of Ontario (AGCO) that will handle all licencing and regulating of incoming online betting sites. The British Columbia Lottery Commission (BCLC) tweeted that "players will soon have the option to wager on the outcome of a single game or match" on its PlayNow.com platform.
The Alberta Gaming and Lottery Commission (AGLC) has plans to introduce a sports betting platform on PlayAlberta.ca in 2021, including single-event sports wagering.
Where To Bet On Sports In Canada?
Even though Bill C-218 still hasn't activated single-sports betting through the provincial governments, that doesn't mean that Canadians will be shut out. There are a number of leading online sports betting sites that will provide bettors with the chance to place a wager on the latest sports odds.
The best bet you can make is to shop around in advance and seek out the right deal before joining one of these sportsbooks. Check out Bet99 and Sports Interaction as examples.
The signup bonus offers that are in place at all of these recommended sites will prove advantageous to the bettor. And since you'll get a good deal wherever you go, why not check out several sites and find the ideal fit for your needs?
Do you want a risk-free first bet as a signup bonus? Perhaps you find a no-deposit bonus to be enticing. Or maybe you simply like the feel of cold, hard cash in your account and you want to go for a matching first deposit bonus. Whatever option you choose, you're already a winner.
Remember that new players and returning customers are eligible for better bonuses when they deposit using Bitcoin. As well, take advantage of the betting advice offered at these sites to help newcomers acclimatize to sports betting.
See below the top sportsbooks where you can wager online and choose the right one for you: