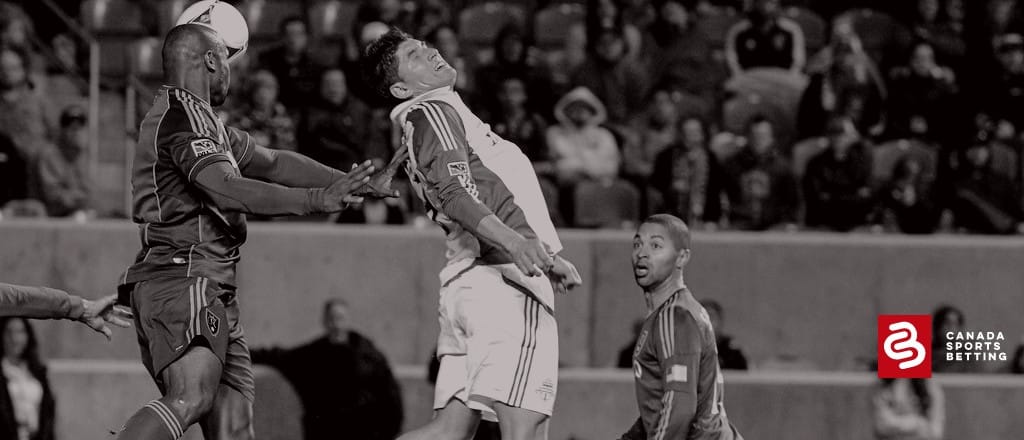 Roughly two months into the 2022 MLS season and the Canadian clubs are hanging in tough. At least, the Eastern Conference clubs are. The Vancouver Whitecaps are dead last in the league and are one of only two clubs with just a single victory to their name. Week 9 appears to be a promising week for Toronto FC and CF Montreal to bounce back per the MLS soccer betting odds.
MLS 2022 Week 9 Preview: Bounceback Week?
What's in store for the MLS this coming week? Let's look at the Canadian clubs as well as some trending teams that deserve some attention:
Toronto FC
Toronto FC leads its Canadian counterparts and sits fifth in the conference. It saw a three-match point streak snapped with a loss to New York City FC. TFC has been getting some clutch goal-scoring, notably from Jesus Jimenez, who leads the team with six goals. However, the club is terrible defensively and is tied with Montreal for having allowed the most goals in the conference.
CF Montreal
Like Toronto FC, Montreal is bleeding goals mainly due to goalkeeping, not just shoddy defending. Montreal has only averaged 9.0 expected goals against but has allowed 17 thanks to some bad bounces and poor play in the net. The club is on a roll, however, and has a five-match point streak after getting thrashed 4-1 by NYCFC.
Vancouver Whitecaps
The Vancouver Whitecaps are resting this week and have time to reassess what's wrong. This club is a lot better than its record indicates though it is sorely lacking in the offence as the only club without a multi-goal scorer. Vancouver has also only scored more than one goal twice this season but has allowed three or more goals in three of its last five matches.
Trending MLS Clubs
The Philadelphia Union remains the cream of the crop of the MLS. The club leads the league in expected goal differential per 90 minutes (xGD/90) (+1.04) thanks to a shutdown defence and topnotch goalkeeping. On the flip side, Austin FC has been on fire and leads the MLS in goals and goal differential. It has also been getting some clutch goalkeeping from Brad Stuver to account for its lapses on defence. Last but not least, the Los Angeles FC has also been on a tear and is one of four clubs that have lost just once this season.
MLS 2022 Week 9 Picks: April 30 – May 1
Week 9 of the 2022 MLS season has some straightforward matchups per the soccer betting odds. This is a good week for bettors looking to bet on chalk as we preview four big matchups, all televised on TSN, where the home clubs could sweep. A parlay of these home favourites pays at nearly 9-1.
Toronto FC v Cincinnati FC, 2022-04-30
This should be a solid one for Toronto FC as they host the defensively challenged Cincinnati. The visitors have scored just two goals on the road so TFC should roll here. A better soccer pick here is for Toronto FC to be the team to score first as Cincinnati FC gets outplayed every time its on the road.
CF Montreal vs Atlanta United, 2022-04-30
Montreal is slowly but surely starting to get its legs but faces a tough test as Atlanta United comes to town. Atlanta is just 1-0-3 on the road and has not beaten Montreal in the Stade Saputo in its last three visits. It also only has one win in its last five matches. Momentum is on Montreal's side and they have a shot at three points here.
Columbus Crew v D.C. United, 2022-04-30
It's home sweet home for Columbus Crew, which have its only two victories at the Lower.com Field. However, we're not so confident with their betting lines here, especially when D.C. United kicked their butts at home the last time. Instead, we like for this one to be a low-scoring game given how much D.C. has struggled to score on the road this year.
LAFC vs Minnesota United, 2022-04-30
The Los Angeles FC host the Minnesota United tied as the second-largest favourite this weekend. LAFC is unbeaten at home: 3-1-0 with the best xGD/90 (+0.95). Minnesota is 1-1-1 on the road with the second-worst xGD/90 at -1.07. LAFC is 1-1-1 against Minnesota in its last three games hosting them but the United have trouble scoring on the road.