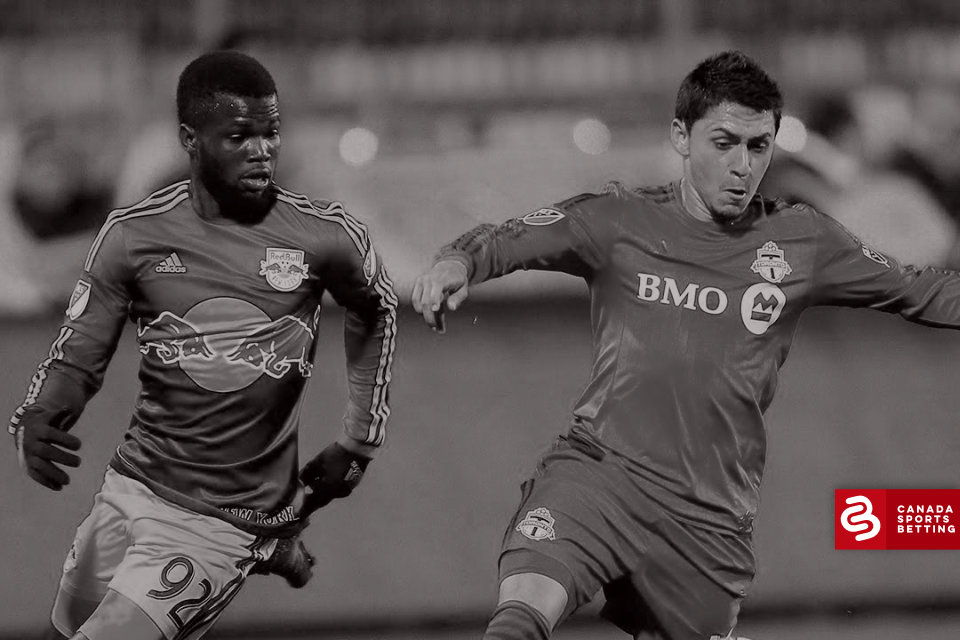 Find our betting picks for the upcoming week of MLS action – which features the return of teams to Canada here.
With Toronto and Montreal (and hopefully soon Vancouver) returning to Canada, it is a great time to be an MLS fan. While attendance is limited, everyone still has a chance to bet on their favourite teams. So, get ready for another week of soccer betting with our MLS best picks for the week of July 19.
Toronto FC vs. New York Red Bulls
Even though Toronto FC sits in 13th place in the Eastern Conference, everything surrounding the team is tracking in the right direction. Under new manager Javier Perez, the club is undefeated. The team just got Jozy Altidore back – who promptly scored in the club's 1-1 draw against Orlando. And did we mention they are playing back in Toronto with fans in the stand?
We backed Toronto FC in their upset win against the New England Revolution, and we are backing them again on Wednesday.
If you toss out last year – when Toronto only played against Canadian teams in the city and had no fans in attendance – TFC is currently on a seven-game (including the MLS Playoffs) undefeated streak in Ontario's capital.
New York has played poorly on the road this season. They are 1-1-4 while getting outscored seven to 11. Rules and restrictions could also be a challenge for MLS teams visiting Canada. Orlando, one of the best teams in the league this season, could only get a draw against Toronto. New York is not on the level of Orlando, and we expect their road woes to continue.
FC Cincinnati vs. Atlanta United FC
It has been a disappointing season for Atlanta so far – sitting in tenth place with a 2-7-4 record. After losing to New England on Saturday, the team relived manager Gabriel Heinze of head coaching duties – which could be the move they need to spark a surge in the second half of the season. Toronto recently did the same and has picked up four points in two games.
Atlanta plays against Cincinnati on Wednesday – a struggling club with a 3-3-6 record and a -9 goal differential.
This game is the sixth meeting all-time between these Eastern Conference clubs. Atlanta leads the series 3-1-1, but the clubs split their last two meetings during Atlanta's down season last year. Atlanta is not as good as they were in 2018 (when they won the MLS Cup) and 2019. Cincinnati is also nothing to write home about – pointing towards the potential for a draw in this matchup.
Inter Miami CF vs. New England Revolution
| Home team | Away team |
| --- | --- |
| Inter Miami CF | New England Revolution |
The bookmakers at Sports Interaction have set some good MLS betting odds on New England Revolution – surprising since New England is first in the East and Miami is the worst team in the league (eight points in 11 games).
Miami's most significant issue is scoring. They are averaging a paltry 0.82 goals per game and have failed to score in seven of 11 games (yeesh). New England is the second-highest scoring team in the league – with 23 goals in 14 games while only failing to score in three games.
It is hard to like anything Miami is doing this season, so going with a first-place team against them is a no-brainer.
Upset Alert: Real Salt Lake vs. Los Angeles Galaxy
Seeing the third-place LA Galaxy as a significant underdog against Real Salt Lake is something we are excited to see going into this week of MLS action. While the LA Galaxy played a poor second-half in a loss to the Vancouver Whitecaps, they have been one of the better teams in the league during the 2021 MLS season.
They also are playing consecutive games in Utah – the current home of the Vancouver Whitecaps. While the flight from LA to Utah is nothing crazy, staying in a city for your next game has its benefits.
Galaxy's history against Real Salt Lake is interesting. While they are 8-3-3 dating back to 2015, Real Lake Salt has two 6-2 wins in that span (win big or do not win at all, I guess). We are not expecting this Salt Lake team – who is averaging 1.58 goals per game – to score at that level in this match (even though Galaxy's biggest flaw is defence). Go with the betting value on Galaxy to win this match.
Best Online Sportsbooks to Bet on the MLS
Find the best online sportsbooks to bet on Major League Soccer below. New users can grab an exclusive welcome bonus through the links underneath – perfect for betting on your favourite Canadian club or any other MLS game coming this week and through the rest of the season.