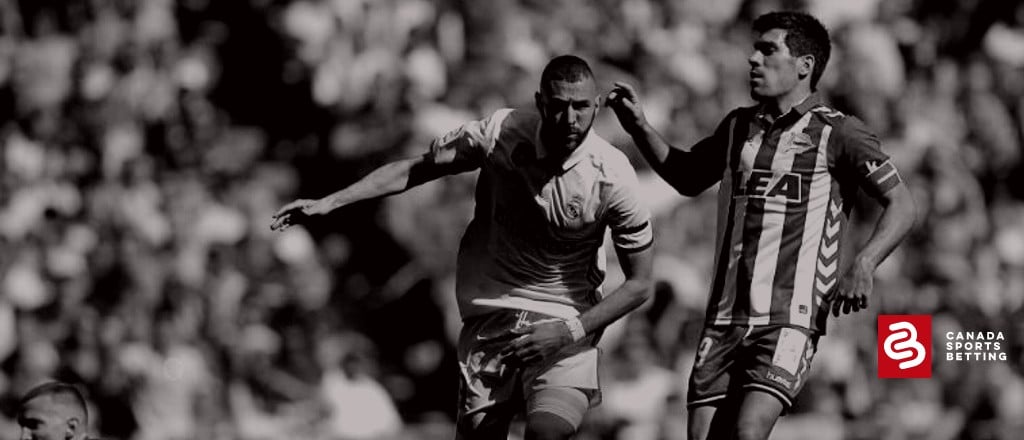 There are still over six weeks remaining in the 2022 La Liga season and yet it's already a wrap. Real Madrid is 12 points ahead of Barcelona and Sevilla and is all but assured to win their second straight title. The latest 2022 soccer odds put Los Blancos so far ahead that a $100 wager on them to win outright only pays out $2.00. But what else is happening in Spain's top league?
La Liga 2022 Season Overview
Real Madrid has continued to dominate its domestic league while its top competitors, while still playing some good soccer, have been a tier or two below. You can bet on the 2022 La Liga odds to favor Real Madrid in most matchups as it appears to be headed for its second title in three seasons.
Real Madrid Is A Class Of Its Own
There is no stopping Real Madrid. Led by Karim Benzema, Real is once again leading the league in goals (63) and goal differential. Most importantly, Real Madrid has consistently won and avoided draws unlike the clubs next to them. A 4-0 blowout loss to Barcelona did not slow this team down. Even if it loses against Sevilla and Atletico Madrid, Real's remaining games are very winnable.
Barcelona or Sevilla: Who Finishes Second?
Barcelona or Sevilla will have to settle for second place in the league unless of course, the impossible happens. Barca proved it was still one of the "big boys" by thrashing Real Madrid to snap its three-year winless drought in El Clasico. It has been on a roll and has won seven straight matches. But it may be too little too late as it needs to keep it up and hope for Real Madrid to go on a losing spree to sniff the crown.
As for Sevilla, the third-placed club leads the league in goals conceded (22) but is just sixth in goals scored. The club can have a tough time scoring hence why it has 12 draws versus 16 wins, leaving plenty of points off the table. Sevilla could gain three big points this weekend against Real Madrid.
Atletico Madrid In Danger Of Missing Top-4
Last year's champions are struggling to keep their top-4 spot in the league thanks to some undisciplined play lately. Atletico Madrid got upset by Mallorca last week and has a tough schedule to finish out its year. It will visit Athletic Club and Real Sociedad while hosting Real Madrid and Sevilla.
Real Betis is just one point back of the Indios. It hosts Barcelona in three weeks then closes its season against Real Madrid. But the rest of the matches are winnable. If Atletico Madrid continues to play recklessly, it could finish out of the top-4 for the first time in a decade.
La Liga Matchday 32 Top Matches
Nothing is ever guaranteed even if it appears that way. Real Madrid will need to continue winning as it meets Sevilla in a clash of top-3 squads. Barcelona and Atletico Madrid should also play with more urgency while Betis and Real Sociedad round out our top matches for Matchday 32.
Real Sociedad v Betis, 2022-04-15
Real Sociedad and Betis have been evenly matched in recent versions. Sociedad is 4-3-3 against Betis but they are separated by one goal: 17-18. The edge is to the home team here, who is 9-4-2 in the Reale Arena and has not lost to Betis in its last four games (2-0-2). But more noteworthy is how hard goals are to come by here.
Atletico Madrid v Espanyol, 2022-04-17
Atletico Madrid should beat Espanyol even if it's become difficult to rely on this favorite. But Espanyol is prime fade material here as it is just 1-5-9 on the road and has scored a total of three goals in its last four visits to the Estadio Wanda Metropolitano.
Sevilla FC v Real Madrid, 2022-04-17
In what should be a test for both clubs, Sevilla FC is a sneaky underdog here. Los Nervionenses has only beaten Real Madrid twice in its last 10 meetings, but both these wins came at home and they are 2-2-0 against the league leaders at the Estadio Ramon Sanchez Pizjuan. It will be tough stopping Real Madrid from scoring though, but Sevilla can look for a draw.
Barcelona v Cadiz, 2022-04-18
While Real Madrid meets a tough adversary their archrivals get the most lopsided matchup this week. Barcelona is almost assured to dominate Cadiz, which is set up to be relegated. Barca is 10-2-2 at home though it may have a tough time piling on goals against Cadiz's surprisingly decent defense. The under on the totals is the play here.