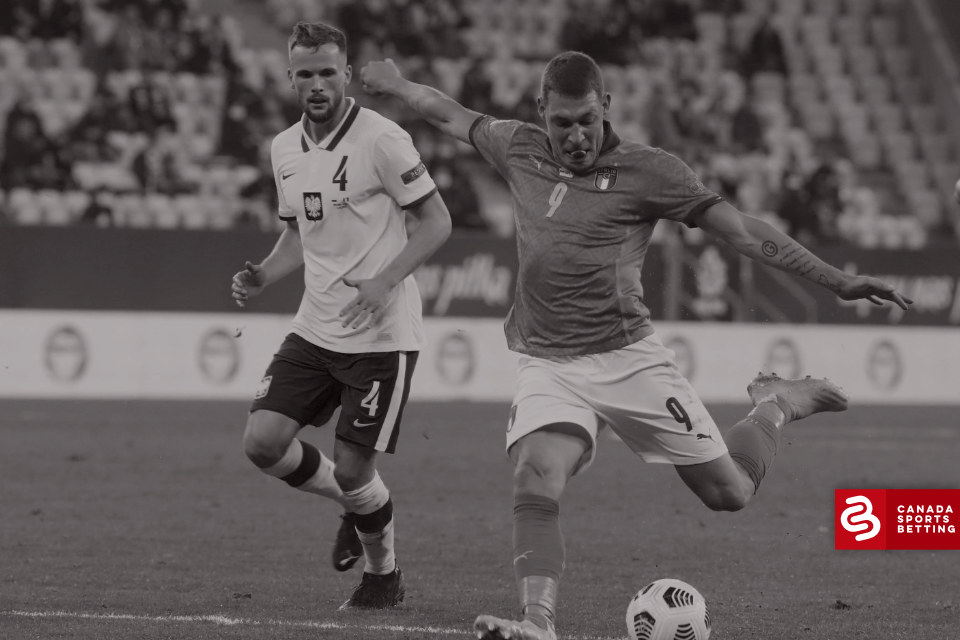 The 2020 Euro Cup Group Stage is wrapping up. Get ready for the Knockout Stage with our Euro Cup 2020 futures update and the Round of 16 betting picks.
Euro Cup 2020 Futures Bets Entering Round of 16
Euro Cup 2020 Futures as of June 23
The Knockout Stage of the Euro Cup was undoubtedly entertaining and, at times, eye-opening. The European soccer powerhouses essentially all moved on, but their performances have caused some shuffling of 2020 Euro Cup odds. You can find our updated Euro Cup winner predictions below.
Best Bet to Win the 2020 Euro Cup – Italy
There were talks of Italy "being back" before the start of the 2020 Euro Cup. Well, after watching the Group Stage, it looks like those talks were accurate. Italy waltzed through Group A, winning all three games, posting a +7 goal-differential, and not conceding a goal.
The soccer betting odds have moved Italy to second on the Euro 2020 betting odds to win the tournament. However, in our opinion, they are the best bet to win the 2020 Euro Cup.
Italy's biggest strength is its depth. They made eight changes against Wales – but still won the match to extend their unbeaten streak to 30 games. Italy also has 11 straight clean sheets.
Italy also has scoring – with five players scoring in the Group Stage, including two goals from Ciro Immobile and Manuel Locatelli. Overall, they are the best-looking team going into the Knockout Stage and our bet to win the 2020 Euro Cup.
Best Longshot that Could Win the 2020 Euro Cup – Croatia
After a loss to England and a draw against the Czech Republic, Croatia's manager knew they had to make changes. The manager made some adjustments to the line-up, and it showed. Croatia looked much better against Scotland -.
Luka Modric netted his first goal of the tournament, while Ivan Perisic added another, giving him a pair going into the Knockout Stage. Perisic – tied for the team lead in 2018 – and Luka Modric – considered the nation's best player at the tournament – were pivotal in Croatia's run to the 2018 FIFA World Cup Finals.
If those guys can build off their performance against Scotland and play as they did in the 2018 World Cup, watch out for this Croatian squad.
Euro Specials – Total Tournament Extra Time Matches
One Euro Cup 2020 specials we like to bet on is the total tournament matches in the Knockout Stage that go to extra time. In the 2016 Euro Cup Tournament, five matches went into the extra frame. The 2008 and 2012 Euro Cups only saw two such games but those tournaments were the last two starting in the Quarter-finals (meaning eight fewer games without the Round of 16).
At the most recent World Cup – where the knockout stage also starts with a Round of 16 – five games went to extra time. The increased pressure in the Knockout Stage coupled with how closely matched many teams look this tournament has us betting over 4.5 matches going to extra time.
Italy vs. Austria – June 26
While Austria's looked decent in the Group Stage, they are no match for Italy in the Round of 16. Italy and Austria have not played against each other since 2008.
Austria has struggled against the top tier of European National Teams. Austria was blown out by Denmark (4-0) in March during World Cup Qualifiers. They lost to England 1-0 just over a week before the 2020 Euro Cup. It is too much of a tall task to expect Austria to beat Italy – especially since we are wagering on this Italian club to win the tournament.
Wales vs. Denmark – June 26
This match is the more interesting of the first two of the Round of 16 – and the one where we see the real betting value. Denmark beat Wales in their last two meetings – both coming during the UEFA Nations League competition in 2018 (only by one goal in each meeting).
We can see Denmark beating Wales again but expect it to be in extra time. Wales has looked good this tournament. They played hard against Italy in a 1-0 loss and drew against Switzerland – a country ranked only three spots behind Denmark on the FIFA World Rankings.
Gareth Bale is as talented as any player in Denmark – maybe even better than anyone on their squad. However, Wales depth is their problem. They have talent, but it is hard for them to match a country as deep as Denmark in an extra-time match. Overall, this should be a close game, and we are betting on this to be the first game of the Knockout Stage to go to extra time.
Best Online Sportsbooks to Bet on Euro 2020
Find the best online sportsbooks to bet on Euro Cup 2020 futures and matches below. During the tournament, new users can sign up through the links below to receive an exclusive welcome bonus. Use the bonus to get some extra cash when you bet on the 2020 Euro Cup.