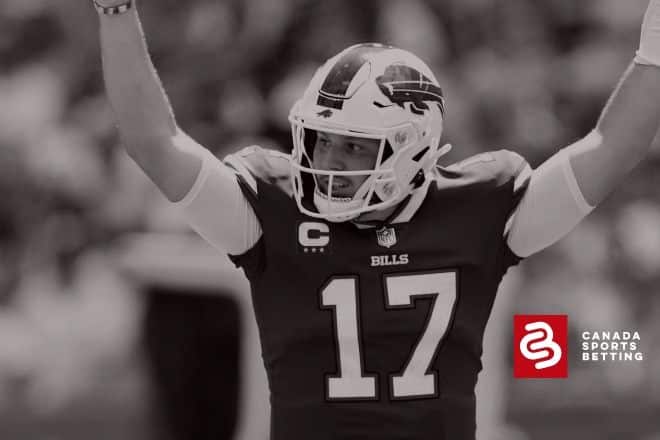 The NFL bestows upon us three days of fierce playoff action as the quest for the Super Bowl begins. First is our Saturday, January 15th Super Wildcard Picks.
Welcome To Super Wildcard Weekend
It is hard to believe NFL fans but after 18 long weeks, the Super Wildcard Weekend is finally upon us. This breaks down simply to two games on Saturday, three on Sunday, and one on Monday night. That's right. Six games in all. At Canada Sports Betting, we bring the heat with the Saturday NFL picks for January 15th.
Again, the best part is the most obvious. It is win or go home time. There is no fight for tomorrow. If a team loses, there is zero tomorrow! Teams will be leaving everything they have on the field. Always expect the unexpected.
NFL Super Wildcard Saturday Picks
Like we mentioned above, there are two matchups to take a look at on Saturday. The Saturday action starts at just after 4:30 PM ET. First is the #4 seed Cincinnati Bengals entertaining the #5 seed Las Vegas Raiders. After that is the nightcap which expects to feature a ton of fireworks. The #3 seed Buffalo Bills clash against AFC East division rival #6 seeded New England Patriots at 8:15 PM ET.
The Super Wildcard weekend Saturday picks are going to not just start but erupt on the screen for the fans. None of these games are truly safe on the surface — especially the Saturday ones. It is time to try and make some money postseason style. Let's dig into the NFL numbers.
NFL Super Wildcard Saturday By The Numbers
Again and again, it is time to have some fun and take a look at those numbers for NFL Super Wildcard Saturday. There is no retreat, no surrender. The Super Wildcard Saturday has two games below on the betting table.
| Super Wildcard Saturday Odds | |
| --- | --- |
| Las Vegas Raiders | 3.00 |
| Cincinnati Bengals | 1.41 |
| | |
| New England Patriots | 2.75 |
| Buffalo Bills | 1.48 |
There are some excellent early NFL Betting Odds this Saturday. Go get ahead of them and check it out while you can! 
Cincinnati Bengals over Las Vegas Raiders – The Early Saturday Game
The first postseason game of Super Wildcard Saturday features the Cincinnati Bengals and the Las Vegas Raiders. It has been a long and crazy ride for both teams. However, the Las Vegas Raiders needed 75 minutes of NFL action in Week 18 to punch their postseason ticket. They won an electric game over the San Diego Chargers that features a litle of everything. Simply the Raiders found a way to win and they were definitely in.
The Cincinnati Bengals won the AFC North behind Joe Burrow, Ja'marr Chase, and a defense that would make timely plays. It was far from pretty but the Bengals went 10-7 to win the division. Joe Burrow is the big cog to this offense. He has to stay healthy. That is obvious. More importantly, the quarterback must make plays. He racked up 4,611 yards through the air, threw for 34 td's against 14 int's. Burrow also ran for two more scores.
His partner in crime was Ja'marr Chase. Chase was a beast over the final month of the regular season — particularly the last three weeks. He caught 81 passes for 1455 yards and 13 touchdowns. Few secondaries and defenses could truly slow down the likely Offensive Rookie Of The Year. Now, Joe Mixon was the dependable runner who had nearly 300 carries and more than 1500 yards from scrimmage. They are a handful.
Las Vegas got to the playoffs simply by being relentless as their defense was clutch over and over. Can they do it one more time while getting plus performances out of Derek Carr and Hunter Renfroe? Carr did throw for over 4,800 yards but just 23 touchdowns. The Raiders expected record was only 7-10. Hence, take Cincinnati on the moneyline Saturday versus Las Vegas. 
Buffalo Bills over New England Patriots
The Buffalo Bills and the New England Patriots battle for the third time this season. Saturday night's winner has the pleasure of not playing against the Kansas City Chiefs in the next round. This game boils down to two simple constructs. Who wins the battle between Josh Allen and the New England defense? And can the Buffalo Bills stop the New England running game? Whomever wins those battles likely wins the game.
It almost is that simple. Few quarterbacks are better than Josh Allen when he is on his game. That Week 16 game in New England is likely the blueprint Allen and the Bills use on Saturday at home. They have to get out fast and attack early and often. Sure, Saturday has some nice NHL Betting Odds but that is not the focus here. Allen will have to use his legs occasionally too as the weather in Buffalo is expected to be near -15 to -18 C.
That also means the New England Patriots will have to run the ball and hold on to it. Buffalo has the third best offense but league's best defense in terms of points allowed. New England ran for over 200 yards in the first meeting and 149 in the second contest. Buffalo has to keep New England under 150 yards rushing and make rookie Mac Jones beat them in the freezing cold.
Josh Allen and the Buffalo Bills are our pick for this Super Wildcard Saturday pick over the New England Patriots. 
Finally, do not forget to look at these deposit methods for Canadian betting sites to get more for your wagers.