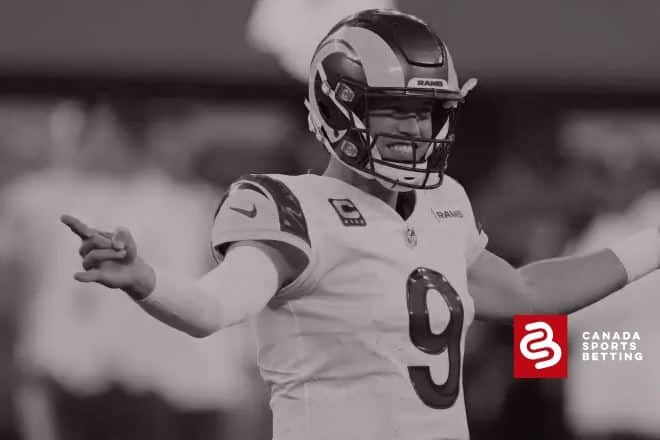 The NFL grants us one more game this long holiday weekend as the Arizona Cardinals and Los Angele Rams face off Monday in our Super Wildcard Monday Picks.
Super Wildcard Weekend Concludes Monday
It is hard to believe the long weekend will come to an end Monday night. With five games in the rearview, there is one more game during this extended super wildcard weekend. The final contest of the six is the second divisional clash of these playoffs. The Los Angeles Rams (division winners) go up against the Arizona Cardinals.
This game comes to the fans from Sofi Stadium in Inglewood, California. There are a couple of ways to watch it — via DAZN and ESPN. The weather for the game will be generally tranquil, Expect calm winds, Mostly Cloudy skies, and temperatures around 60 degrees. There is only about a 15-20% chance of a shower so do not expect any rain.
That is excellent news considering some of the cold weather issues that plagued some of the games on Saturday and Sunday — especially in Buffalo. Here at Canada Sports Betting, we have a few Monday NFL Picks for January 17th.
Considering these two teams, familiarity breeds contempt and most expected this matchup a round or two rounds later. It is the NFL, so one has to expect a little crazy.
NFL Super Wildcard Monday Picks
As mentioned previously, the #4 seed Los Angeles Rams versus the #5 seed Arizona Cardinals starts around 8:15 pm ET on Monday night. Both teams have electrifying offence but can also bring the heat defensively. This will make these Super Wildcard Monday Picks quite a challenge.
This game is far from safe but why duck from adversity now. Now is the time to try and squeeze out a few more dollars before Round 1 ends and Round 2 begins next weekend. Let's look at those numbers on the NFL.
NFL Super Wildcard Monday Tabled
Anyone who is anyone knows a tabled look at NFL Super Wildcard Monday features some quirks. However, some of the biggest ones will be presented below in the analysis. That will be so fans have all the best information to make some informed bets. Here is that one lone game on Monday night with the numbers.
Always remember all the NFL betting sites out there at one's disposal. With the different odds and spreads, it makes for being a better-informed consumer of numbers and data.
Los Angeles Rams vs Arizona Cardinals — A Quarterbacks Look
Another battle of the quarterbacks and defences is expected as the Los Angeles Rams and Arizona Cardinals play for the third time this season. Each team has won once against the other. So, the rubber match will truly be for the privilege to advance to the next round. Quarterbacks Matthew Stafford and Kyler Murray are all-pro calibre signal callers and will keep the defences on their toes Monday.
Matthew Stafford threw for nearly 4,900 yards and 41 touchdowns this season for Los Angeles. He also won a career-high 12 games on the season as the Rams won the NFC West title. It was also the first time he threw over 600 passes in a season since 2014. Granted, there was the 17th game but still, that is almost 36 attempts a game. Stafford led the league in interceptions with 17 and did lose two fumbles. He struggled against Tennesse, San Francisco, and Green Bay. His final three starts featured six TDs and seven ints.
Kyler Murray had different issues. Murray had several injuries throughout the season which limited him to 14 games. Despite that, the Arizona quarterback still threw for almost 3,800 yards, ran for 423 more, and combined for 29 touchdowns (five rushings). Murray only turned the ball over ten times despite having 13 fumbles (none lost).
Both quarterbacks can stretch the defences out like few others in the NFL. Stafford has a ton of targets to get the ball to including Connor Kupp (NFL leading 1947 yards receiving), Odell Beckham Jr, Van Jefferson, and even Sony Michel. Murray possesses many options too. He has Christian Kirk, AJ Green, Zach Ertz, plus James Connor and Chase Edwards out of the backfield.
Los Angeles Rams over Arizona Cardinals – Our Monday Night Pick
This Los Angeles Rams and Arizona Cardinals game arguably boils down to the weapons each teams has and how the defences play against them. The problems in this Monday Night Pick for Super Wildcard Weekend are several. These are top-ten defences when the teams are on. The problem for Arizona is they have been a bit off for weeks. After their 7-0 start, they went 4-6 after and allowed 30 or more points four times.
Again, the Rams were not much better in this regard. They did go 5-2 to end the season but allowed 399 or more yards three times. They did play four close games and do know how to close games out a bit better currently compared to Arizona. Arizona is without Deandre Hopkins which should help Los Angeles. The Rams have all their weapons basically healthy.
With Arizona's defence a bit more banged up, this is a game the Los Angeles Rams should win on Monday night. Expect it to be more like the Week 14 battle won by the Rams 30-23. Like our 2022 free sports picks, it is all hands on deck from here on out. 
With the overset around 49 to 50, pristine conditions, and a reasonable spread of 3.5 to 4 points in favour of the Rams, here is our decision. The Los Angeles Rams are our CanadaSportsBetting pick to defeat the Arizona Cardinals Monday night.
Lastly, do not forget our best sportsbook sites for more choices and betting options.