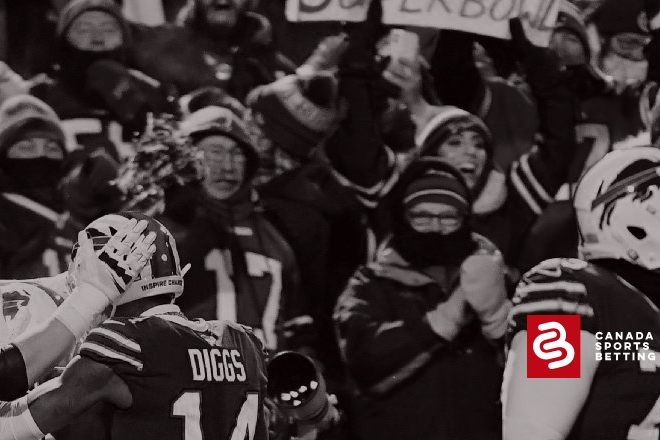 The sports betting world waits for no one as the Super Bowl 57 Futures are out for the 2022-23 NFL campaign. Who are some of the favourites for next season?
NFL Super Bowl 57 Futures?
Time waits for no one. At Canada Sports Betting, that could not be more true as the Super Bowl 57 Futures have opened. The first thing often asked is this. Well, Super Bowl 56 has not even been played yet. That is true. Look at other sports. In baseball, the World Series futures for the next season come out as the World Series ends. The same goes for hockey too, even basketball. It is the sign of the times.
Yes, the NFL and sportsbooks alike do not hold back. If that is not enough, one can pick the AFC and NFC conference outrights too. There are co-favourites in the early going but one has caught our eye and rightfully so. They would be the Buffalo Bills.
Breaking Down The Early Super Bowl 57 Futures
This seems like a strange time to look at the 2022-23 NFL Futures err Super Bowl 57. Yet, it is not. Breaking down some of these numbers may even reveal a potential Cincinnati Bengals or could one of the other teams that came so close just finish the job. There are eight early contenders listed below.
Do not forget about the Super Bowl 56 betting odds as well. With year number two of the 17-game schedule, it will be easier to make adjustments and gauge events a bit better. Again, the Buffalo Bills and Kansas City Chiefs lead the early way as co-favourites in the range of 7.50 to 8.00. There are several teams that are close but one sticks out — the Buffalo Bills. 
Why Is Buffalo A Super Bowl 57 Futures Favourite?
They say adversity makes a team more resolved towards winning. That makes the Buffalo Bills a virtual lock to be up at or near the top of any Futures for Super Bowl 57. The best NFL online betting sites are at the ready already for next season when this season has not even ended. Keep in mind, the Buffalo Bills were arguably closer than the Kansas City Chiefs in terms of making the Super Bowl. 
That contention is not lost on many. Consider that Buffalo ranked third in the league in points scored and first in points allowed. It was their balance on both sides of the ball combined with All-Pro Josh Allen that led people to think that Buffalo could go from 11-6 to top the AFC. Their conference outright ranges from 4.50 to 5.00. This is not a surprise either.
For Buffalo, it boils down to can they keep the game in front of them? Against Kansas City in the Divisional Playoff, they did not and it cost them. The seeds are there for Buffalo to make those final steps much like the Los Angeles Rams could do this season. Only New England can challenge the Bills in the AFC East and that may make them even more hungry.
The goal is close for Buffalo and part of why they are our early CSB favourites even though they are more co-favourites.
What About The Kansas City Chiefs And Another Super Bowl?
After all, the Kansas City Chiefs have won one Super Bowl title, lost another, and nearly got there this season. That "consistency" nets them a slot as co-favourites with Buffalo. Some argue if not for their arrogance and clock management, would they be Super Bowl 56 favourites?
Patrick Mahomes and Andy Reid should be able to lead the Chiefs to another AFC West title as San Diego, Vegas, and Denver fight for a wildcard spot perhaps. They all are teams that do not have the pieces to challenge. Kansas City has an improved defence that should serve them well next season. But is it a playoff defence? Cincinnati may have exposed that a bit in their comeback as well as the Chiefs' offence.
The dilemma is Kansas City will not be tested like this last season where they started out 3-4. It makes one wonder if there are just other better picks of betting value out there. Right now, barring a lengthening of their number, Kansas City at 7.50 or even 8.00 is not worth a wager.
Are The Cincinnati Bengals The Real AFC McCoy?
Now, the question will be this. Can the Cincinnati Bengals do it again? Did they get lucky or are the Bengals the real AFC McCoy? The Bengals are in a division that suits them as the AFC North could be theirs to dominate for the next few years. Also, their cap situation may be one of the best in the NFL. They can add pieces other teams cannot.
Obviously, Joe Burrow needs more protection and that will be a priority. With the defence improving at the right time. the Bengals could have a top-five offence and close to a top-ten defence. That tends to be a winning formula. Hence…
What About Any Super Bowl 57 Future Longshots?
When it comes to forecasting Super Bowl 57 this far out, longshots are hard to see coming. The Arizona Cardinals have some potential if they can get healthy on both sides of the ball. Obviously, the Rams have to be looked at again. The one team that slightly is intriguing is the New Orleans Saints. They range anywhere from 30.00 to 40.00 in the futures but need a quarterback and offensive depth.
Our pick to top the Super Bowl 57 Futures is still the Buffalo Bills.
Take a look at some more Super Bowl Prop Bets this week and make some more wagers!