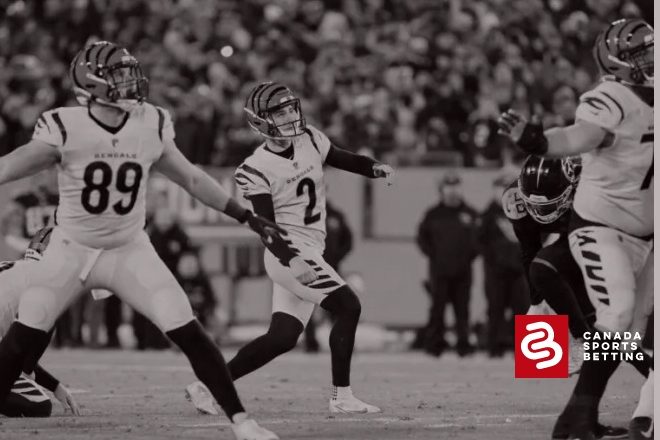 NFL Super Bowl 56 Props apparently were not enough. At Canada Sports Betting, our last prop article leading up to the Super Bowl focuses on prop parlays.
Say Hello To Super Bowl 56 Prop Parlays
These are the wagers your parents told the sports bettor to watch out for. Yes, there are props and there are parlays. Thanks to Super Bowl 56, sportsbooks have combined some of these to form prop parlays. Fans are clamouring for different things to bet on so naturally, we provide the panacea for the masses.
There is less than a week to go to Super Bowl 56. The excitement is rising to a fever pitch and media day is on Tuesday. Now, the Los Angeles Rams and Cincinnati Bengals will finally settle it on the field. But first, we take a look at some numbers for these prop parlays and then make a few picks too. 
Prop Parlays By The Numbers
Again, the one thing that has to be emphasized is the following. These are higher-risk wagers. One will notice the numbers are a good deal higher than the average prop. This is because the exact quantity of conditions all have to hit for a bettor to win. It is why prop parlays have an allure and a danger all to their own.
Naturally, we have the latest 2022 Super Bowl Prop Bets as well all in one neat package. The betting table below shows the latest digits on some prop parlays. 
The player prop parlay bets sound like tongue twisters and can be confusing. Anyway, these are meant to be risky and challenging. We break down a few of the more interesting and perhaps more attainable ones below.
Prop Parlay 1 – Stafford 375+ Passing Yards, 3+ Touchdowns
One of the conditions of this player prop parlay is that those touchdowns have to all be of the passing variety. The three or more passing touchdowns is not as much of a risk as one would think. After all, Patrick Mahomes could have had three or four touchdowns in the AFC Championship. He really did miss several golden opportunities to pad his numbers. Matthew Stafford, at home, may not miss those.
After all, Stafford throws one of the most accurate deep balls in the NFL. Now, asking him to throw 375 yards may be a bit of a tall order but he did throw for 366 and 337 during the playoffs. Also, the Rams' quarterback errs the team went conservative with a big lead against Tampa Bay. That curtailed some of those numbers. Again, the allure of playing at home combined with familiarity should help Stafford on Sunday.
Cincinnati comes in seventh in the league in passing yards allowed and may have only been saved by the Kansas City Chiefs and their arrogance. Stafford has little to be intimidated by being under one of the better offensive lines in the league. This is worth at least a small wager like most of these prop parlays.
Matthew Stafford
To throw for 375+ yds, 3+ passing td's
Bet Now!
Kicker Prop Parlay – Gay and McPherson 10+ Kicking Points
Out of all the prop parlays, the kicker category may feature the safest of the bunch. Matt Gay and Evan McPherson have been two of the more accurate field goal kickers all year. Gay had been a bit off in his last couple of games but was at or near ten kicking points in each playoff contest. For those scoring at home, Gay averaged nearly nine kicking points a game this season at home.
When it comes to the Cincinnati Bengals, McPherson had four fewer field goals (28) when compared to Gay. However, he still had a very good 46 PAT's made. In the playoffs, however, McPherson has been on fire with 12 field goals made out of 12 attempts. His accuracy and clutchness in January have been the stuff of legend considering he is just a rookie.
Combine these two very precise kickers in an ideal kicking environment and one has the recipe for a very attainable prop parlay. This is our best bet of the bunch.
Matt Gay and Evan McPherson
To get 10+ kicking points
Bet Now!
Receiver Prop Parlay – Chase and Kupp 125+ Yards Each
This receiver prop parlay is a quick one because these two receivers can rack up yards quickly. There is little doubt that Cooper Kupp can find ways to accumulate 125 or more receiving yards. He had 142 against one of the best secondary units in San Francisco. Kupp even dropped a pass on what could have been a long gain.
Ja'Marr Chase is the wildcard. Can Joe Burrow get the ball down the field against Los Angeles? If he can, Chase can get open a few times for some long plays. Also, if Cincinnati goes behind by too much, Burrow and Chase will likely connect more often as the clock ticks. This prop ranks second-best on our list.
Hybrid Prop Parlay — The Three Rams
Again, all three conditions of this hybrid prop parlay have to connect which is why it has the highest odds. The three Rams are Stafford, Beckham Jr. and Kupp. While Stafford has to throw for 375 yards, the receivers have to get 100 yards each. While Kupp is the safest of the three parts, nothing is ever certain. However, this is one to at least take a flier on out of all the hybrids.
Stafford, Kupp, and Beckham Jr.
To throw for 375 yards and get 100+ yards receiving each
Bet Now!
There are some even crazier prop parlay bets over at various online sportsbooks. Go take a look!