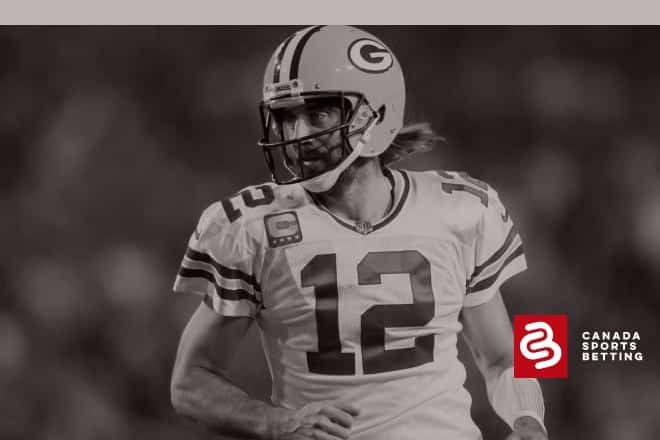 The latest NFL futures article focuses on Super Bowl 56 picks. So, Green Bay is a slight favourite. Can Buffalo, Tampa Bay, or Kansas City change that?
With Super Bowl 56 still almost four weeks away, it is time to take a quick look at the NFL futures. The Super Bowl is on February 13th this year and comes from Los Angeles, California. This time out at Canada Sports Betting, we examine favourites to win the Lombardi Trophy. It almost seems appropriate that the current favourite is the Green Bay Packers.
2021-22 NFL Futures – Super Bowl 56 Champion By The Numbers
Again, it is always fun to look at the 2021-22 NFL futures. Now, the numbers for Super Bown 56 champion are not a surprise. There is no outstanding favourite but several contenders. No fewer than four teams could walk away winning the whole thing. Let's see what the order looks like below. 
Take a look here at more NFL Betting Odds.
The 17 game schedule made for some quirky final week scenarios but after the Super Wildcard round, the picture clears some. Some teams like Tampa Bay and Buffalo established that they are going to be a very tough out in these playoffs. Meanwhile, the Tennesee Titans and Green Bay Packers do not get started till this weekend.
Oddsmakers have installed Green Bay as the current favourite at 4.48. Some books are offering around 5 even which further entices the betting masses. With a few other teams very close, this keeps those who wager that much more riveted. 
Why Are The Green Bay Packers Super Bowl 56 Favourites?
Right now, the Green Bay Packers are very slight Super Bowl 56 favourites to be crowned champion. Again, they are far from a dominant choice here. By virtue of tiebreakers and such, Green Bay did finish with the NFL's best record at 13-4. Tampa Bay was 13-4 as well. Green Bay ran off two distinct winning streaks during the 2021-22 regular season that set them apart from the pack.
First, there was the seven-game run after an opening loss to the New Orleans Saints. Most pundits probably forget how bad that game was. Aaron Rodgers looked rusty, the defence appeared three steps behind, and nothing went right at all. The result was a 38-3 demolition. That inspired Green Bay, after a lacklustre first half against Detroit to fire off a three-touchdown barrage. Then, there were six more wins culminating with defeating the then-undefeated Arizona Cardinals.
Unfortunately, adversity came calling again as Rodgers had to miss the game against Kansas City. That was an ugly loss and an ugly contest. The Packers bounced back and forth but then beat the Los Angeles Rams to go 9-3 on the season. That 36-28 win sparked Green Bay again. They won four more times scoring 30 or more points in five of the last six games.
The offence may be the calling card but the defence may be what earns the Packers a championship. It could be what also prevents them from doing so. They are ranked 13th in the league in points allowed but have a top-5 calibre defence when it wants to be. The question fans are asking is which team shows up during the divisional round.
What About The Kansas City Chiefs Becoming Super Bowl 56 Champions?
Could Patrick Mahomes and the Kansas City Chiefs win their second Super Bowl in three seasons? They stand second in the odds right now ranging anywhere from 4.90 to 5.50 or so. Kansas City had one of the weirdest seasons imaginable. They managed to go 12-5 and nab the second seed in the NFC despite being 3-4 after seven weeks. Kansas City had the 32nd ranked defence during that span.
Then, the switch flipped albeit gradually. The Chiefs' defence began to improve against the New York Giants then held a Green Bay team (without Aaron Rodgers) to a touchdown. After that, Kansas City yielded 14 or fewer points in five of the next six contests. This was a team that started to come together. Even Patrick Mahomes began to look like his usual self. The quarterback had 12 touchdowns and just one pick coming down the stretch. Speaking of picks, one can look at our free sports picks.
Meanwhile, Kansas City plays downhill football better than any team in the NFL for the past several seasons. That was in full display over the weekend as the Chiefs beat the Steelers at home 42-21. The defence came up with timely plays and Mahomes threw for six touchdowns. Things figure to be a bit tougher this week as the Buffalo Bills come to town.
Green Bay looks to have the easier road but then again, Kansas City has home field and likely would face a Tennessee Titans team without Derrick Henry if they got that far. This could be interesting.
Could Other Contenders like Tampa Bay or Buffalo Win Super Bowl 56?
When it comes to NFL futures the Tampa Bay Buccaneers and Buffalo Bills are very much in play to win Super Bowl 56. Both teams have MVP quarterbacks in Tom Brady and Josh Allen respectively. The Bills possess the biggest point differential in the league at +194 and Tampa Bay went 13-4 losing twice to New Orleans. Other than the Saints, Tampa Bay was capable of beating any other team.
The defending Super Bowl Champions and the young gun Buffalo Bills could easily challenge Green Bay or Kansas City to take home the crown.
2021-22 NFL Futures – Super Bowl 56 Champion?
Our pick is the Green Bay Packers to win Super Bowl 56 over the Kansas City Chiefs.