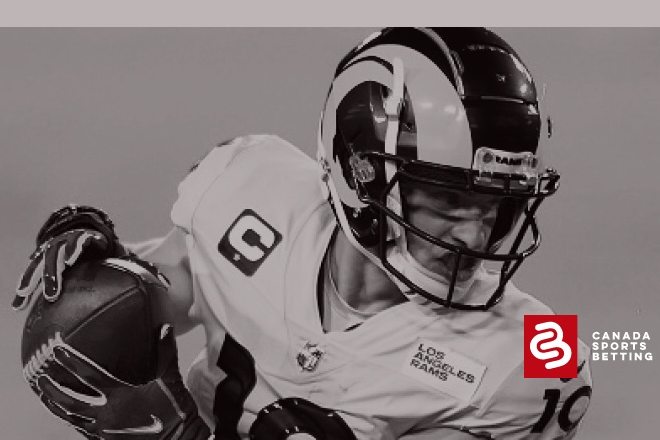 There are always so many NFL Super Bowl 56 Props. The latest article here at CSB features some of the more obscure team props that many just forget about.
The Search For The Obscure Super Bowl 56 Team Props
There is a fun aspect of Super Bowl 56 for sports bettors. Yes, the volume of team props can be viewed as dangerous. However, if one bet sensibly, there can be a little bit of profit to be had. As the week closes at Canadian Sports Betting, we delve into the more obscure. Okay, these simply are props that required a bit more digging into. 
Nine days is the gap between now and Super Bowl 56. It feels like weeks away but will come faster than Ja'Marr Chase running the 100-meter dash. Just wait till one sees some of the crazier props between the two teams for the Vince Lombardi Trophy. As always, this primetime event on Sunday, February 13th will be quite the spectacle. So, these props should be as well.
Even More Team Prop Number Crunching
One can hear the grumbling from north of the 49th parallel. However, there are always some gems. As if that were not enough, we will have a few extra picks and props from social media too. With so many Super Bowl 56  online prop bets, the sheer numbers can be daunting. Again, the goal is to try and mix in what is normally seen with some of what one could be missing. 
Now, we thought some of the beginning team props were obscure, but now we went into some otherwordly realm. Anyway, here is the betting table below. 
For those wondering, Sports Interaction now has a total of 55 team props spread across their Super Bowl betting odds. Word is there may be a few more between now and next week. So, keep an eye out for the latest. First up, we channel our inner Beetlejuice. What?
Super Bowl 56 Props – Will A Team Score 3 Straight Times?
This one seems weird and outlandish but the first of the Super Bowl 56 team props we have today is a simple question. Will one of the teams score three consecutive times without the other answering? Think of how many times this happens in a typical game. We took a look at the Conference Championships first. It happened twice in the NFC Championship and once in the AFC.
Teams build leads or teams may double-digit comebacks like what happened twice. That may be the crazier thing to take out of what happened on Sunday. Cincinnati, for what it is worth did this three times in four playoff games. Los Angeles pulled this off in all three of their playoff contests. Also, Tampa Bay and San Francisco did the deed against them as well.
Los Angeles does have a tendency to score in bunches. There was the run against Arizona, the huge 20-plus point lead against Tampa Bay, and the 13 point fourth-quarter against San Francisco. It is why this team prop may be one of the safer bets. It would be fun to find if someone has a prop for both teams to do it. Anyway…
More Team Props – Longest Punt Return
There are several team props on punts but our spotlight here is on the longest punt return. This is truly an even coin flip. Yes, we looked for a kickoff return version but that may be available next week. Cincinnati's punt returners never had a return longer than 17 yards. Now, that would surprise some people. Only Trenton Irwin averaged more than 10 yards per return but only did so three times.
As for the Los Angeles Rams, Brandon Powell is our wildcard. Though he only had six returns, one of those Powell took into the end zone. His speed which is occasionally unleashed is something to watch here. Los Angeles has several options including Cooper Kupp if need be. Name the last time a nearly 2,000 yard wide receiver returned a punt. It has been a while.
The Rams may have returned fewer punts but have a better plethora of punt returners. Even Van Jefferson or Odell Beckham Jr. could do so as well. Take the Rams here.
Even More Team Props – Longest Touchdown Scored
A couple more quick ones before we hit the road feature the longest touchdown scored in team props. Both teams have game-breakers galore — particularly Cooper Kupp and Ja'Marr Chase. The over/under is only 42.5 yards. That seems low. Since it can be any member of either team, there are more options.
Matthew Stafford can throw some beautiful deep balls. So can Joe Burrow. It is why that over seems to be an even low-hanging fruit type of wager. With pristine conditions, expect not only one big play but several on Super Bowl Sunday.
Final Team Prop – One Defensive Or Special Teams Touchdown?
This is a great question. So, can Los Angeles or Cincinnati muster a touchdown from their defence or special teams? If there is anything to take a modest wager of a few dollars on is this. Why? Los Angeles has a defence capable of producing a touchdown and they have one or game-breakers from special teams. Again, for that alone, and the fact that Cincinnati could pick off an over adrenalized Stafford, this is worth taking a slight bet.
At CSB, we are far from done, stay tuned for more including our Super Bowl 56 picks next week.