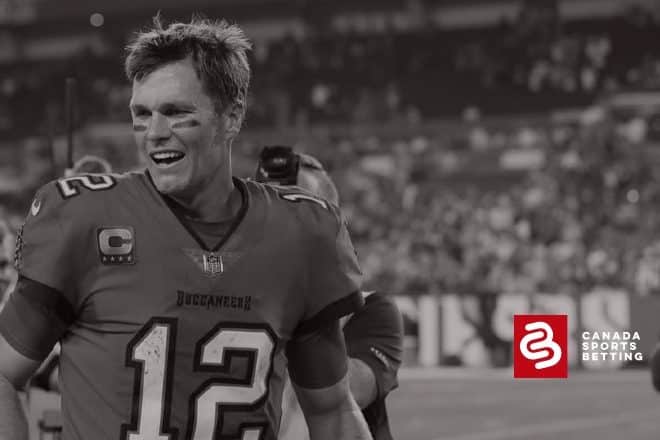 Rodgers, Brady, and Jonathan Taylor head into Week 16 looking to strengthen their case for NFL MVP. Of course, only one can take home the award.
The race for the 2022 NFL MVP is shaping up into a close one – with Tom Brady and Aaron Rodgers leading the charge heading into Week 16. Of course, they are not the only players with a shot at the award – including two players from the same team. Find the best bets with our 2022 NFL MVP December betting predictions.
The Rodgers vs. Brady Race Heats up with Only Three Weeks Left
A few ago, the best NFL betting odds had Tom Brady as the prohibitive favourite to win MVP. However, following a dud on Sunday night and another great performance from Aaron Rodgers – the gap has closed heading into Week 16. It is quite the change in favourites from our September 2022 MVP NFL betting preview.
Even if Rodgers is the rising with three weeks left in the season, we think this is still Brady's award to lose. Brady leads the NFL passing yards, passing touchdowns, and completions. Brady is high up in advanced passing statistics such as passer rating index (111), pass interception percentage index (109), and adjusted net yards per pass attempt (7.13).
There is also the ill-will towards Aaron Rodgers and the way he talked about his vaccination status. While some may overlook it, and it could cost him some votes – especially from reporters who had been in close contact with him this season.
Jonathan Taylor Rumbling and Stumbling his Way into the MVP Race
If momentum is important for MVP voters, no one in the NFL is hotter than Jonathan Taylor. Taylor has scored a touchdown in 11 straight games is leading the NFL in just about everything rushing statistics.
On the back of Jonathan Taylor, the Colts have vaulted back into the playoff race with an 8-6 record. They have beat some great teams on including the Bills and Patriots with Taylor putting up 355 yards and six TDs in those two games.
Running backs do not win MVP as much as they used – unless they have a historic season. Derrick Henry was a candidate last year but could not overcome Aaron Rodgers' dominance. This year Taylor is having a better season and could be one of only a few players ever with at least 2000 yards from scrimmage and 20 touchdowns.
If the Colts win out to end the season 11-6, it will be because of Taylor. It will be similar to the year Adrian Peterson won MVP – after dragging the Vikings (who had Christian Ponder at quarterback) to the postseason on the back of 2000 rushing yards.
Taylor's chances are helped too if Brady has another bad game and Rodgers does not play the final week of the season – both possibilities. The Colts will not be resting any players as the race for the AFC Wild Card is tight and will remain that way until the final week of the season.
Matthew Stafford is the Best Value Pick
Of the players with a realistic shot (we will broach on our biggest underdog pick next), Matthew Stafford is where you find the best betting value. Stafford is having a career year in Los Angeles should end the season with new highs in passing touchdowns, completion percentage, and quarterback rating.
Stafford is also leading the NFL in some key statistics. Stafford is tops in the league in touchdown percentage (7.0%), net years per attempt index (124), and adjusted net yards per pass attempt (8.05).
Stafford is close to the lead in many other categories as well. He is one touchdown pass behind Brady (36 vs. 35), 0.1 yards behind Aaron Rodgers in adjusted yards gained per attempt (8.9 vs. 8.8) and 0.3 behind (surprisingly) Jimmy Garoppolo in yards per competition.
He is set up well heading into the final three weeks of the regular – especially with meaningful games as the NFC West is highly competitive and still up for grabs.
Is Copper Kupp's Historic Season Enough to Garner MVP Consideration?
A wide receiver has never won the MVP award – but if someone is ever going to take it home it is Cooper Kupp this season. Stafford and Kupp have built a crazy report this season (maybe eating breakfast with your top target is something every quarterback should go).
Kupp is likely to become the fourth wide receiver in NFL history to lead the league in receptions, touchdowns, and receiving yards. Heading into Week 16, Cupp has 1625 receiving yards, 122 receptions, and 14 touchdowns. While the receiving touchdown record is out of reach, Kupp could easily break the yardage (1964) and receptions (149) record.
The challenge for Kupp is his quarterback is also having a great season. Most voters – if not everyone – will value Stafford season and statistics over Kupp. Still, 2000 receiving yards, 150 catches, and 17 touchdowns is quite the season and maybe some people want to reward it with the NFL's top award.
Best Online Sportsbooks to Bet on the NFL
Find our reviews of the best online sportsbooks to bet on the NFL!